Turning the Lens on a Wintry Southern Utah
Discover some of the most picturesque places to photograph in Southern Utah, and learn some tips for how to shoot and travel responsibly.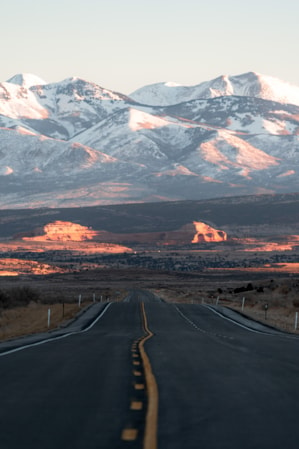 Walking amongst the red rock of Southern Utah, I can't help but wonder if this is what it feels like to walk on Mars. I'm on a weeklong road trip from Escalante to Canyonlands National Park, and there are otherworldly views at every turn.
I opted to make the drive in February, since winter is one of my favorite times to road trip. And Utah's snow-dusted landscape did not disappoint this photographer (Read: "How to Visit Southern Utah in Winter"). From the endless red rock to the carved and winding slot canyons, I'm not sure I've ever been more appreciative of the wonders of nature. Come along with me and discover some of the most picturesque places to photograph in Southern Utah, and learn some tips for how to shoot and travel responsibly.
Exploring Escalante
I began the weeklong trip with three nights in Escalante. Tucked between Capitol Reef and Bryce Canyon national parks and near to Grand Staircase-Escalante National Monument, it's a town central to many of the areas I wanted to explore. I booked my stay in a cozy tiny house at Escalante Escapes. The tiny home offered every amenity I needed, plus a beautiful view, private deck and firepit. There are only nine tiny homes available for rent on the four acre property, so reservations should be booked well in advance.
There are so many gorgeous places to explore near Escalante. Devils Garden — part of the Grand Staircase-Escalante National Monument — is a must-see and is easily accessible for any age and skill level. The unique rock formations in the area make for an explorer's playground to traverse and photograph. If you're looking for a more involved dayhike, 30 miles southeast of Escalante you'll find Peek-a-Boo and Spooky Slot Canyons. Allow plenty of time to enjoy the awe-inspiring hike into these narrow slot canyons that'll leave you wondering how places like this exist.
There's no shortage of slot canyons in the area, and if you're looking for a challenge, Zebra Slot Canyon might be for you. It's easily the most narrow slot canyon I've ever been in, with 10-inch openings in certain spots. The zebra striations are like nothing I've seen before and the natural formations are so impressive. It's definitely an experience that I'll be sharing with others. The full hike is a five-mile, round-trip trek, so be sure to start early and allow yourself plenty of daylight hours.
"Walking amongst the red rock of Southern Utah, I can't help but wonder if this is what it feels like to walk on Mars."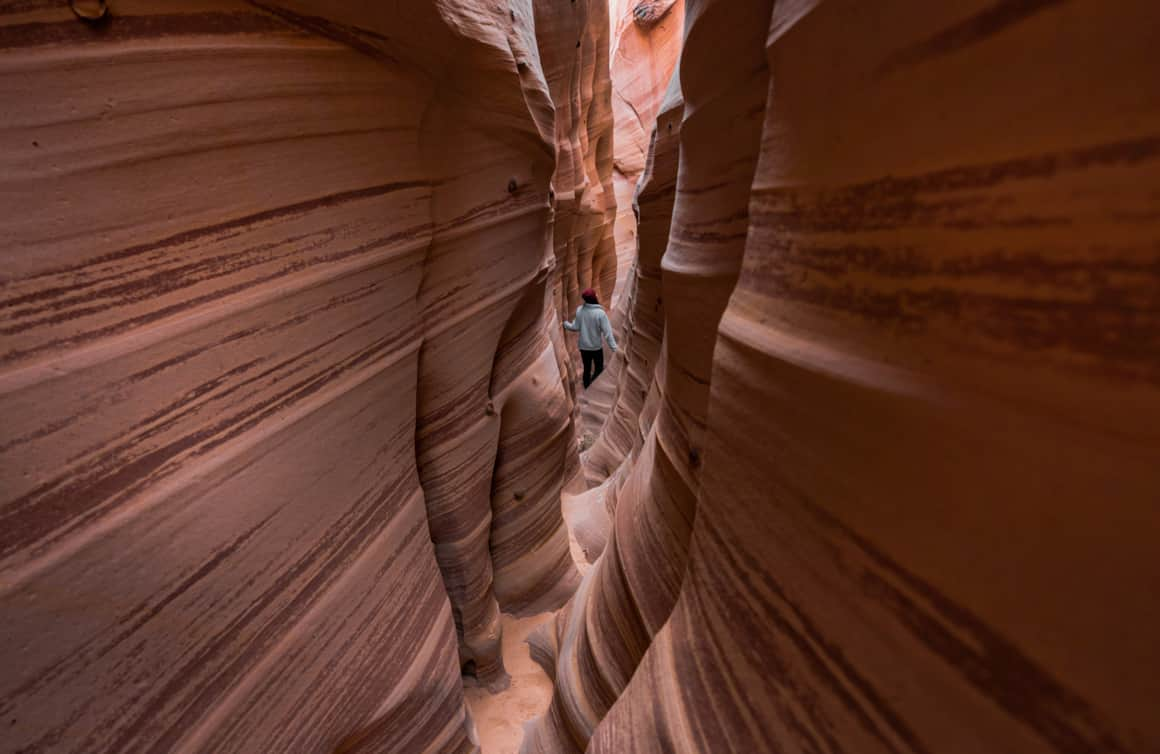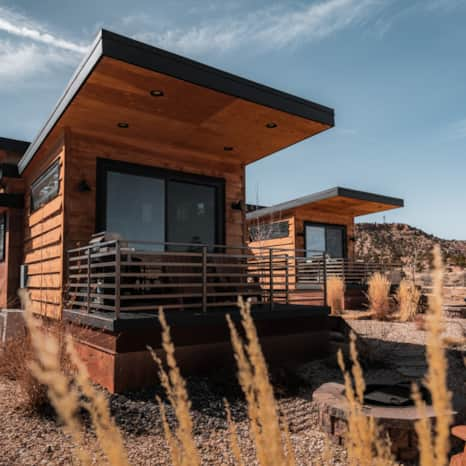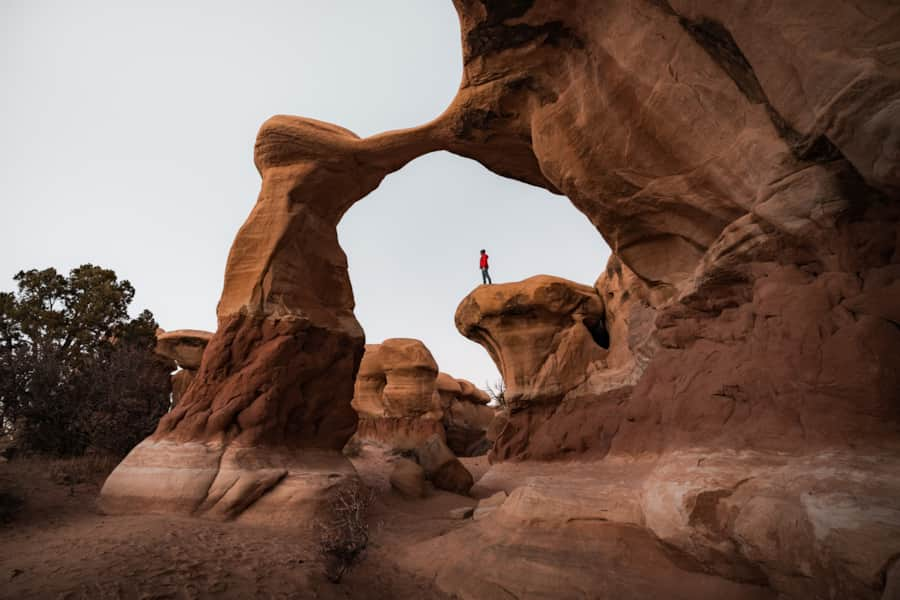 Off-Roading to Alstrom
From Escalante, I made my way south for an overnight camping adventure at Alstrom Point in Glen Canyon National Recreation Area. There are so many epic views along the drive, and there's an abundance of local coffee shops and restaurants for you to check out along the way.
As with any road trip, the journey is half of the fun — getting to Alstrom Point requires some off-roading, so I would recommend a 4x4 vehicle. There are also no services in the area, so be sure to bring anything you'll need. Once you make it though, it will be one of the best campsites you've ever been to, with huge wide open spaces overlooking Lake Powell. Set up camp, kick back and enjoy the views at sunset. And nothing beats waking up with a world class view right outside your tent. This will definitely go down as one of the most picturesque places I've ever camped.
When you leave, remember to pack out everything you brought and leave no trace. This is especially important when camping in remote areas — it is some of the most untouched landscape you'll find and it's your responsibility to keep it that way. It saddens me when others do not follow these same tenets while spending time in the outdoors. Our relationship with the earth is symbiotic, so it's important to do everything you can to take care of it. (Read more on how to travel responsibly, a shared ethic callled "Forever Mighty.")
"Nothing beats waking up with a world class view right outside your tent."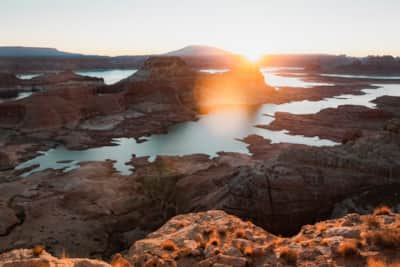 Valley of the Gods to Bluff
From Alstrom Point, I headed east to Mexican Hat and looked for camping at Valley of the Gods. I was so impressed by the towering red cliffs and unique sandstone formations in this area. Similar in geography to Monument Valley, the area sees much less traffic. The quiet of the landscape offers a chance to disconnect from the stresses of life and enjoy the healing power of nature. Before I lit a campfire that evening, I made sure to check the area rules. At this particular campsite, no fires were allowed. Overuse of fires and increased demand for firewood can degrade a natural area. I'm reminded to always try and leave an area better than I found it.
After a few nights of camping, I headed further east for a night at the lovely Bluff Dwellings Resort & Spa in Bluff. This is one of the coolest places I've ever stayed. The 16-acre property sits in the middle of the desert, with each modern pueblo nestled among the surrounding red rock cliffs. In Bluff, I was about 30 minutes away from my sunset location at Goosenecks State Park. On the edge of a deep canyon, this park offers stunning views of the winding San Juan River below. I was preparing to send up my drone to get a better view, but first I verified that it was legal to fly there. It's important to follow all rules and regulations for aerial photography as drones are not allowed here between the months of March and October. Luckily, I was visiting at the end of February so I was able to fly safely and responsibly. (Read more: "A Photographer's Guide to Mindful Travel")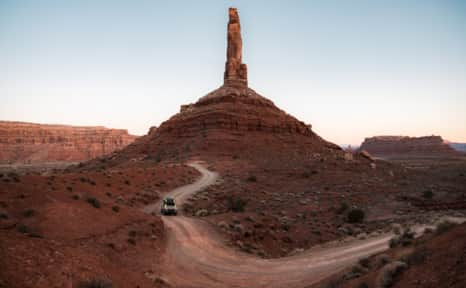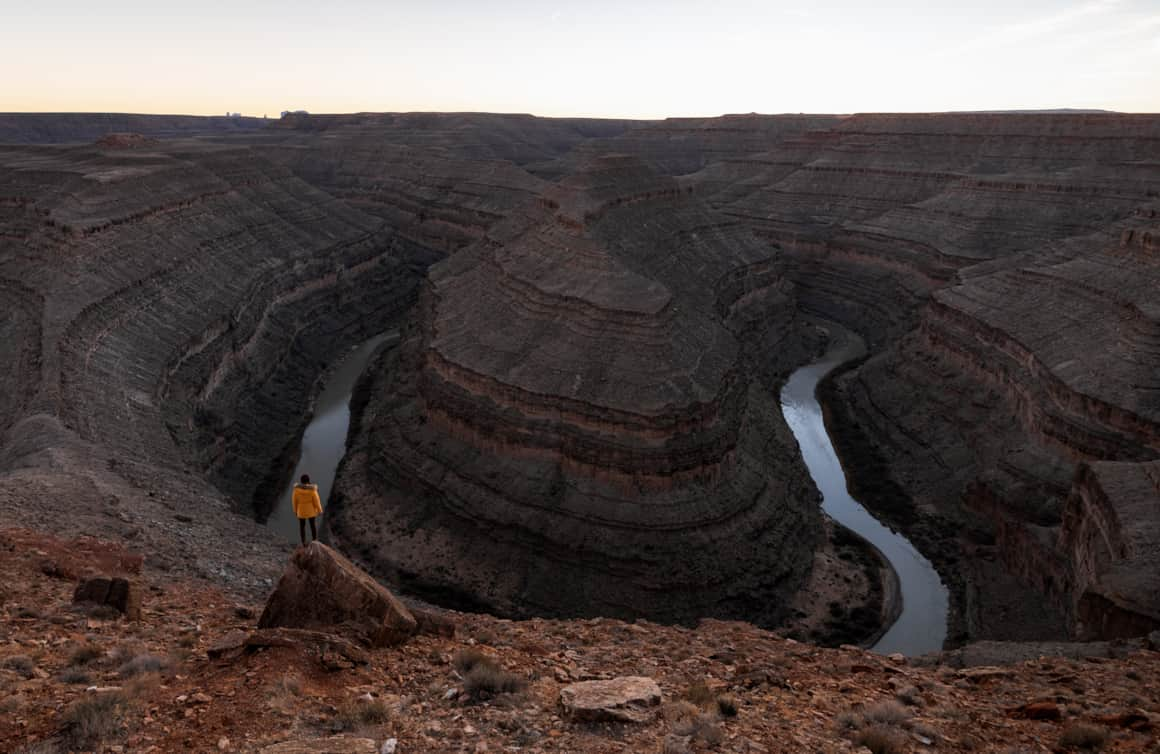 Bluff to Canyonlands
From Bluff, I ended the trip at one of my favorite locations of the whole journey — the Needles district in Canyonlands National Park. The drive was absolutely stunning, with the landscape changing dramatically from snow covered mountain peaks to imposing red rocks. The Needles district isn't as highly photographed as some of the other areas in Utah, so I was excited to have a fresh take on the area and get some unique compositions for my photographs. If you have time for a longer hike, I would recommend Chesler Park Loop which is one of the most phenomenal backpacking trails in the area. I ended up exploring the area around Elephant Hill which takes you to a beautiful view of the Needles after a short walk.
All in all, this was an incredibly rewarding trip through Southern Utah. Knowing that I was as responsible as possible throughout the trip is comforting as well because I know that the next person will be able to enjoy it just as much as I did. I can't wait to return to Southern Utah in the future to explore more of the many spots that this area has to offer.