Flood Safety
Due to record snowpack and high amounts of spring runoff, please be advised of potential flooding that could impact travel plans.
Learn more
The Freedom of Wild Places
Exploring The Needles District of Canyonlands National Park on Foot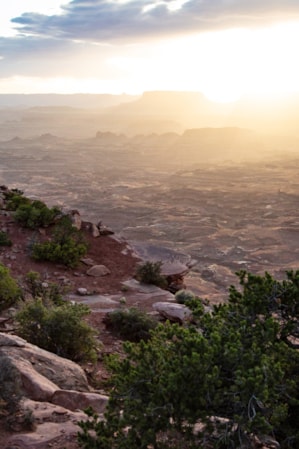 Clutching my hat with both hands, the wind roared and whipped by as I stood atop a rugged red rock formation, gazing out into the vastness of The Needles district of Canyonlands National Park. It was a wild, windy day in the park, and I was doing my best not to be blown away. I looked out, amazed by the scenic panorama in front of me.
"It's a labyrinth of topography," my hiking companion, Hannah Russell, explained. Russell is the assistant director of the Friends of Arches and Canyonlands Parks, and she knows The Needles district and its topography intimately. Before her current position, she spent several seasons as a backcountry archaeologist there.
"What's really very special about Canyonlands as a whole is its wildness and remoteness."
She explained how the landscape of Needles includes a wide variety of features such as riparian areas, sandstone fins, pools of water, cottonwood trees, willows, sand dunes and, of course, plenty of red rock.
When we set out on our hike from the Squaw Flat Trailhead an hour earlier, I was astonished to look up and see a soft red glow in the dancing clouds above — a reflection of the landscape below. And even earlier that morning, before I met up with Hannah, I saw a double rainbow over the park.
Now, as I perched on the red rock, I watched distant clouds move along the horizon, shifting and transforming the colors and shadows across the landscape. Reaching that spot had been a bit of a challenge. Our route had us traversing slick sandstone and red rock, following a trail marked by stacked rock cairns as we moved across the vast landscape. We scrambled up rocks, using our hands to guide us at times, and encountered a few vertigo-inducing spots along the way.
Prickly pear and fishhook cacti lined our route in sections, along with plenty of other plants. We also saw the cryptobiotic soil that the "Don't bust the crust" and "Don't tiptoe on the crypto" messages focus on preserving. Down on a knee and bent over for a close look, Hannah pointed out a few tiny tendrils of color on the cryptobiotic soil, just a few of the living organisms within. (Read: "Soil Sleuth: Protecting Utah's Living Landscapes")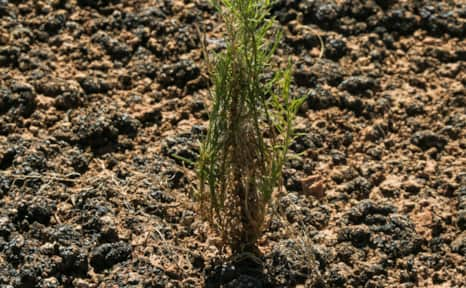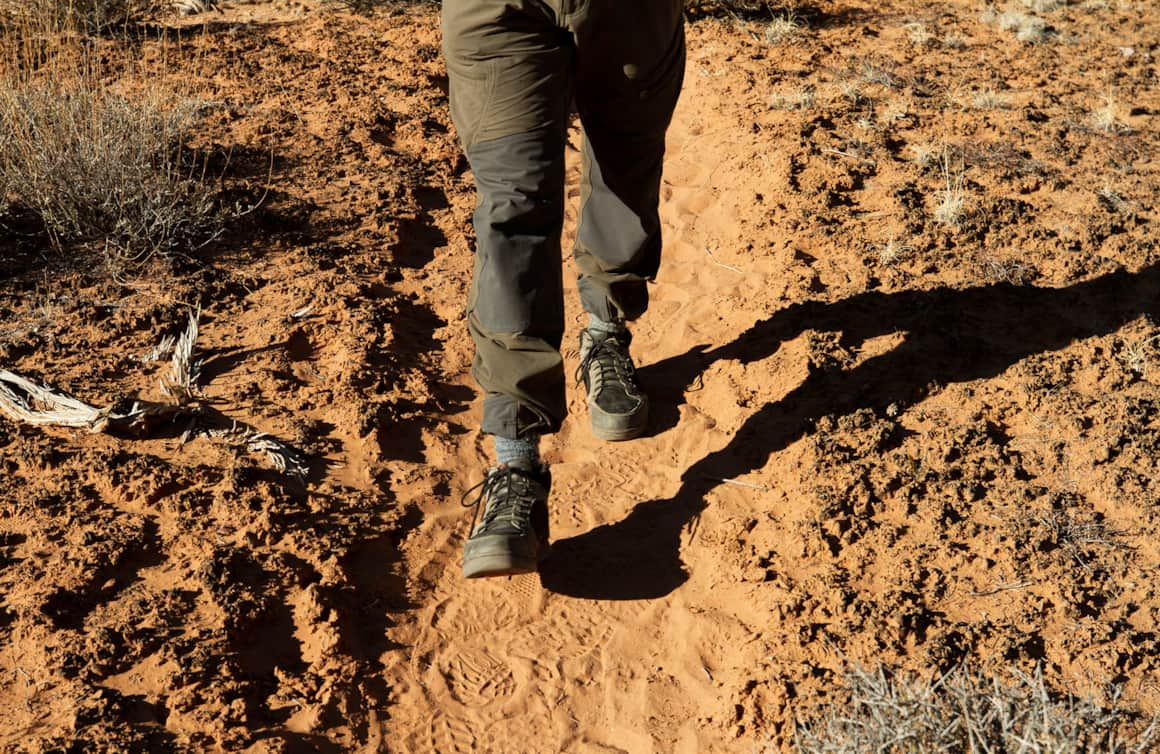 As we walked across the expansive landscape, we could see heavy rains falling miles away, but aside from a stray drop or two, we stayed dry. Thankfully, the terrain along our route didn't have too much flash flood danger since rain miles away can cause deadly flash floods.
Every time the trail curved, we were treated to a brand new landscape. We stopped for a snack break and, as Hannah ate some quinoa salad and I popped a few dried cranberries in my mouth, we looked up and noticed something new. A tiny arch, formed by countless years of erosion, was nestled in the sandstone just above us. It would have been very easy to overlook it, and we likely would have if we hadn't taken the time to stop and look around. Yet another wonder of the desert was unveiled.
Canyonlands National Park is divided up into four districts, including three named land districts — The Needles, The Maze and Island in the Sky — and the rivers that carve up those districts. Island in the Sky is the most accessible district, located near Moab, while The Maze is very rugged and remote. The Needles, accessed from Monticello in San Juan County, offers a rugged yet accessible backcountry experience, and that's what brought me there. (Read: "Be Prepared for the Backcountry")
When I had asked Hannah to show me around The Needles district, she said the best way to explore was on our own two feet, so we planned a hike.
While the paved Indian Creek Corridor Scenic Byway leads right to The Needles, it isn't an area where you can sit back in an air-conditioned car and drive around to see all the sights. While you will surely get good views from the road, the best way to see it is to get out and explore. Hannah mentioned that Elephant Hill is a popular spot with four-wheel-drive enthusiasts, but the park's main draw is exploring by foot.
"Needles is not a driving park," she said. "The experience of The Needles district to me is hiking and backpacking, and it's extraordinary."
The Needles also contains a few things I was surprised to learn I might encounter. Before our hike, I stopped by The Needles Visitor Center to learn a bit more about the area. When I was there, I learned about two surprising hazards: bears and quicksand. Some of the nearby four-wheel-drive roads are difficult to traverse due to quicksand, which was a hazard I had not considered. I also hadn't realized bears came down from the nearby mountains to some areas in The Needles District. Apparently, a number of hikers and backpackers had encountered them recently.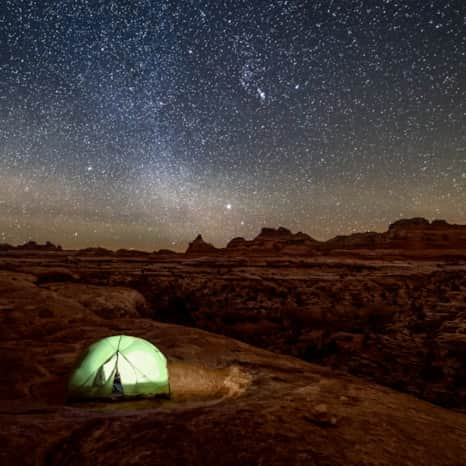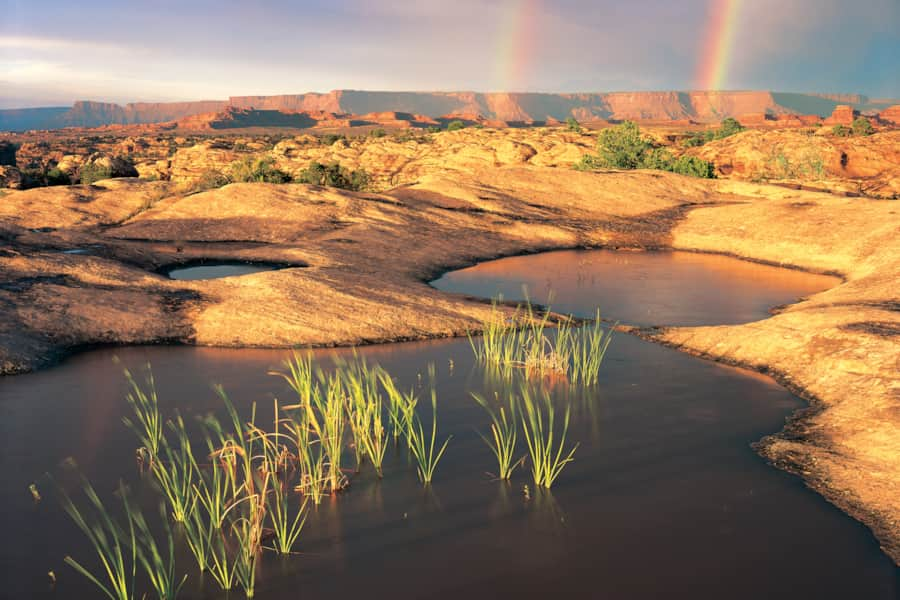 "I was astonished to look up and see a soft red glow in the dancing clouds above — a reflection of the landscape below."
While novice backpackers may not be ready for the challenges The Needles has to offer, experienced backpackers can enjoy their time as long as they take a few necessary precautions.
Generally, wildlife is tricky to see in the park. While lizards are plentiful and easy to see darting around, and encountering a sunning snake is always a possibility, many of the park's other wildlife are a bit harder to spot. Hannah mentioned she'd seen fox, snakes, birds of prey and plenty of other birds during her time there.
Before venturing into The Needles, I asked Dave Nimkin and Erika Pollard from the National Parks Conservation Association a few questions about the area. According to Nimkin, the senior southwest regional director, animals can often be tricky to see in the desert.
"The nature of being in the desert is that most of the wildlife are nocturnal," Nimkin says. "So snakes and hares and bats … they're not necessarily creatures that you're going to experience during the day."
While wildlife might be elusive, it's much easier to find gorgeous plants, flowers and cacti to admire.
"The wildflowers and the cacti in bloom are an extraordinary counterpoint to the red rock and red soils," Nimkin says. "Yellows and whites and reds on the barrel cacti and others."
During our hike, we saw plenty of vegetation and a variety of cacti and other plants. Nimkin notes these plants are very important, and ancestral inhabitants had vast ecological knowledge about how to utilize them. For example, ancestral Puebloans used juniper trees to create everything from beaded necklaces with dried seeds to ceremonial structures using the tree's wood. They even used some parts of the plant as medicine.
"Folks have an understanding of how hostile this landscape might appear, but it actually provided sustenance for ancestral inhabitants," he says. "I think we recognize how adaptive the ancient ones have been in making use of the flora of the area in weaving shoes and rope and other kinds of things."
With its unique flora, fauna and topography, The Needles district is a very special place. It's also a place where people can experience a touch of wildness.
As the wind whipped by, the sun beat down and a few storm clouds loomed in the distance, it was easy to find the wildness I came here to experience. I find freedom in wild places. And this land of red rock, open expanses and wild weather served up just what I was seeking. One has to be attentive to the environment and aware of its dangers, taking precautions and making good decisions to stay safe. That sense of self-sufficiency, along with the freedom and wildness, is part of the allure.
"Experienced backpackers can enjoy their time as long as they take a few necessary precautions."
"What's really very special about Canyonlands as a whole is its wildness and remoteness," Nimkin says. "Canyonlands is particularly unique in how vast it is and how sort of recklessly wild it is."
This sense of wildness was also on full display at night. Canyonlands is an IDA-accredited International Dark Sky Park and the night sky is truly mesmerizing.
The evening before I met up with Hannah, I stood outside in the desert and looked up. The Milky Way lit up the sky, stretching from horizon to horizon in a spectacular display. I was enthralled.
"One of the key resources at Canyonlands and many of Southern Utah's national parks are the incredibly dark night skies," says Pollard, the Utah senior program manager. "A lot of people come just to experience the night skies."
Whether visiting under a shining sun or a starlight night, there's something particularly enthralling about The Needles. And it's not something that is fully captured with words or images — a visit is the best way to understand.
"The Needles area is special," Russell says. "Visually, it's really interesting, and it's really dynamic. It's just one of those things you have to see and experience. It's incredible."
Trip Planning
Cautions

Be prepared for changing conditions and always protect yourself from heat, sun and the cold. Flash floods are dangerous and ice and snow can make footing very slippery.

Gateways

Monticello is located about 50 miles away from The Needles district of Canyonlands National Park and is the primary gateway. Moab is around 75 miles away and Salt Lake City, approximately 300 miles away, offers numerous direct flights from its large international airport.

Weather

Weather can vary dramatically; summer temperatures top 100 degrees Fahrenheit while winter can bring 0-degree Fahrenheit weather. Spring and fall typically have more moderate temperatures. Be aware of monsoon season (typically late summer and early fall) when thunderstorms, heavy rain and flash floods are a danger.

Where to Stay

A variety of hotel and motel options are available in Monticello and Moab. Campers will find options at The Needles (Squaw Flat) campground in the park, Needles Outpost (just outside the park) and nearby BLM campgrounds.