U.S. Federal Shutdown Information
At this time, all of Utah's national parks, monuments and recreation areas remain open.
Learn more.
Top 10 Family-Friendly Hikes in Utah National Parks
With so many destinations, and so many trails, it can be difficult to decide where to begin in Utah's Mighty 5® national parks. Here are 10 hikes, two per national park, that are fun for the whole family.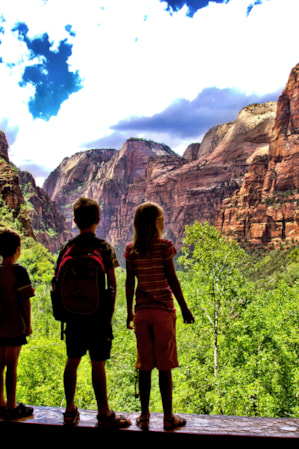 Year-round, Utah's red rock country lures families from all over the world to experience what will surely be among their top 10 hikes of all time (Read: Why Your Kids Need a Utah Trip). With so many destinations, and so many trails, it can be difficult to decide where to begin in Utah's Mighty 5® national parks. Here are 10 family-friendly hikes, two per national park, you cannot miss.
Please note that these popular trails can have limited parking at the trailhead, particularly Mossy Cave, which is not accessible via the park shuttle. Practice responsible travel and consult the visitor center if the day requires an alternative hike. Start early in the morning for the least crowded experience.
1. Navajo Loop Trail
Bryce Canyon National Park
One of the best ways to see Bryce Canyon. From Sunset Point descend into Bryce Canyon on the Navajo Loop trail. Though slightly steeper, with 550 feet of elevation change (167 meters) the Navajo Loop is shorter, at 1.3 miles (2.2 km). Good hiking boots are definitely recommended for the whole family to help you navigate the loose gravel. If you have time, continue along the Queen's Garden trail for the best family-friendly, round-trip access to Bryce Canyon. The trail adds about 1.8 miles (3 km) and rises 320 feet back up to Sunrise Point. Alternatively, the park recommends taking the Queens Garden/Navajo Loop combination from Sunrise Point to the canyon floor then returning up the Navajo Trail. Depending on the pace your family takes, the approximately 3 miles (4.6 km) of the combination hike will take about three hours. Bonus Points if you add on Queens Garden.
2. Landscape Arch
Arches National Park
Landscape Arch in Arches National Park appears very fragile. Indeed, since the early nineties, several large slabs of rock have fallen from the thinning ribbon of Landscape Arch, which is about an American football field in length. At just over 290 feet at its maximum opening, Landscape Arch is considered the longest arch in the world. The popular trail is 1.6 miles round trip (2.6 km) and can be accomplished in under an hour. If the kids are game, there are a couple of side trips with plenty to explore.
3. Delicate Arch Trail
Arches National Park
It is difficult to imagine a family-friendly trail that ends in a natural formation more simultaneously iconic yet uniquely breathtaking than Utah's Delicate Arch. You've seen the pictures, now see it with the whole family. It's 1.5 miles (2.4 km) to Delicate Arch. Take plenty of water for the whole family and give yourself two to three hours for the 3 miles round trip (4.8 km). Energy gels or granola bars can help motivate the little ones or packing a picnic for a rest in the shadow of Mother Nature's masterpiece will make the hike even more memorable — just make sure to pack everything out and leave no trace of your visit, and be aware that daytime temperatures in the peak of summer can exceed 100 F (38 C).
4. Mesa Arch
Canyonlands Islands in the Sky District
The Mesa Arch trail can be completed in 30 minutes, but go for sunrise and you'll want to linger awhile among amateur and professional photographers as the rising sun sets fire to the rock, drawing out the brilliant colors of Canyonlands National Park. Perched on a cliff's edge, Mesa Arch frames the startlingly vast expanse of Canyonlands. The half-mile trip (.8 km) is a must-hike trail in Canyonlands. To avoid the sunrise crowds, visit Mesa Arch at other times throughout the day.
5. Mossy Cave Trail
Bryce Canyon National Park
At under a mile (1.5 km), Mossy Cave is actually just outside Bryce Canyon. It's a nice introduction to the national park's distinctive red rock formations and also a great short hike to fill in part of the day. Smaller children will enjoy splashing around in the stream that follows the trail but the cavern itself is not accessible. As the trail has gained popularity, however, access can be limited. Please avoid the area if it is highly trafficked at the time of your visit as parking on the street creates unsafe conditions. Very often, earlier in the morning is better.
6. Cave Spring Trail
Canyonlands National Park's Needles District
This wonderful, short trail is a delight for everyone. At just over half a mile (1 km), this Canyonlands gem can be hiked in about 45 minutes, but still pack plenty of water as it doesn't take long to get thirsty in the hot, dry climate. Follow in the footsteps of cowboys and take to the slickrock on this well-marked trail, which is important to protect the cryptobiotic soil. Cattlemen settled the area in the late 19th century and Cave Spring offers a glimpse into their life in an area that once incredibly remote. Petroglyphs point to even more distant history. There is little elevation change and a couple of ladders are the only obstacle that smaller children may need to be carried up.
7. Grand Wash
Capitol Reef National Park
The Grand Wash in Capitol Reef National Park is accessed from a trailhead on Highway 24. The elevation change of only 200 feet (61 meters) with sheer canyon walls on either side and great scenery means not very steep and a lot of fun for the whole family. It's 2.5 miles one way (4 kilometers) but you can go as far as the kids are willing then turn back.
8. Hickman Bridge Trail
Capitol Reef National Park
There is a rockfall hazard associated with Hickman Bridge and the climb begins strenuously, but the remainder of the hike is quite moderate and only about a mile one way to the base of a massive 133-foot wide (40 meters) natural bridge that towers 125 feet (38 meters) into the air. In about an hour (1.8 miles/2.9 km), this self-guided nature trail is a marvelous introduction to Capitol Reef's truly astonishing geology. Refresh your family with a stop near Fruita during harvest season (middle of June through October). A self-pay station, scale and sign listing fruit prices is located near the entrance of orchards open for fruit harvest.
9. Upper Emerald Pools
Zion National Park
Access the Upper Emerald Pools Trail in Zion National Park from the Lower Emerald Pools Trail directly across from the Zion Lodge. 2.2 miles (3.5 km). It takes a little longer and is a little steeper trail to reach the upper pools, but it is generally not difficult, even for small children. Return the way you came or take a more adventurous route along the Kayenta Trail, but with caution: there are steep drop offs on the return, which may not be ideal for smaller children.
10. Riverside Walk
Zion National Park
The Riverside Walk is a paved, accessible trail that takes about 1.5 hours round trip — but you'll want to spend some time playing in the water if conditions permit, i.e. if it's hot outside and there isn't a flash flood threat (don't worry, there are well-marked indicators). On the Riverside Walk, you'll get a glimpse deep into the magnificent geology of the canyon the Virgin River carved. It's also the gateway to The Narrows, but a hike into The Narrows is not recommended for children under 16. As always, water and sunscreen should be welcomed into your day pack.