It's a Dog's Life: The Canine Crew of Tavaputs Ranch
Doggos doin' a necessity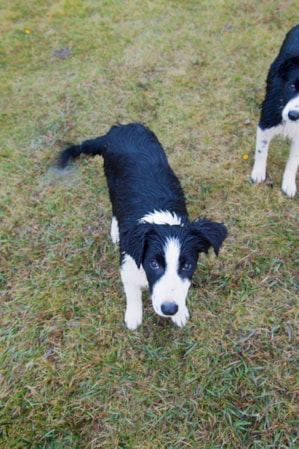 "One good border collie is worth four or five cowboys."
So says Tavaputs Ranch owner Butch Jensen, as we watch the ranch cowboys and their dogs in action during fall roundup. And that's not a criticism of the human crew on the ranch by any means. It's more testimony in high praise of the ranch dogs, yipping and swirling in the melee.
As a fourth-generation rancher and owner of this isolated strip of land on the West Tavaputs Plateau in east-central Utah (Read: The Hunt for Tavaputs), Jensen has spent most of his life working alongside dogs in general, and the backbone of many a cattle ranching operation, border collies, in particular. You know when the cowboys are saddling up horses or pulling up the trucks with dog boxes (so the dogs stay contained in truck beds and to prevent injury), as there's a cacophony of barking and yips. The dogs come flying from all corners of the ranch, eager to get to work.
"Every generation we swear these are the best dogs we've ever had."
"They work so hard and save us so much wear-and-tear," Jensen tells me. The dogs' natural speed and agility, especially in steep terrain and in brushy environments like the remote and rugged Tavaputs, helps them to efficiently locate and flush out recalcitrant cattle during roundup. They fit in tight spots next to impossible for a cowboy on horseback to navigate safely.
It's a lineage of border collies the Jensens' say they've been fortunate to cultivate for over 25 years: "Every generation we swear these are the best dogs we've ever had."
At any one time, Butch has along with him two older dogs and a pup or two in training, with all of the dogs getting plenty of love and affection from the extended Jensen family and a constant stream of ranch guests. When I ask him about his approach to training the dogs he laughs and tells me, "I'm not a dog whisperer by any means. The instinct is just there."
Says Jensen of the puppies, "When they're old enough to pay attention, we work them with the older dogs. They pick it up so damn fast." Watching five-month-old pups Belle and Hannah mimic their mother, Katie, and semi-retired grandmother, Laurie, it's easy to see their natural excitement and affinity for the work. Too young still to go on the big roundup thousands of feet down Sheep Canyon, Hannah and Belle spend their days exploring the ranch and entertaining guests with their antics.

"They're so incredibly loyal," says Jensen of his border collies, who are never kenneled and pretty much have the run of the ranch, with the exception of the off-limits guest lodge kitchen and dining room. "They're just part of our family."