The 46 Miles of Nine Mile Canyon
Follow Nine Mile Canyon Road into the rugged and remote Book Cliffs, where messages from the ancients interface with settlers of the West and modern ways of thinking.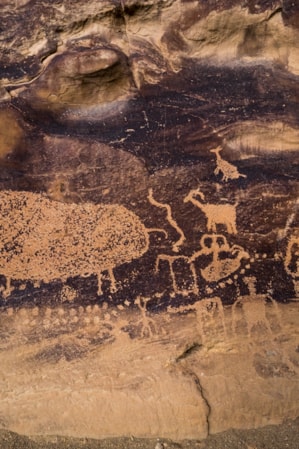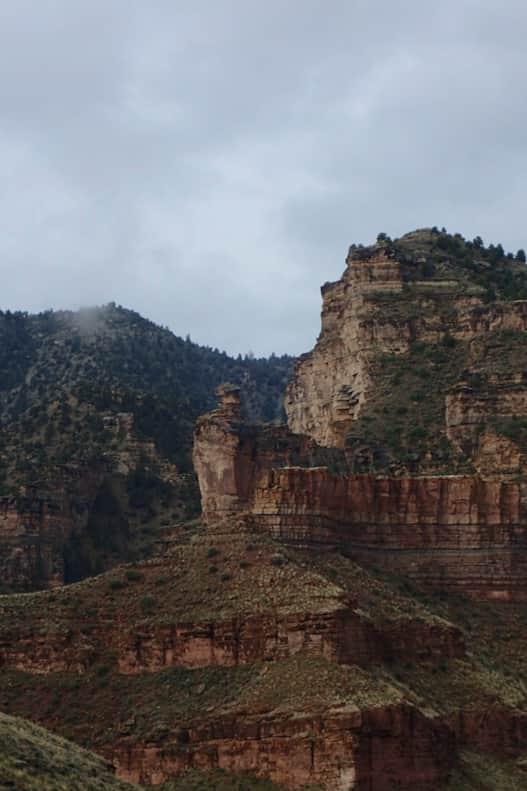 The Book Cliffs are a massive formation. The shale and sandstone escarpment stretches 200 miles from Price Canyon into neighboring Colorado. It forms a layer cake backdrop to the corridor from Helper, Price and Wellington and on down to Green River. Nine Mile Canyon is a natural conduit through the cliffs to their north side and is famous for its well-preserved and abundant collection of prehistoric petroglyphs, some of the finest examples in the United States.
Nine Mile Canyon Road, your guide for this journey, is one beautiful road. Truly, much of the asphalt itself is in near-pristine condition, having only been paved in 2014. A convergence of industry and conservation finally brought about the improvement — and it is an improvement. Years of increased use saw dust and dust suppressants kicked up by traffic, blanketing the sensitive petroglyphs. (Read: "A Rural Community Leading the Way in Stewardship and Preservation")
Nine Mile Ranch's 79-year-old Ben Mead agrees.
"Everyone said you get that road paved and the traffic will kill you. But it really hasn't been much difference. It's so much quieter now and with none of the dust and rattle you don't even notice the traffic."
Mead purchased the ranch after working 22 years down in the valley for the Plateau Mining Company. Today, the rustic ranch offers some of the area's only lodging to travelers passing through. At the time I catch up with him, he's methodically building a stone chimney addition to their largest guest cabin. Ben carefully descends his ladder and scaffolding, crosses the property to a faucet, turns it on, follows the hose to the mouth, fills his small bucket, mixes in his mortar, turns off the faucet and returns to the chimney. Look around and you'll see endless evidence of this good, methodical work. The cabin is one of three homesteads relocated from elsewhere in Nine Mile Canyon and carefully restored on-site. He has a kind, weathered face beneath his Stetson. I half-expect him to encourage me to figure out the one thing that brings me meaning in life.
To find his wife, Myrna, Ben hops on a mountain bike and rides up the hill to where they're clearing a field for a parking area in anticipation of their ranch's anniversary celebration.
"There's a palpable human texture to Nine Mile Canyon. Humans have layered their existence on the rock walls and canyon floors."
Rugged and Rustic
Scanning the setting of Nine Mile Ranch reveals a 360-degree picture-perfect, old-timey landscape of foothills dotted with bright evergreens over the surprisingly lush and grassy grounds of the ranch. Somewhere, the creek runs through it.
The ranch's amenities are a collection of rugged and rustic lodging, assembled, furnished and decorated by hand. Wood-burning stoves heat the cabins we've booked, and small solar panels provide power for the modest lighting — but don't plan on recharging your heavy electronics here. There is also a "Bunk and Breakfast" in the main lodge with $3 showers.
The nights are still chilly during my April visit — the ranch sits at nearly 6,700 feet above sea level.
Ben assures me, "Them cabins get cozy warm you get a fire going; they warm up pretty quick."
I find out the next day that the photographer I'm traveling with — Dean Krakel — faced a challenge keeping his larger cabin warm. But the night before he had slept under the stars down in the Buckhorn Draw of the San Rafael Swell, so he was equipped for the challenge.
We drop off our gear and head down canyon to see a small handful of the more than 1,000 cataloged sites.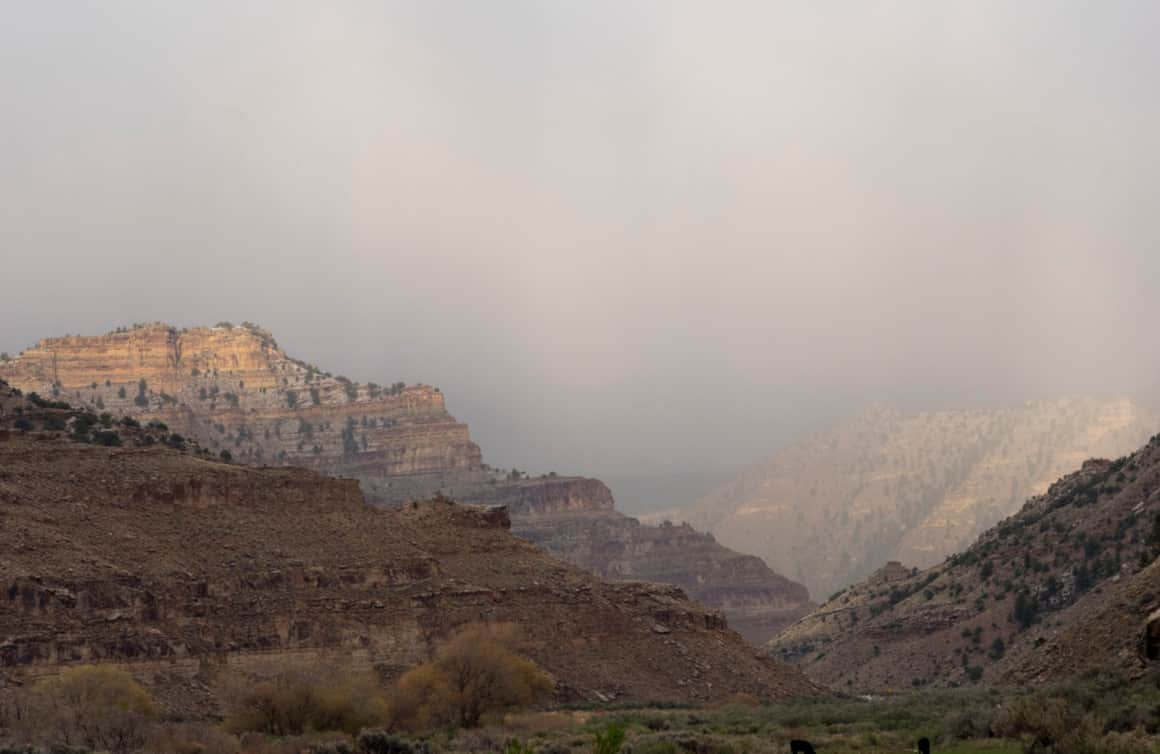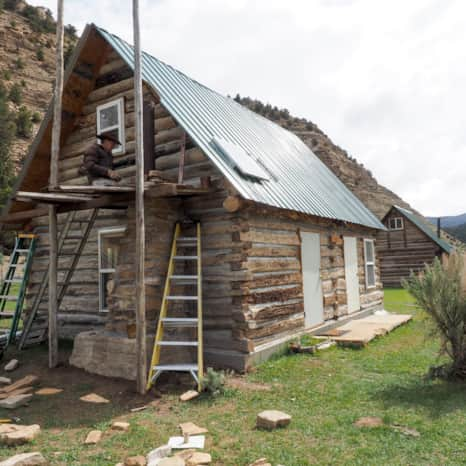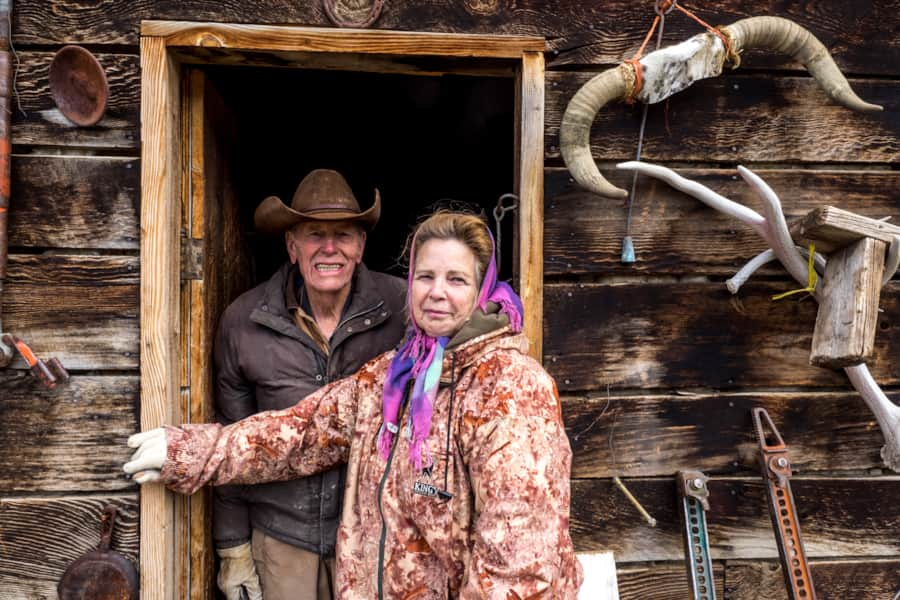 The World's Longest Outdoor Art Gallery
This must be a spectacular and frightening canyon during thunderstorms. Claps of thunder would echo off the cliffs, bouncing down the canyon, carrying messages from the gods. Flash floods would power through wash after wash, which signage on the road indicate could for a brief time become impassable. I am preoccupied by this because it had been raining on the drive up and in the desert, it's a fine and sometimes unpredictable line between rain and flash flood.
But there's a break in the precipitation.
In the canyon, low-hanging clouds dance across the fir-lined hillside like smoke signals or a campfire. The rain activated the desert sage, filling the site with fresh, sweet aromatherapy. A few paces west, pinyon seeds litter the canyon floor from a stand of pines. When I walk, I stir up cottontail rabbits and grouse. Ravens reflect their squawks high up on the cliffside of the narrowing canyon, which is streaked with mineral deposits and dotted with dark green junipers.
As I approach the Big Buffalo Panel about 45 miles up the canyon, grazing cows call loudly to each other as they convene in a nearby field. Their urgent mooing haunts the canyon as it bounces off the walls and fills the space like an amphitheater. Did early people communicate this way?
Around the corner, there is an interpretive sign at the Great Hunt Panel suggesting the panel represents an actual event. It raises questions. Was the hunt great? If so, to whom is the artist proclaiming its greatness? How long did it take to record this event? How long did it take to carefully peck away at the soft, yet durable wall? "Greatness" is an interpretation modern humans have layered on the panel. It gives hints and we take of them freely, but its true meaning can never be known.
There's a palpable human texture to Nine Mile Canyon. Humans have layered their existence on the rock walls and canyon floors. Waves of the so-called Fremont Culture left their messages in stone and disappeared or were absorbed into other indigenous groups about 1,000 years ago. Maybe a people before them shook their heads at this new form of art.
Early homesteaders settled and built lives. Here, the abandoned stone home where Ben Mead's parents lived, expertly cobbled together. There, the remains of the ghost town Harper mark a once-thriving stagecoach stopover. Further along, only the stone chimney of a now vanished house remains. What family gathered at its hearth?
I naively think of these as long-ago broken dreams. Maybe they're just forgotten dreams, the way the memory slowly slips away, the longer you've been awake. Today, energy development and grazing are prominent. So many different lives and worldviews have passed through here. Meanwhile, Nine Mile Creek continues its patient erosion.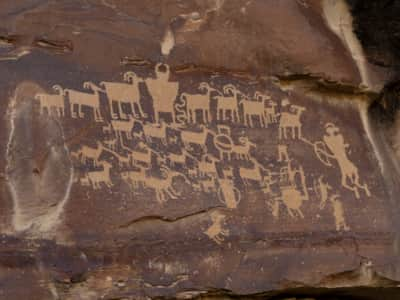 Visiting Nine Mile Canyon
Although visitors can tour the canyon by car in a couple of hours, Nine Mile Canyon is best appreciated up close — give yourself a half-day. Grab a map at nearby towns of Price or Helper and watch for pull-outs with short walks to canyon walls. (Also watch for traffic when crossing the roads!)
The opportunity to explore ancient petroglyphs, pictographs and historic sites with no supervision also comes with a responsibility. Leave no trace means that it's okay to take photos but never touch the art or add anything. Don't disturb the rocks, make rock "mountains" or rub chalk over the image — ensure this piece of history will remain for generations to come! It's a good idea to have a talk with children beforehand to establish appropriate behavior and set boundaries. (Read: How to Visit Rock Imagery Sites Like an Archaeologist)
Nine Mile Canyon is approximately 3 hours from Salt Lake City.
This article is adapted from the longer Reef Walking, Petroglyphs and Bones, which explores the San Rafael Swell, Cleveland-Lloyd Dinosaur Quarry and Nine Mile Canyon. The turn to Nine Mile Canyon Road is about 10 miles southeast of Price, Utah, on U.S. 6/191, about two hours from Salt Lake City. Stop in Helper or Price to get information.