Touring Utah with the State's Most Well Known Women Writers
Explore the places that seven of Utah's women writers knew and loved most.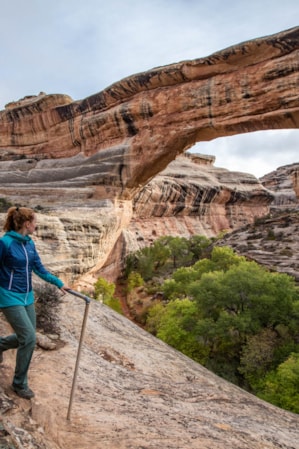 The diversity and beauty found in Utah has often been best captured by its resident women writers. These women have not only traversed the mountains, rivers and deserts here, but have taken the time to become intimately knowledgeable about the inhabitants, culture and history that make Utah special.
Paisley Rekdal, the state's current poet laureate agrees. "Utah has a rich tradition of poetry. Maybe because we have so many universities. I think also because there is so much to inspire here."
Though she prefers to do her actual writing in an environment that isn't too visually stimulating, she does love getting out to explore the region, and is not surprised that so many of the state's women writers reference the environment and landscape in their work. Many of Utah's women writers dedicated their lives to sharing with us all, through their writing, the significance of our shared connection to the special places they knew and loved so well.
Here are the places that seven of Utah's most well known women writers knew and loved most:
"A wee child toddling in a wonder world, I prefer to their dogma my excursions into the natural gardens where the voice of the Great Spirit is heard in the twittering of birds, the rippling of mighty waters, and the sweet breathing of flowers. If this is Paganism, then at present, at least, I am a Pagan."
– Zitkála-Šá
Zitkála-Šá | Northeastern Utah
Zitkála-Šá, also known as Gertrude Simmons Bonnin, was a member of the Dakota Sioux nation. She was born in 1876 in South Dakota, later moving to northeastern Utah, specifically the Uintah-Ouray Reservation in the early 1900s as a young woman. She was known for writing prolifically about the land, recording the oral traditions of her people and crafting essays on issues of cultural desecration and displacement that Native American's were dealing with as a result of white settlement. She loved the Ute people and spent her time in Utah working closely with them and writing about her experiences.
The Atlantic Monthly and Harper's Monthly were two of the prominent periodicals that featured her essays. She also co-wrote an opera, titled "The Sun Dance Opera," with a composer and music teacher from Brigham Young University, which made its debut in Vernal in 1913. The opera was based on rituals of the Sioux people. It was well received by critics from as far away as New York City, and is noted as being the first opera co-authored by a Native American. Zitkála-Šá spent 14 years in Utah, before moving to Washington D.C. to continue her activist work. She died in 1938 and is buried in Arlington National Cemetery.
To feel closer to Zitkála-Šá's work, and to experience the landscape where she lived in Utah, you can visit Strawberry Reservoir or Starvation State Park inside the Uintah-Ouray Reservation. Starvation State Park is located near the town of Duchesne, which is currently the official headquarters of the Ute tribe. The Strawberry and Starvation Rivers flow nearby, and camping and fishing are allowed inside the park. It makes for a nice day trip from any of the cities along the northern Wasatch Front. This location is a great start, but if you want to extend it a bit, you can also visit Nine Mile Canyon (read: The 46 Miles of Nine Mile Canyon). This 46-mile canyon is beautiful, offering a scenic drive through Green River country. The canyon also contains an abundance of some of the best examples of prehistoric rock art in the U.S. The rock art found here was specifically created by the Ute and Fremont peoples of Utah.
"Language is the first site of loss and our first defense against it."
– Paisley Rekdal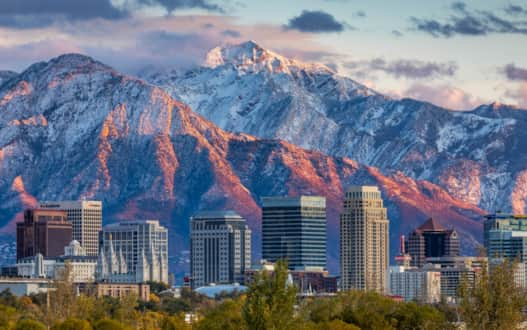 Paisley Rekdal | Salt Lake City
Paisley Rekdal is Utah's Poet Laureate. After reading about the Infinite City Project by Rebecca Solnit, Paisley decided to start a similar project in Salt Lake City. She calls this online project Mapping Salt Lake City. Working with other writers, the project aims to "reimagine the city's history" by compiling stories and micro histories, submitted by writers from throughout the state and beyond.
"Salt Lake is a city that is constantly changing," says Paisley. "There are a lot of populations from different cultural backgrounds here who have built this city, and I wanted community members to be able to add their own stories and histories to this online collection to shape our understanding and ideas about the area."
Paisley has authored a book of essays titled "The Night My Mother Met Bruce Lee," a hybrid photo text memoir titled "Intimate" and four books of poetry. She has also received an array of awards for her work, including a Guggenheim Fellowship and Pushcart Prizes. To connect with her work, visit Salt Lake City and then add your voice to the narrative by submitting your experience to the Mapping Salt Lake City website. Keep your literary tour of Salt Lake City going with a stop at Salt Lake's independent book store, The King's English. After, grab a bite at the local Middle Eastern restaurant Mazza and go for a walk in the Wasatch Hollow Open Space or Sugar House Park. (Read: Digging Salt Lake City for 48 Hours)
"Perhaps the wilderness we fear is the pause between our own heartbeats, the silent space that says we live only by grace. Wilderness lives by this same grace. Wild mercy is in our hands."
– Terry Tempest Williams, "Refuge: An Unnatural History of Family and Place"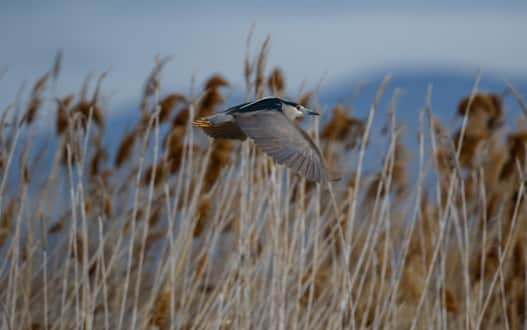 Terry Tempest Williams | Bear River Migratory Bird Refuge
Terry Tempest Williams is a world-renowned environmental writer and memoirist. Utah is her home state, and she was raised a member of The Church of Jesus Christ of Latter-day Saints with a deep understanding of one of the state's most dominant cultures. Her memoirs "Refuge" and "When Women Were Birds" talk in-depth, not only about her relationships with the women in her life and Mormon culture, but about her deep connection to the local environment as well.
In "Refuge," specifically, she writes about the Bear River Migratory Bird Refuge near Brigham City, where she used to often go bird watching with her grandmother. She uses the historic flooding of the refuge to contrast her relationships with her grandmother and her terminally ill mother.
You can visit the Bear River Migratory Bird Refuge throughout the year (Read: Winging It). It now has a new educational center as well as a 12-mile one-way auto tour. It's a serene place to kick back and take in an unbroken landscape that is home to more than 200 bird species, including one of the largest pelican colonies in the country. Be sure to stop by Brigham City for lunch and to stroll the quaint historic Main Street. If you want to extend the trip, there are several other incredible destinations in this area of northern Utah to continue enjoying Utah's landscape and history, including Antelope Island, the Bonneville Salt Flats, the Spiral Jetty, and the Golden Spike National Historic Park.
"Show me a character whose life arouses my curiosity, and my flesh begins crawling with suspense."
– Fawn Brodie
Fawn Brodie | Ogden Valley
Fawn Brodie is a famous biographer who grew up in Huntsville in Utah's Ogden Valley. She is most well known for writing academically acclaimed biographies of Thomas Jefferson and Joseph Smith, as well as for being one of UCLA's first female professors.
Brodie spent adulthood in California, but her years growing up as a Latter-day Saint in the Ogden Valley were formative. "No Man Knows My History," is widely regarded as one of the most important biographies about the Mormon prophet, Joseph Smith. She boldly wrote the biography at a time that outspoken and critical Latter-day Saint female voices were few. This piece launched her career as a biographer and academic.
The white home she grew up in still stands in Huntsville, which still possesses a rural small town aesthetic. Though Brodie's childhood home is not a historic site, a visit to this area is always a fun excursion. The drives through both the Ogden Canyon, or Trapper's Loop, depending on which way you are coming from, are scenic and impressive. The Anderson Cove Campground at Pineview Reservoir can be accessed year-round, with picnic tables and views of the water. Snowbasin Resort is another great place to stop in the Ogden Valley. Throughout the winter, whether or not you feel like skiing, the lodges have incredible lunches and gondola tickets are available to non skiiers as well. During the warmer months Snowbasin's gondola is open for mountain biking and hiking. Downtown Huntsville has cute shops and restaurants to check out as well, like First Lift Coffee and the Shooting Star Saloon. (Read: Ogden's Star is Rising: Downtown to Dark Skies)
"My perspective changed suddenly one day when a man invited me to see a sand painting... There, on the floor, was a painting made of sand. It was beautiful! In it were mountains, birds, antelope, corn, beans, pumpkins, and a plant the Navajos call 'mountain tobacco,' made of red, blue, black, yellow, and white sands. To look at the surrounding country, you would not think they could find so many different vivid colors, but they are there."
– Louisa Wetherill, Wolfkiller: Wisdom from a Nineteenth-Century Navajo Shepherd
Louisa Mary Wade Wetherill | Southeastern Utah
Louisa Mary Wade Wetherill spent decades of her life translating, recording and compiling traditional Navajo stories. Most notably, she transcribed the stories of a local Navajo shepherd known as Wolfkiller. These writings were collected in the early 1900s, but were only recently published officially in 2017 under the title "Wolfkiller: Wisdom from a Nineteenth Century Navajo Shepherd."
In 1906 Louisa and her husband opened a trading post in Oljato near Monument Valley. Some of their guests there included President Theodore Roosevelt and famous western novelist Zane Grey.
You can connect with the world of Louisa Mary Wade Wetherill and the legacy of Navajo women by visiting Monument Valley (Watch: The Voices of Bears Ears). This location has some of the most iconic imagery representing the American West. There are a few areas you can go to take in the views, including the drive from Bluff, Utah through the Valley of the Gods, the Four Corners, and the 25 mile stretch of road before Monument Valley, which is recognizable from a lot of modern art and film, including "Forrest Gump."
"Of all the things I wondered about on this land, I wondered the hardest about the seduction of certain geographies that feel like home — not by story or blood but merely by their forms and colors. How our perceptions are our only internal map of the world, how there are places that claim you and places that warn you away. How you can fall in love with the light."
– Ellen Meloy
Ellen Meloy | Bluff, Utah
Ellen Meloy is noted as being one of the best literary environmentalist writers of the 20th century. She crafts essays exploring humans and our relationship to the landscape as well as the plants and animals that share it with us. She examined the ways that we have both impacted and nurtured this realm through the lense of culture and history.
Meloy wrote one of her first books "Raven's Exile" while traveling the Green River territory with her river guide husband. Most of her work however focuses on Southern Utah, specifically the Colorado Plateau and desert environments in general. She called Bluff, Utah home, where she spent her days hiking, painting and writing until her premature and unexpected death in 2004.
Bluff is a small town in the southeastern corner of Utah. The hiking here is phenomenal and it is also conveniently close to Monument Valley. You can visit the area to immerse yourself in the world of Ellen Meloy, while exploring the very trails and vistas that she loved dearly. This area brings you close to Bears Ears National Monument as well, which is an important site to the Navajo, Ute and Hopi nations. From the two iconic towering buttes to prehistoric rock art, this is an incredible area to explore and hike. Goosenecks State Park, Natural Bridges National Monument, and heading out for a raft on the San Juan River, are other destinations and experiences you can seek out when exploring one of Utah's most beautiful desert regions. (See the itinerary: Bears Ears Starter Kit)
"To truly inhabit a place is to learn to dwell with the differences that threaten to divide it. Otherwise, one beckons monotony."
– Amy Irvine
Amy Irvine | Arches National Park
As a sixth generation Utahn and former National Park Service ranger, environmental writer Amy Irvine knows Utah intimately. Her memoir "Trespass" explores her relationship not only to the geography and climate, but the culture and history of Utah as well. More recently, Amy's new collection of essays "Desert Cabal," are in direct conversation with the famous writer Edwards Abbey's "Desert Solitaire." She examines Abbey's ideas about finding solitude in the wilderness through the lens of the current climate crisis and privilege, coming to some very different conclusions.
Arches National Park is where both Abbey and Irvine worked as National Park Service rangers, making it the perfect location to visit if you want to dive into the landscapes that directly informed the writing of both books. This is one of Utah's Mighty Five national parks so it does get crowded during the warmer months, but you are just as likely to find solitude as you are to find community – especially if you bring along a good book. To soak up the incredible views in a similar landscape, you can also check out Dead Horse Point State Park or the San Rafael Swell (Read: The Underrated Trails Within the San Rafael Swell), where great hiking and day use areas can also be found. Another great spot to hit when visiting this area is the town of Moab. Here, you can enjoy a true eclectic desert oasis. Hole up here for a night in a motel or to enjoy some of the local fare at the Desert Bistro before heading out to explore this incredible region surrounding the Green River.