Arches Timed Entry
From April 1 through October 31, 2023, daytime visitors to Arches National Park are required to have a timed entry ticket to enter the park. Reservations open three months in advance.
More information at go.nps.gov/archesticket.

Best Things To Do in Moab
Hiking

Even if you don't visit the nearby national parks, there are enough hikes in Moab to keep your feet busy for ages. Grandstaff and Corona Arch are easy trails near Moab that feature arches. Don't forget to look around as you hike, it's not uncommon to see rock art along the canyon walls. It's important to stay on the trails when you're hiking because the region has a lot of fragile biological soil crust (also known as cryptobiotic soil) that is the foundation of desert plant life. It plays a vital role in the desert ecosystem and stepping on it can cause decades of damage. In addition to protecting the region's biome, unmarked hazards exist so it can be dangerous to veer off the trails. Look for cairn trail markers if you're unsure of which way to go when you're hiking. Cairns are man-made stacks of stones that will show you the way.

Mountain Biking

It's hard not to notice that Moab is a world class mountain biking destination. You'll see an abundance of jam-packed bike racks, riders zooming around town on their way to or from trails, and a baker's dozen of bike rental shops. Moab is not necessarily the best place to learn how to mountain bike unless you hire a guide who can show you the ropes and lead you on the routes. However, if you're a long way away from training wheels and have sufficient nerve, you will not want to miss the chance to ride Moab's most famous expert mountain biking trails like Slickrock Bike Trail, The Whole Enchilada and Porcupine Rim. The Intrepid Trail System in Dead Horse Point State Park is great for beginner and intermediate riders and leads to amazing views of the Colorado River.

Visit Arches and Canyonlands National Parks

National parks enthusiasts appreciate how close the town of Moab is to both Arches National Park (5.2 miles/8.4 kilometers) and Canyonlands National Park (30 miles/48 kilometers). You could easily spend a week at each park and still not see everything. Even if you don't leave your vehicle, you'll be able to see some of the beautiful rock formations that Arches and Canyonlands are famous for, but these parks are best experienced on foot as many of the main attractions, like Delicate Arch and Mesa Arch require visitors to earn their views by hiking to see them.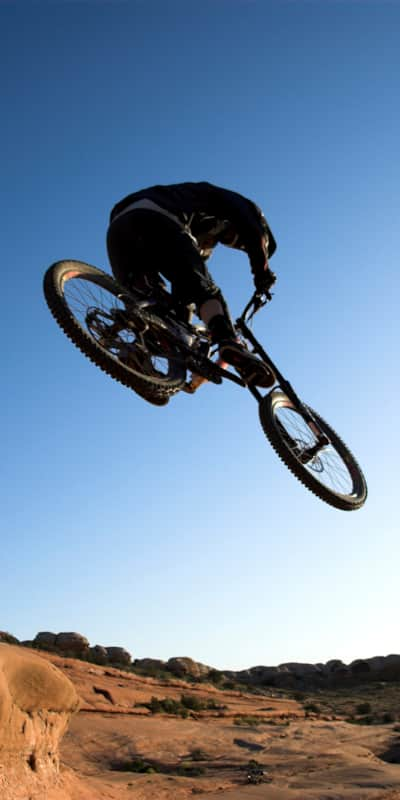 Explore the Moab Region
It's no wonder Moab makes the perfect base camp for nearby exploration. There are countless adventures to be had within an hour's drive of Moab.
Indian Creek: This area is a haven for trad rock climbers. You'll find a seemingly endless array of some of the most daunting crack climbing routes in the world at Indian Creek, including the legendary Belly Full of Bad Berries (5.13a) — an 80 foot (24 meter) 45 degree overhanging splitter offwidth — that only the best climbers can ascend, and Scarface (5.11 a/b) which consistently gets five out of five star reviews from its patrons and offers spectacular views of the region. It's almost as much fun to watch climbers attempt these routes as it is to do them.

Green River: At first glance, you might think this town is just another stop on the way to Moab, but it has some interesting history. The city of Green River was once a stomping ground for Butch Cassidy and his Wild Bunch. Don't miss a tour of the John Wesley Powell Museum where you can watch a short film about Powell's 1869 expedition on the Green and Colorado rivers. Want to see some cool rock art? Check out the pictographs and petroglyphs of Sego Canyon near Thompson Springs just east of Green River.

La Sal Mountains: Part of the Manti-La Sal National Forest, the La Sal mountains are 20 miles (32 kilometers) to the south of Moab and rise to nearly 13,000 feet (3,962 meters). A favorite among hikers, mountain bikers and fishers, it's lush landscape and babbling brooks are a strong contrast to the exposed red sandstone that Moab is known for. Backcountry skiers like to earn their turns in the La Sals when the snow allows for it. The La Sal Mountain Loop Road is a scenic backway and is a nice 63 mile (101 kilometer) drive with beautiful scenery that takes about three hours to complete. It is especially pretty during the fall when the leaves are changing colors.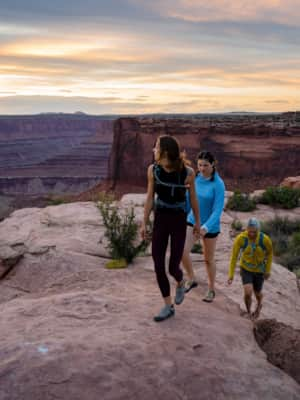 When Is The Best Time To Visit Moab?
Wondering when you can have more of Moab's scenery to yourself? Find the best timing and destinations to avoid crowds on your next Moab trip.
Outdoor Recreation Guides and Rentals
Don't worry if you don't have the right gear, equipment or expertise for your trip to Moab. You can hire a guide for individual or group tours and there are plenty of outfitters that can set you up for a whitewater rafting trip on the Colorado River or a Jeep tour on Hell's Revenge. Find the guide or outfitter you need on Discover Moab.
Restaurants in Moab
From food trucks to fine dining, there's no shortage of restaurants in Moab. Breweries, pizzerias, boutique cafes and diners abound. Every town has its Thai — in Moab it's Arches Thai. They serve all kinds of authentic Asian cuisine from pho to drunken noodles. For cheap eats, try Tacos EL Gordo at the street food market on Main Street. In the mood for something upscale? Make a reservation at Desert Bistro and pair the Colorado Lamb loin with a nice glass of Argentinian Malbec.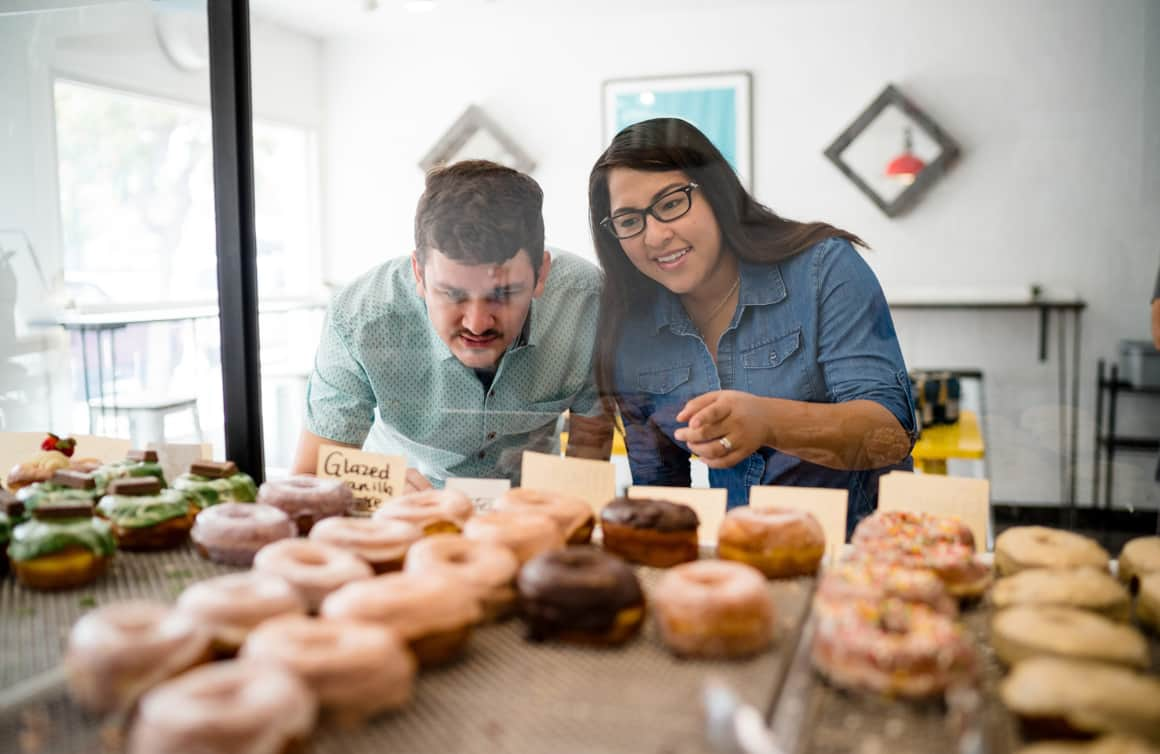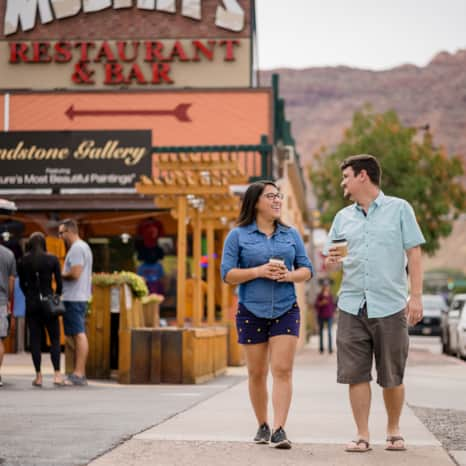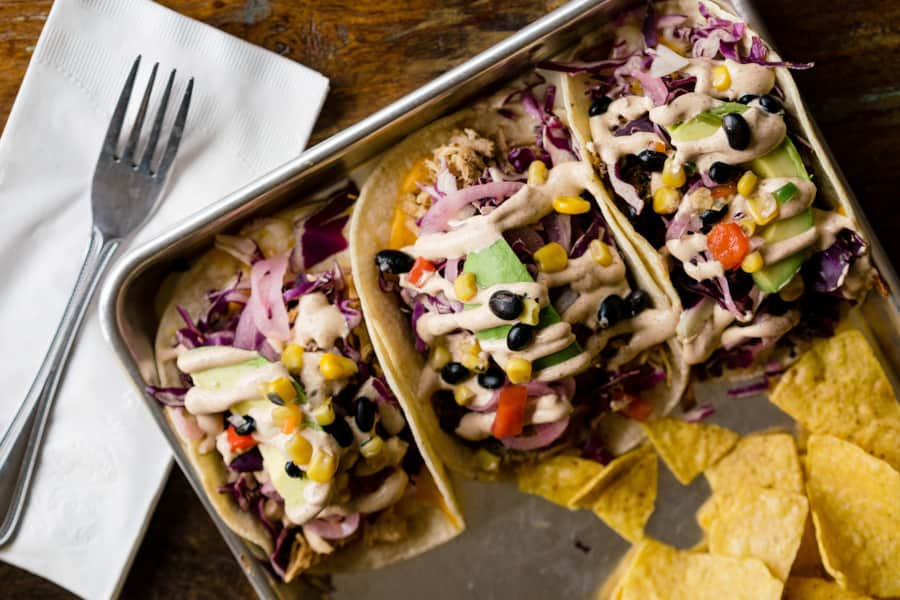 Things To Know
Over the past decade Moab has become more popular than ever before, hosting an average of more than three million people every year. Even in January when the trails are covered in snow and ice, you'll have a lot of company on the hike to Delicate Arch. Crowds do ebb somewhat when temperatures soar during the dog days of summer, but generally speaking Moab is busy year-round. The busiest time of year is always around Easter Weekend when the annual Jeep Safari takes place. During this time, it can be hard to find a hotel stay or available campground.
Many Moab hotels allow dogs and the town is somewhat pet-friendly. Dogs are required to be on leashes and owner's must clean up after them. Never leave your pets in the car — even for five minutes and even with the windows cracked — when you're in or near Moab. Animals can die within minutes of being left in a hot car.
Be a considerate traveler when visiting Moab so that others may enjoy its magnificence too. Visit Forever Mighty to learn more about responsible travel in the state of Utah.
Weather
The best time to visit Moab is in the spring or fall when temperatures pleasantly hover in the 70s and low 80s (F) (21-28 C). In January lows dip into the 20s and in July temperatures can skyrocket to more than 100 F (38 C). It does snow in Moab, but it usually doesn't stick around for too long. It's not common to see a heavy snowstorm in March and April, but it does happen. When it rains in Moab, the slickrock becomes incredibly slippery and tough to navigate, hence its name, so check weather reports before heading out on any adventure. It's always a good idea to bring a rain jacket, sunscreen, a hat, snacks, a headlamp, first aid kit and more water than you think you'll need for any activity.
Thelma & Louise: A Tribute Road Trip Through the Classic Film's Utah Settings

Perfect for fans of the beloved film "Thelma & Louise," tour the exact places where the movie was shot, and make some memories of your own exploring the beauty of this exquisite desert.

Salt Lake City to Moab

Moab is Utah's adventure epicenter — a place where world-renowned natural destinations are scattered around a town that's brimming with local charm. Be sure to bring a vivid imagination and taste for exploration along with your hiking shoes, sunscreen and water bottle, because this is not your typical retreat.

Iconic Classics Southeast

Three days on the open roads of Southeastern Utah is just enough for a taste of two of its most iconic national parks — Arches and Canyonlands — and a few things in between.