COVID-19 Travel
Please adhere to local guidelines for safe and responsible travel, including following the statewide mask mandate.
Read more
Visit Utah's National Parks Like You Know What You're Doing
Get the most out of a visit to Utah's parks and monuments, while also ensuring they stay Forever Mighty, by following these tips.
Field Guides: Voices From the Forever Mighty Landscape
Utah's natural landscapes become easier to appreciate thanks to the guides who help us along the trail. Sometimes guides offer the kind of wisdom, both lived and learned, that's hard for adventurers to absorb in any other way.
We've launched a series about the lives of Utah's guides — people whose avocations and vocations have drawn them deeper into the canyons, mountains and deserts that most of us simply visit. Those who help us recreate responsibility. Those who share what can be termed the Forever Mighty ethos.
Leave No Trace
Follow the seven principles of Leave no Trace, no matter what Utah activities you take on:
Plan ahead and prepare.

Travel and camp on durable surfaces.

Dispose of waste properly.

Leave what you find.

Minimize campfire impacts (be careful with fire).

Respect wildlife.

Be considerate of other visitors.
Support Local
Planning extra time in your trip to pause and enjoy the towns along your itinerary introduces you to the local flavors and personalities who draw their inspiration from the natural beauty that surrounds them. Even better, visiting their restaurants, local shops and outfitters supports local and helps keep those communities vibrant, thriving and welcoming.
Explore Utah's top airport cities, red rock basecamps, northern mountain cities and top historic basecamps on our cities and town page.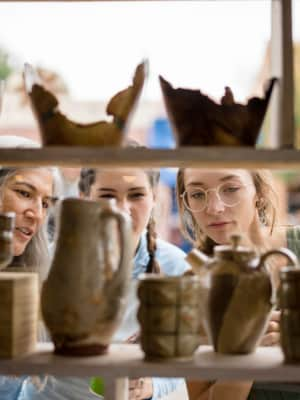 How to Support Local On Your Utah Road Trip
Many small businesses in Utah rely on tourism for survival. These expert tips help road trippers make a real difference in communities by supporting local.