U.S. Federal Shutdown Information
All of Utah's Mighty 5 national parks will remain open.
Learn more.
Iconic Classics Southeast
Best approached from Salt Lake or Grand Junction.
Three days on the open roads of Southeastern Utah is just enough for a taste of two of its most iconic national parks — Arches and Canyonlands — and a few things in between. We don't use "iconic" lightly. These are two of The Mighty 5® — the standard bearers of Utah, the giants whose splendor has inspired humans for centuries.

Day one in Moab is all about the celebrities. Revel in the majestic view of one of the most famous geologic features in the world in Arches National Park — it'll take your breath away in more ways than one. Test your mettle on possibly the world's most famous mountain bike trail or follow a guide through a famously overlooked hike in a labyrinth of narrow canyon walls.

Day two is picture-perfect. Get up early and you can catch the first few rays of sunlight streaming through Mesa Arch and the dramatic view it frames of Canyonlands National Park. Another short hike will take you to a 1,000-foot high vantage point above the Needles District and wide-open canyonlands. Or drive to Dead Horse State Park, an even higher vantage point above the Colorado River, as it curves steeply around the canyon wall.

Day three is thrilling. You can either experience the exhilaration from a raft as you surge through the rapids of the Colorado River, or from the seat of a Hummer as you climb to the top of seldom-seen, awe-inspiring Moab overlooks.

In just a short trip you'll tackle some of the best that Utah has to offer.
Read these resources to learn how to travel thoughtfully and experience Utah most fully on your journey.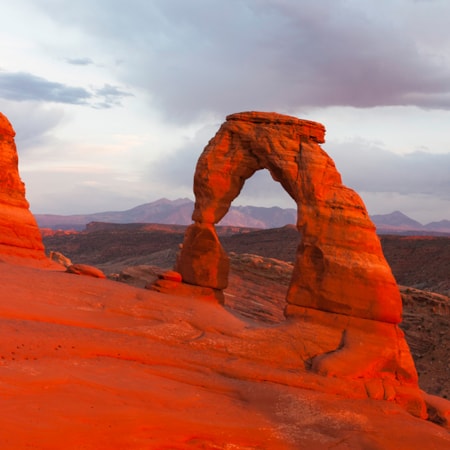 Moab to Arches National Park
60 Miles
Start the day with a sunrise hike to Delicate Arch. Grab a headlamp and set out early to race the sun to the iconic centerpiece of Arches National Park (Read: "How to Visit Arches"). You'll have plenty of time to tour other great hikes in Arches, including Landscape Arch and the playful Windows Section. Perhaps the most intriguing site is Fiery Furnace. Book a tour well in advance to access the fascinating puzzle of crevasses, fins and boulders. Mountain bikers will want to make haste for the Slickrock Trail. There are easy and difficult options, and places to rent bikes in Moab. Base camp in Moab. (Read: "The Best Time to Visit Moab")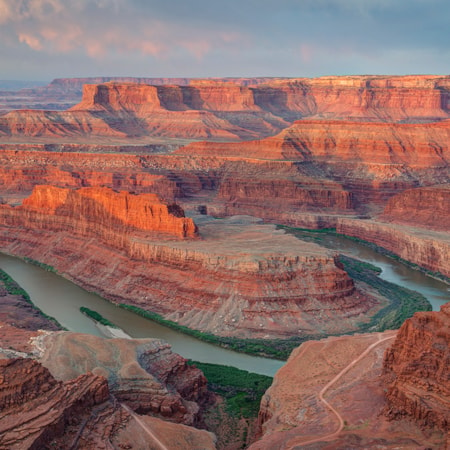 Dead Horse Point to Canyonlands
90 Miles
This is a day of breathtaking views with very little hiking. Another early start can get you to one of the most photographed sunrises around: Mesa Arch. Campers may try to get a site at Dead Horse Point or Canyonlands for quickest access to the sunrise spectacle. Of course, the sunrise over Utah's Canyon Country is spectacular no matter where you are, and it's also an ideal hour for photographing this amazing landscape. Pick up additional photos and memories at Grand View Point, one of Canyonlands' best overlooks.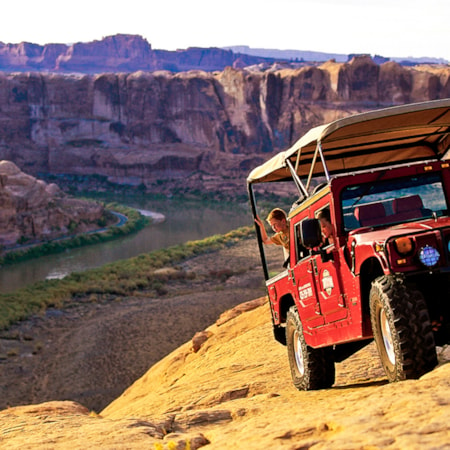 Colorado River and Moab
25 Miles
Where will today take you? Choose the thrilling white water of the mighty Colorado River (there are also gentler, flat water options) and experience the very force that carved Canyonlands National Park, or head for the hills on a Hummer tour across the sandstone plateau. Either way, you've earned a good meal, which Moab serves up in abundance. Cap off your quick trip to one of Utah's best known adventure epicenters with a relaxing evening in town.