Cedar City to Cedar City 90-Mile Cycling Loop
Ride Overview: Up to 90 miles with more than 4,000 feet in elevation gain through some of Utah's most scenic — and varied — landscapes.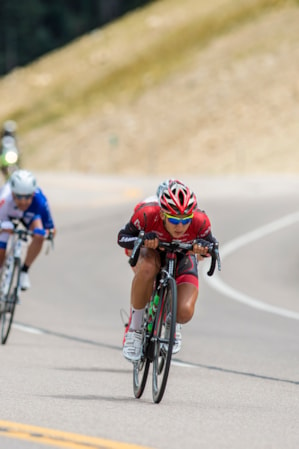 In the summer of 2016, the Larry H. Miller Tour of Utah returned to race in Southern Utah for the third time and tackled what is surely one of the tour's most memorable loops: a series of three scenic byways up and down the 10,000-foot Markagunt Plateau. Utilizing some of the same roads that the world's top professional cyclists have raced on during the Tour, this route through Iron and Garfield counties is scenic and challenging.
Rolling out of Cedar City, riders have time to warm up their muscles as they wind through the Red Hills of the Escalante Desert on the way through the Parowan Gap, which is listed on the National Register of Historic Places for its ancient Native American petroglyphs. To make the most of a ride through Parowan Gap, time your trip to coincide with one of many observation events throughout the year. (Fun fact: The petroglyphs and rock formations of Parowan Gap acted as a calendar for early residents of what's now Iron County.)
You then enter the town of Parowan, a small rural community that serves as the gateway to Brian Head Resort. Leaving the flats of the West Desert, the climb on S.R. 143 begins almost immediately: roughly 4,500 feet in under 20 miles. On S.R. 143, the Patchwork Parkway National Scenic Byway, you'll pass the town of Brian Head and Brian Head Resort, the highest-elevation base area of any ski resort in Utah. The road finally crests at an elevation above 10,000 feet on the edge of Cedar Breaks National Monument along S.R. 148, the short-but-stunning Cedar Breaks Scenic Byway. You can rest here or take some time to get off of the bike and walk to the grand Cedar Breaks National Monument lookout — where you'll have a great view of the half-mile deep geologic amphitheater of colorful sandstone and limestone cut from the alpine plateau. For cyclists supported by families in sag wagons, Cedar Breaks is a great place to catch up.
From Cedar Breaks, you will descend and turn onto Mammoth Creek Road, a twisting road through lava bed terrain formed more than 2,000 years ago. Be sure to visit the Village of Duck Creek to refuel for the last push to the summit of Cedar Canyon — make a scenic stop at the Zion Overlook then prepare yourself for the exhilarating 4,000-foot descent back down into Cedar City on S.R. 14., the Markagunt High Plateau Scenic Byway.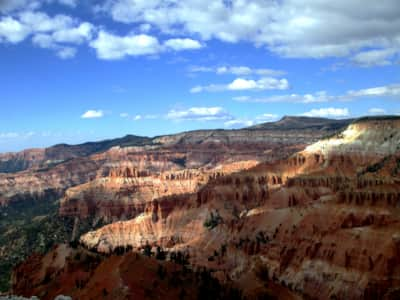 Who's it For?
In the interest of full transparency, the 90-mile distance of this route is going to be strenuous for even the most conditioned cyclist. You should be prepared for high altitude riding with long climbs and descents. An alternative route, 60-miles in length, starts at Brian Head Resort, dropping the thirty-mile warm-up section and may be better suited for those who have not trained or experienced high-altitude riding, or are just looking for a shorter training ride.
Some may choose to stay in Cedar City and enjoy the small town charm of this bustling city. You'll find plenty of activities and events to enjoy here. The drive to Cedar Breaks is beautiful and the monument lookout is worth the effort, whether you rode in the car or on your bike to get there.
Parking
Launch the full ride from Cedar City's East Canyon Park located at the mouth of Cedar Canyon.
For the shorter ride, park at the lot at Giant Steps Lodge at Brian Head Resort.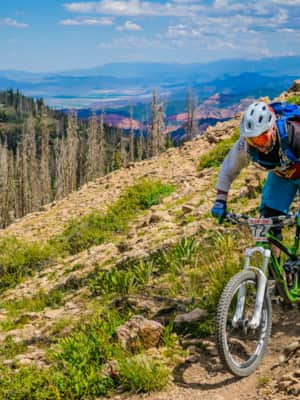 A Quick and Dirty Guide to Brian Head Area Mountain Biking
Whether you're visiting the area for Brian Head's seemingly endless bike options or making it part of a multi-stop Southern Utah adventure (Cedar Breaks National Monument is just five miles away), it's a must-see for bikers of all abilities. Here's what you need to know to get started.