U.S. Federal Shutdown Information
At this time, all of Utah's national parks, monuments and recreation areas remain open.
Learn more.
Canyoneering How-to
Expert tips for your next canyoneering adventure.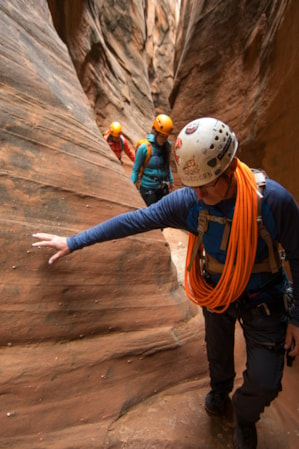 On my first Utah canyoneering trip, I was fortunate enough to have Christopher Hagedorn as my guide. Hagedorn has 25 years of outdoor guiding experience, so even when conditions were challenging (and believe me: they were!) I always felt safe. Hagedorn's company, Get In The Wild Adventures, is based in Hanksville, Utah, near a remote landscape known as Robbers Roost. Southern Utah is one of the best areas in the world for exploring slot canyons.
Here are six expert tips to help you prepare for your canyoneering adventure: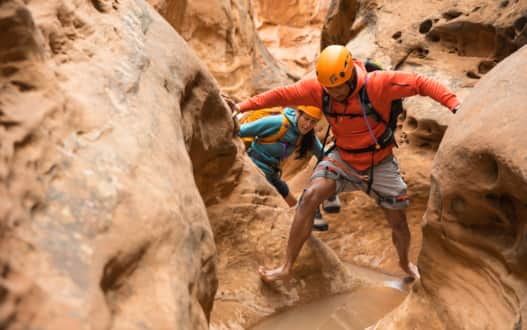 1. Know Your Equipment
"The core equipment is your helmet, your harness and your rappel device," says Hagedorn. "Helmets are pretty easy — just make sure you find one that fits your head." Both mountaineering and canyoneering-specific harnesses will work, though Hagedorn suggests the latter for its additional reinforcement aimed at protecting your pants.
Hagedorn also suggests bringing the 10 Essentials (navigation, sun protection, insulation, illumination, first-aid, fire, repair kit and tools, nutrition, hydration, shelter), as well as one-inch tubular webbing, and locking carabiners of various sizes. And don't forget your gloves! Rappelling will give you blisters unless you protect your hands.
2. Pack the Right Provisions
Heat exhaustion is a risk if you don't pack the right amount of food and water. The time of year and weather conditions will determine how much you'll need to bring.
"In spring and fall, I'm carrying about two to three liters of water per day," says Hagedorn. "In the summertime, I often carry double that."
"High calorie, low sodium food like protein bars are good. Also, dried fruits for sugar and energy, and electrolytes to replenish the sodium and potassium you lose when you sweat."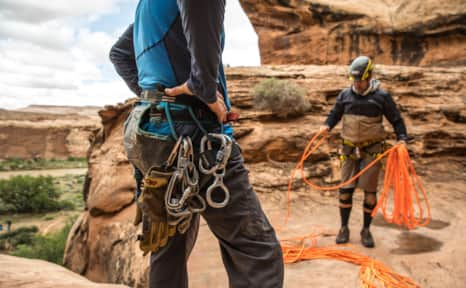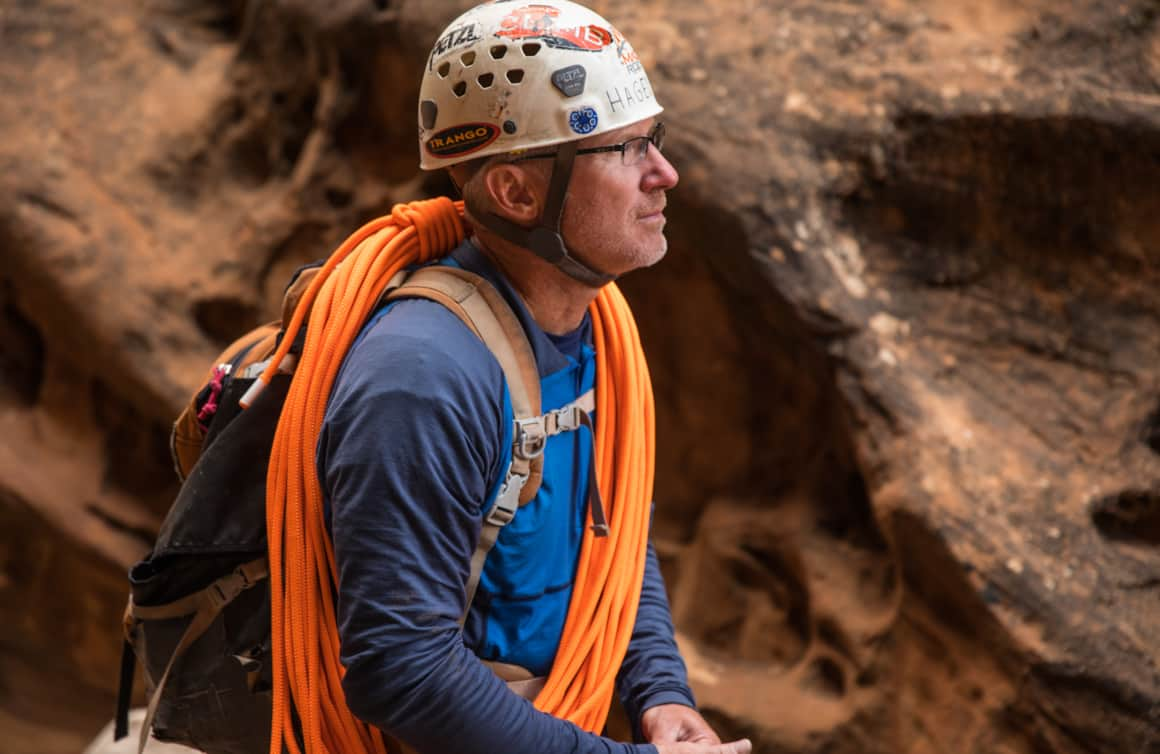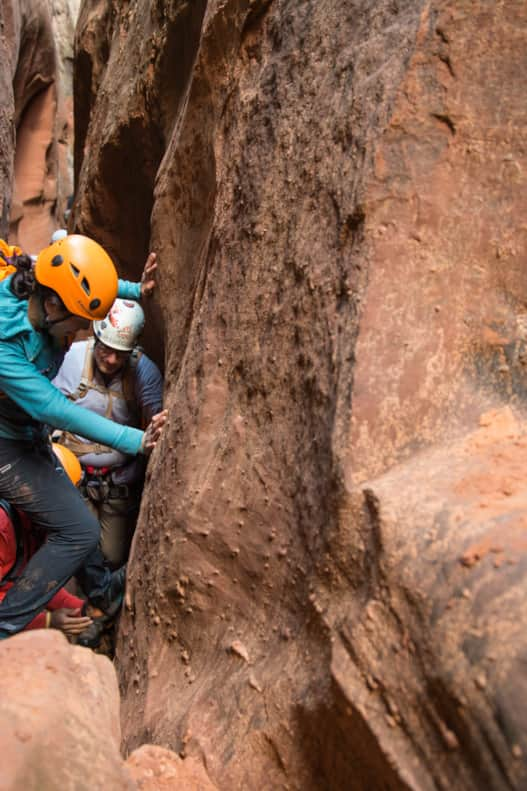 3. Do Your Research
"One component of the technical canyoneering course that I teach is hazard mitigation and avoidance," says Hagedorn. "Moving rocks, potholes, quicksand, flowing water, rattlesnakes — these all need to be taken into account."
Flash floods are one of the single biggest hazards in canyoneering. So having a knowledge and understanding of weather patterns and local forecasts is essential. It's also a good idea to study topographic maps and look for possible escape routes.
4. Know Your Limits
Be aware of your personal skill set and limitations as well as those of your group. Make decisions that are smartest for the entire team. And don't fall prey to "summit fever." If conditions aren't right, you can always come back and try another day.
5. Bring a Friend (Or Ten)
"Even with 25 years of experience, I still don't go out in Robbers Roost alone," says Hagedorn. "There are a lot of potential hazards out there, so you'll need to leave details of where you're going and when you're likely to be back with friends and family."
"In a place like Zion, you're required to have a permit, so a ranger will know where you're going," he continues. "In Robbers Roost, all that goes away, because no permit is required and you're much more on your own."The bottom line is: wherever you go, you're safer as part of a team. (Learn more about how you can support Utah's local search and rescue teams with a Utah Search and Rescue Assistance card.)
6. Be Present
Canyoneering requires a lot of problem solving, so it's easy to get caught up in your own thoughts. Take a moment to stop and look at the nature in front of you, whether it's the desert blooms, the rock formations or the intense blue of the sky.
"Soak up the beauty and remind yourself that it's a privilege to be there," says Hagedorn.
For the related story with guide Chris Hagedorn, read A Path Through the Canyons and watch the full video-feature Permit of Solitude.