U.S. Federal Shutdown Information
At this time, all of Utah's national parks, monuments and recreation areas remain open.
Learn more.
Escape Crowds on a Quiet Winter Visit to East Zion
See Zion dusted in snow on a winter escape to the east side — where you'll likely have the whole place to yourself.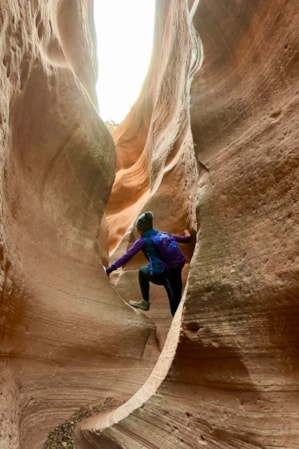 "We're just curious, where are you visiting from?" asks East Zion guru Mark Wade. A Zion National Park veteran, Wade is a walking textbook of park and pioneer history, but today is on a mission to track winter guests.
"Kansas City, how about you guys?" says the passing couple. "Oh, we're locals," our crew says in unison.
Walking from East Zion to Observation Point, we repeat this to every passing group, discovering explorers from 12 states during our six-mile trek. That number of hikers sounds high, but we still have the trail mostly to ourselves on this winter day. In East Zion, that's just how everyone likes it.
"When we say we're busy, it's still not much," Wade says. "Maybe 15 or 20 cars, maybe 50 people walking on a 6-mile loop. Out on this plateau, we're literally on top of the park, and then as we get out there, we drop 500 feet to Observation Point."
We trek until the forest opens wide to Zion's candy-colored cliffs and awe-inspiring sandstone spires. It's my first East Zion visit, but my second to Observation Point. With the in-park Weeping Rock Trail closed due to rockfall, the East Mesa trail is the only path to Zion's best panoramic view. Despite countless Zion visits, I've never explored this area in the winter. Here, occasional snow dustings add magic to Angels Landing and Great White Throne vistas.
But there's more to Zion winter than hiking in the park. Just beyond the eastern gate, adventures abound in East Zion. Stretching 4,000 acres and five linear miles along the park's border, family-run Zion Ponderosa Ranch Resort used to shutter entirely in the slow season. But these days, you and an in-the-know few can experience it in winter.
From canyoneering and hiking to horseback riding and pondering the night skies, East Zion winter vacations mean solitude plus practically private guided experiences — without the private price.
"From canyoneering and hiking to horseback riding and pondering the night skies, East Zion winter vacations mean solitude plus practically private guided experiences — without the private price."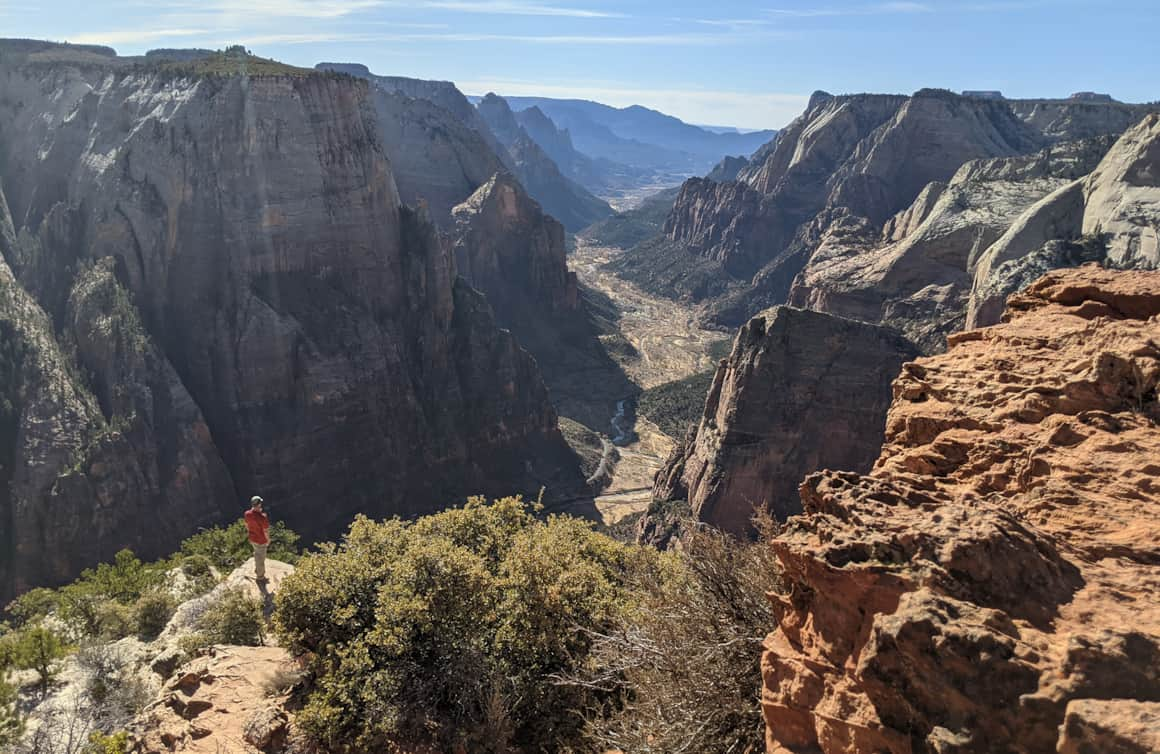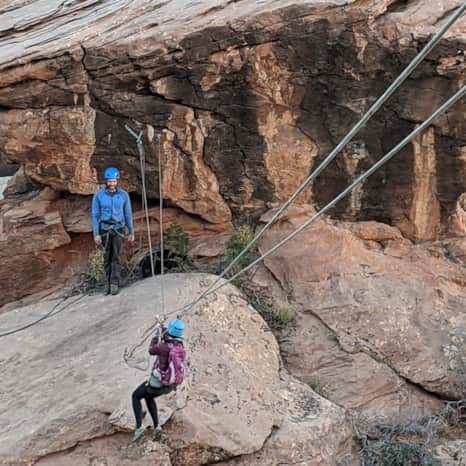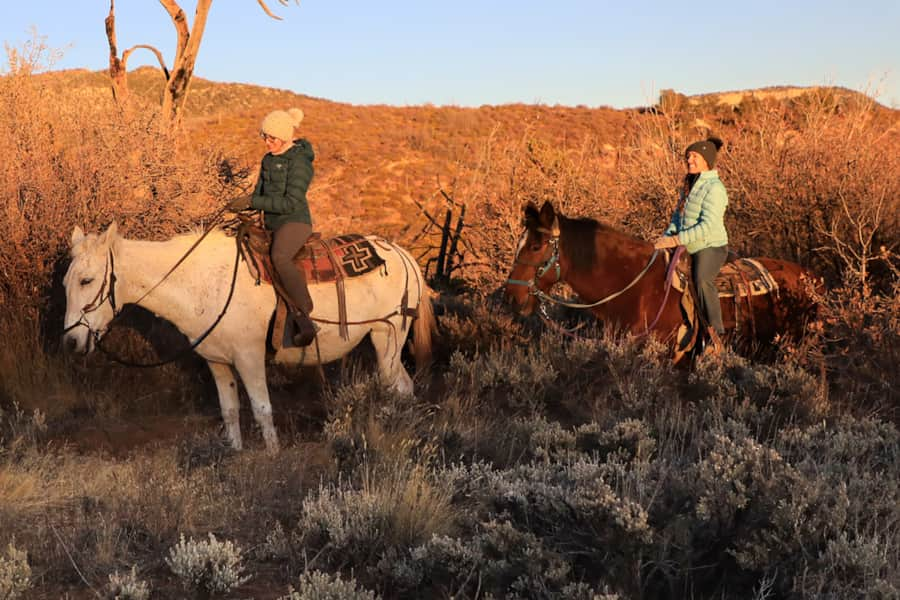 Stargazing
Venturing outdoors for an impossibly cold stargazing tour on top of a desert water tower doesn't sound enjoyable, but Zion Ponderosa Ranch Resort makes the experience pleasant. A warm shuttle ride up saves the night-time walk, and we stay cozy under stacks of blankets beneath starry skies.
A hot chocolate and cider station thaws us as our guide details the astronomic wonders of the heavens. While I certainly look to the skies on my own, listening to a guide with expertise in planetary alignments, hard-to-see stars and the myths behind constellations make the frigid hour outdoors worthwhile.
Canyoneering
We're all for slots, slots, slots in winter. Carved by wind and water, traversing these narrow sandstone canyons is like being bearhugged by Earth. If you're into that, East Zion is the place to find them. A smorgasbord of slots take you sliding and stemming through canyons, while others require technical gear and rescue ranger skills. It's almost always chilly thanks to the lack of light, but winter boasts the distinct advantage of — you guessed it — no crowds.
Test the rappelling waters on a short guided tour of East Zion's Huntress with East Zion Adventures. With nine rappels, the longest topping out at 70 feet, it's pure fun, almost always dry and ends with spectacular Zebra-waved sandstone. Hardier adventurers will love thrilling winter canyoneering with Zion Rock & Mountain Guides, just beyond the park border in Lambs Knoll (on the Kolob side). While the hiking isn't intense, long rappels into dark, foreboding canyons make your heart leap from your chest. (Plus, there may or may not be a secret zipline riggable by these pros.)
Jeep Touring
I'm all for exploring East Zion on your own two feet. But have you experienced a winter Jeep ride with heated seats? When the temperature drops, take a break to see views unreachable on hiking trails. As we bounce down a dirt road into private land, our East Zion Adventures guide, Jurassic Jeff, describes the ancient seas and volcanoes that transformed Zion from a watery paradise into today's iconic landscapes.
"This area is where dinosaurs brought their families for beach vacations," Jeff says. "But today, the Grand Staircase is a giant sandcastle, if you will. Look at Bryce Canyon, the spires that go up and how it's very ornate at the top."
This geologic staircase steps down from Bryce, with its lowest elevations being the highest in Zion. From this 8,100-foot high radio tower site — only accessible to East Zion Adventures' guests — we see features forming Jeff's giant sandcastle. Here it's easy to get why the Radio Tower Jeep Tour is his favorite of all.
Horseback Riding
Saddled on giant, gentle horses, our crew bundles up in puffy coats, beanies and gloves, prepared for the inevitable temperature change as the sun dips below the horizon. For the casual or never-ever rider, it's inspiring to see these landscapes how early explorers did — from atop a horse. In-park trail rides are solely a summer affair, but here at East Zion Adventures, small group sunset experiences are offered on mild winter days.
Sunset Hiking
Close out your East Zion getaway with a guided sunset hike to the boundary of Zion National Park. This leisurely walk is just a half-mile each way, but it leads to a majestic only-in-East-Zion overlook, since the trail is accessible through ranch property. Guides discuss the region's history and geography as the sun disappears behind Zion's high canyon walls.
The Narrows
East Zion may be your focus, but that doesn't mean you should skip the park. If there's any Zion experience that's made better by winter weather, it's the iconic Narrows.
Traversing the slimmest part of Zion Canyon, The Narrows' towering, 1500-foot walls were carved by the raging Virgin River. It's the most popular hike in the park, and arguably one of Earth's greatest walks. Here the trail is the river, and you travel its entirety in ankle- to waist-deep water.
Parades of people can ruin summer treks, but while hiking the Narrows in winter you'll see few folks beyond the first mile. But the icicle-coated canyon walls and 40-degree water temperatures are no joke. Renting dry pants, neoprene socks, canyoneering boots and a walking stick is essential to prevent hypothermia.
While you can hike alone, we booked a guide through 57 Hours. These experts share local lore, shuttle you to start and back (a bonus when parking is full) and capture perfect Instagrams along the way. Going guided is also a fun (and safer) alternative to tackling The Narrows alone. Be aware: The winter window is short, as it becomes impassable with spring run-off by March or April.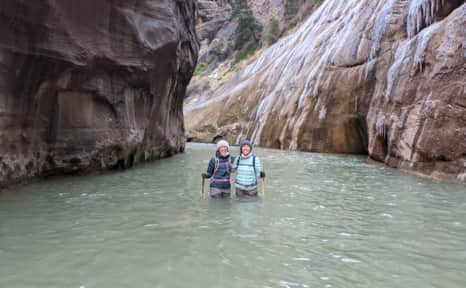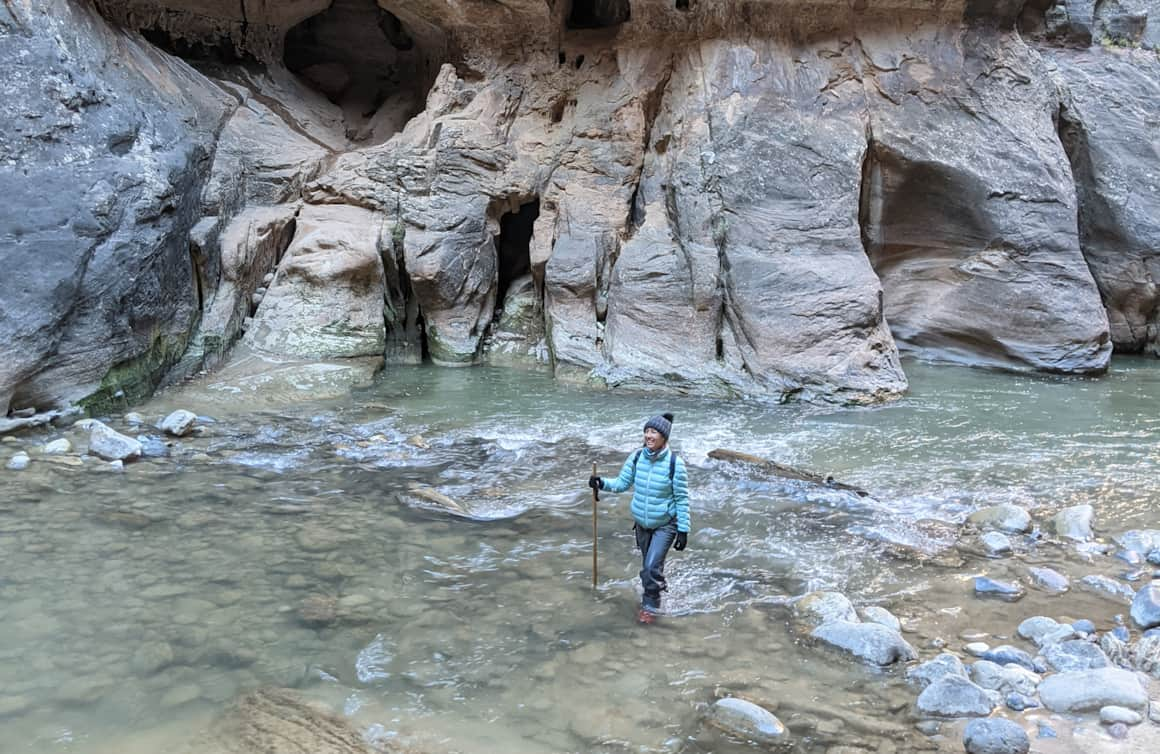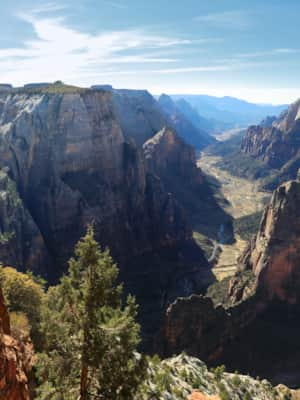 An Insider's Guide to Visiting East Zion
Looking to venture beyond The Narrows and Angels Landing? Head to East Zion to glimpse wondrous slot canyons, soaring sandstone monoliths and crimson-colored cliffs — without the crowds.