U.S. Federal Shutdown Information
At this time, all of Utah's national parks, monuments and recreation areas remain open.
Learn more.
An Insider's Guide to Visiting East Zion
Experience Zion National Park atop its thousand-foot cliffs on the park's quiet eastern side.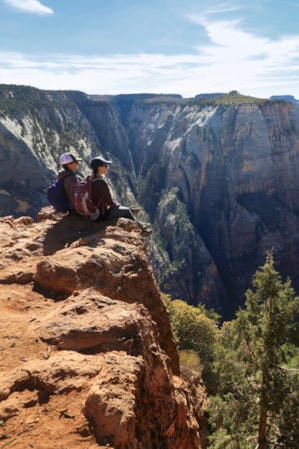 Zion National Park's mighty red rock spires and vermillion canyon towers have inspired wonder and delight in visitors for generations. But the Instagram era propelled this southwestern Utah gem to fame, with Zion welcoming a record-breaking 4.5 million visitors in 2019. Now one of the nation's most popular national parks, Zion visitors often wait in Disneyland-esque lines to hike up Angels Landing or catch a ride on a shuttle bus. (Read: "How to Visit Zion")
But just beyond the park's iconic Zion-Mt. Carmel Tunnel, there's a place where solitude and silence amid this kaleidoscope of colors still reign supreme: East Zion. Known as Zion's quieter side, East Zion is a year-round destination accessible through the park on Utah State Route 9. From Salt Lake City, reach East Zion via U.S. Highway 89 — a scenic byway connecting the area to Bryce Canyon National Park, Grand Staircase Escalante National Monument, and the desert town of Kanab. (Read: "5 Road Trip-Worthy Restaurants in Kanab")
In addition to fewer visitors, this area boasts cooler temperatures than the bustling west end, thanks to its 5,200-to-6,500-foot elevation range. Whether you visit in summer's heat or on a crisp fall day, this East Zion insider's guide showcases the area's best bucket-list attractions.
"Sit back, give your hiked-out legs a rest and let your steed climb through the pines to distant overlooks of Zion's vermillion cliffs."
Horseback Riding
Saddle up to explore Zion like a cowpoke — from atop a horse. Sit back, give your hiked-out legs a rest and let your steed climb through the pines to distant overlooks of Zion's vermillion cliffs. Zion Ponderosa Ranch Resort was once home to a pioneer logging camp, and these old logging paths take on new life as scenic horseback trails. While you can't go chasing Butch Cassidy on a speedy gallop through the forest, leisurely sunset rides offer an old-fashioned escape through Rocky Mountain high country. (Read: "Butch Cassidy's West.")
Jeep Touring
Experience the enormity of Zion National Park on a Jurassic Park-style Jeep tour along bumpy dirt roads — minus the hungry dinosaurs chasing you. During the drive, your guide offers a geology lesson on how ancient seas and volcanoes created these otherworldly landscapes. End at Top of the World: a private radio tower site 8,100 feet above sea level with faraway vistas of Coral Pink Sand Dunes State Park, Cedar Mountain and Zion.
Guided Canyoneering
Zion is home to the greatest treasure trove of slot canyons in the world, and intrepid explorers come to wedge, wiggle and wade their way through these river-formed rock arteries. While you can freely climb some without technical gear, others require how-to-not-die-rappelling skills and a backpack full of climbing rope.
If you don't possess both, book a canyoneering trip beyond the park boundaries with East Zion Adventures. Guiding is allowed only outside the national park, so you'll load up in a Utility Terrain Vehicle, and travel to semi-secret Crimson Canyon — a brilliant red, non-technical slot bearing Native American petroglyphs and high, winding canyon walls. Thanks to the private-land access required to reach it, you'll likely have this red rock wonder all to yourself.
Stargazing
Bundle under a blanket, grab a steaming cup of hot cocoa and ponder the universe on a stargazing tour under Zion Ponderosa Ranch Resort's famously dark skies. Set on a plateau above Zion National Park at 6,500 feet, this secluded location far from city lights recalls the ancients' skies — with shooting stars and Milky Way views on clear nights. Knowledgeable guides armed with laser pointers share the mythology behind constellations and point out planets and satellites dotting the heavens. For an extra adventure dose, grab a headlamp and take a nighttime walk for striking starscapes. (Read: "Capturing the Milky Way: Kodachrome Basin by Night.")
Hiking Observation Point
Think Angels Landing is Zion's best overlook? If you're willing to put in the miles, it's East Zion's Observation Point that awards trekkers with astonishing canyon vistas. With a massive rockfall closing the park's Weeping Rock Trail to Observation Point indefinitely, Zion Ponderosa Ranch Resort's East Mesa Trail is the only option for catching this view — and it rarely gathers a crowd.
Hike through the plateau's ponderosas to peep Zion's red and white sandstone before reaching the lookout after 3.2 miles. Seated safely on the rim, take in a commanding view of Angels Landing and the Three Patriarchs — towering rock monoliths carved by eons of wind and water erosion.
"Zion is home to the greatest treasure trove of slot canyons in the world."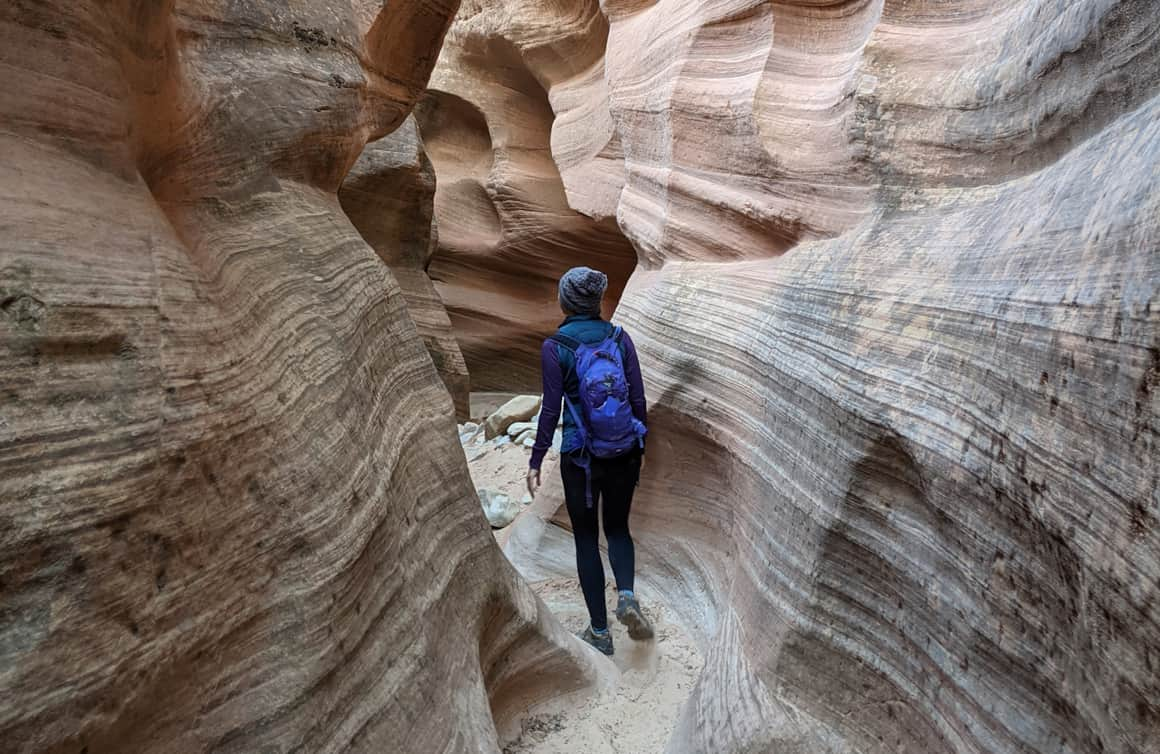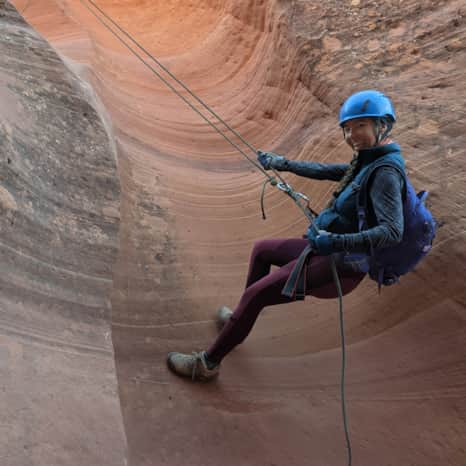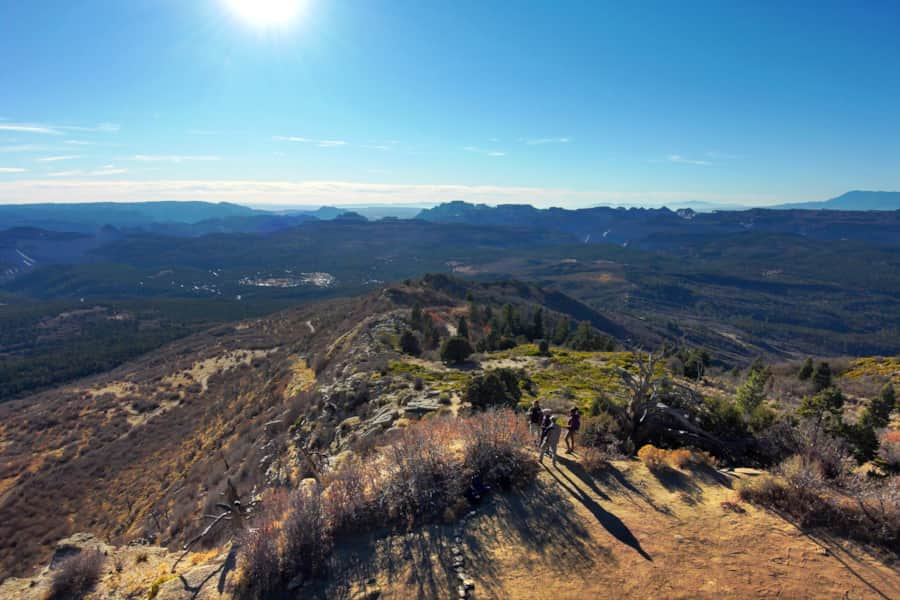 Where To Stay
Skip crowded hotels and cold nights spent in pitched tents. Instead, stake your claim at a private cabin at Zion Ponderosa Ranch Resort. Boasting more on-property adventures than any resort west of the Mississippi, Zion Ponderosa Ranch Resort is a one-and-done lodging and recreation destination. This 4,000-acre retreat stretches along Zion's eastern boundary for five linear miles and is 10 minutes from the eastern gate. Every compact cabin features a mini kitchen, plush beds, a private fire pit, daily breakfast and affordable on-site recreation.
Book an affordable Cowboy Cabin if you don't mind an outdoor bathroom, or choose a full cabin with all of home's amenities. Onsite activities include a climbing wall, mini golf, paintball, skeet shooting, zip line and double-decker swimming pool and hot tubs.
Is D-I-Y more your scene? Try East Zion Resort. This collection of cabins, tiny homes and even a treehouse in Orderville along Highway 89 offers contactless check-in, pool and hot tub access and modern design.
Where To Eat
What East Zion's gateway towns lack in population, they make up for with character. Home to eclectic gems like the Rock Stop coffee shop/stone emporium and Thunderbird Restaurant, pause here for a spell instead of blowing by on U.S. 89.
Rock Stop's unpredictable hours and literal rock shape add to its charm, and owner Don Davis' foamy cappuccinos are the best you'll find along this byway. Enjoy one in a real mug on the outdoor patio while considering an impressive array of Utah-sourced stones. Down the road in Mt. Carmel Junction, Thunderbird's "ho-made pies" have attracted guests since 1931 (Read: "Utah's Pie-Ala-Road: A Sweeter Way to Explore the State"). That unusual spelling resulted from the owner's attempt to fit "house-made" on a too-small sign. Stop in for "ho-made" potato chips or a slice of hot apple pie smothered in rum sauce.
La Verkin's River Rock Roasting Company is home to inventive pizzas and the wildly flavorful, Morrocan-inspired Amerikesh salad. In Springdale, eat where locals do: Oscar's Cafe. From hearty Mexican cuisine to the locally famous Murder Burger, go splitsies if you're a light eater — but don't miss the housemade chips and salsa. If eclectic's your jam, try Anthera inside Cliffrose Springdale. With hip, inventive takes on American fare and strong Old Fashioneds, it's a newer contender in the local dining scene.
If you're not straying far from Zion Ponderosa Ranch Resort, enjoy homestyle cuisine on property at Ray's Restaurant. A hearty buffet breakfast is included daily with some room types and a full dinner menu is available for dine-in or takeout. Rather dash and dine? Takeout is widely available.