5 Road Trip-Worthy Restaurants in Kanab, Utah
A remote small town draws inspiration from wilderness to elevate its culinary scene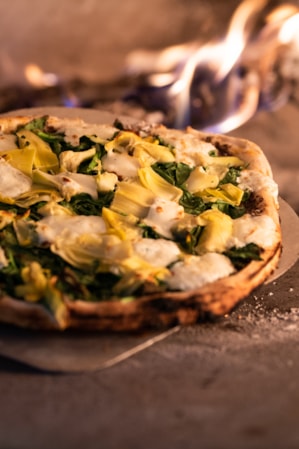 Today, Kanab boasts an unexpectedly refined culinary scene in this remote outpost to adventure, in the southernmost part of Utah.
In the 1870s, Major John Wesley Powell set up a survey camp in Kanab for an expedition into the Grand Canyon. It was there that Powell's team created a map that first recorded the name "Grand Canyon." (Read the story: Chasing John Wesley Powell) As Rocking V Cafe owner Victor Cooper tells it, "Kanab was truly the end of the road, part of the last stretch of land surveyed in the U.S."
These days, this culinary scene at the "end of the road" welcomes an international clientele thanks to Kanab's central position among that national monument, Grand Staircase–Escalante, the Grand Canyon, Zion National Park, Lake Powell, Paria Canyon-Vermilion Cliffs Wilderness Area and other destinations. Increasingly, locals are getting to know what's on the menu too.
Cooper, who narrates the video above, served as a tour guide for a group of us who came to visit the best restaurants that Kanab has to offer.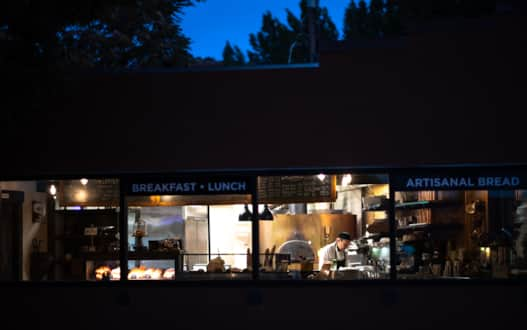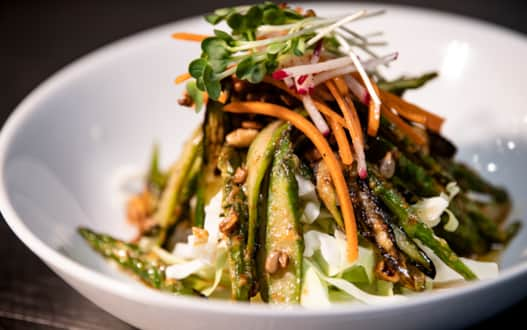 1. Rocking V Cafe
Eclectic menu of made-from-scratch, slow-cooked dishes of pasta, fish, chicken, beef and lots of greens, including gluten-free and vegan options.
Cooper opened Rocking V Cafe in 2000 and immediately differentiated it not only with its eclectic menu, but its brightly colored decor, off-beat personality and big city hospitality.
Without any coffee, Cooper sustained conversation and boundless enthusiasm from 7 a.m. until after sundown. That's the benefit, he says, of not being a coffee drinker: You have the ability to hop out of bed and get right to it. That energy matters because it's a foundation of his business model. He'll always graciously and enthusiastically welcome anyone to his restaurant, and demands the same of his staff.
"With the fiber of my being, I get it. I understand the experience because I've been on the other side of the equation. You're excited to be here. And I love people. It's like a drug. You meet these people from all over the world and you're sharing in their joy."
How does that enthusiasm translate to the plate? "You can get a steak anywhere — it's not as good as ours — but it's about the experience that comes with it." At one time, Cooper's salesman father sold Omaha Steaks and informed his son that it's not about the steak it's about the sizzle. (Though at Rocking V, it is a perfectly marbled cut of rangeland Ribeye fired to a buttery finish and topped with green peppercorn-brandy demi-glace, among other cuts.)
"How does that translate to the plate? 'You can get a steak anywhere — it's not as good as ours — but it's about the experience that comes with it.' "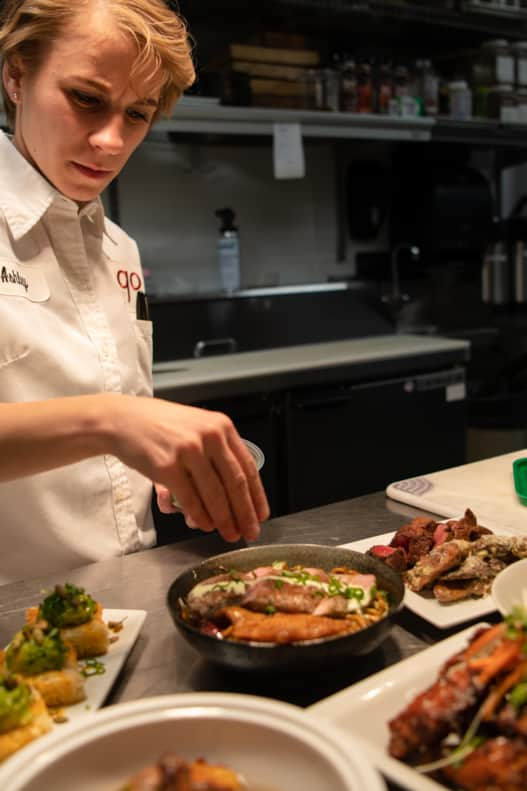 2. Sego Restaurant
In their own words: a selection of regional, new American cuisine focusing on what makes this country unique and eclectic. Just try it.
In the new geography of Kanab's culinary scene, Rocking V Cafe was pretty much the lone island in town until Sego Restaurant opened 15 years later. (Read: Utah's Unexpected Pit Stops.) Sego Restaurant focuses on regional and new American cuisine in a rotating menu with seasonal ingredients.
"When Shon opened Sego it was huge. He's from here. Here's this guy, he's one of ours. People saw that," says Cooper.
Besides being a local, Chef Shon Foster brought an award-winning resume to Sego that included a stop at the helm of luxury resort Amangiri's kitchen. The friendly competition produces incredible results because everyone in the new culinary landscape seems to have adopted Cooper's top objective.
"I don't want to be good, I don't want to be great. I want to be excellent," he says.
3. Kanab Creek Bakery
Old world style artisanal bread and pastries using locally sourced ingredients when possible plus traditional breakfast, lunch and excellent coffee.
Only two blocks from the Sego restaurant you can find Kanab Creek Bakery, an artisanal pastry and espresso bar. The cafe's mesa-style architecture is a delicious blend of rustic desert bistro and modern eatery. The outdoor patio is the best place in town to sip at hot coffee in one of the bakery's heavy, handmade ceramic mugs.
We are joined by Walt Thirion, one of the founders of the Kanab Creek Bakery. Thirion is an environmental conservation photographer and restaurateur who shares Cooper's passion for top-tier hospitality, food and Kanab's abundant natural beauty.
Thirion keeps a clean and bright studio and gallery space next door to the bakery — which in turn is supported by the culinary stylings of nearby Sego Restaurant's chef, Shon Foster.
"The service we provide, it's not 'It's good for a small town.' It's good on any level," says Thirion.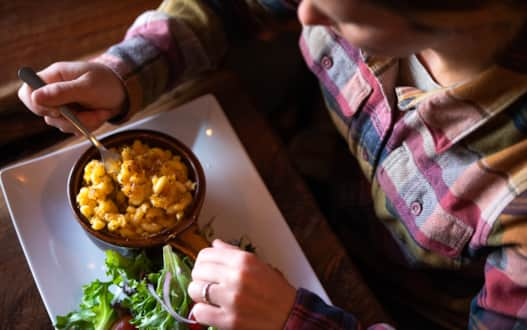 4. Vermillion 45
Casual bistro serving slow-cooked, home-style French and Italian dishes plus a great menu of wine and cocktails.
In addition to the bakery, Thirion recently opened Vermillion 45, a casual French and Italian comfort-food bistro that stays open late during peak seasons. "It's a small town, yes. And yes, you compete, but only one place is not going to carry it. This competition is good for the town. We're all in this together."
One of the reasons for the bistro's booming success is co-founder Chef Cesidio d'Andrea, who was classically trained at the French culinary academy and apprenticed under the top chefs in Paris. The authenticity of Vermillion 45's gourmet french cuisine owes much thanks to Chef Cesidio.
Vermillion 45 is quickly gaining a stellar reputation not only among locals, but from travelers worldwide. Their reviews are full of fans raving about the excellent cuisine, polite service, and award-winning presentation.
5. Peekaboo Canyon Wood-Fired Grill
Vegetarian and vegan with artisanal pizza and a full menu of international and locally inspired dishes.
Best Friends Animal Sanctuary co-founders Francis and Silva Battista own Peekaboo Canyon Wood Fired Grill, a vegetarian and vegan restaurant that lives up to the sanctuary's guiding principles of kindness, positive influence, leadership, authenticity and transparency.
The grill was named after the nearby Peekaboo slot canyon, a spectacular trail that winds through a tall, narrow redstone canyon. The dishes start arriving. Quina Dressed Avocado, Southwestern Salad, one of their wood-fired pizzas and the best bowl of oatmeal I've ever had.
The grill's general manager, Kathy Chadbourne, has the motto: "Community, Conversation and Cuisine." She says how her whole life is about this motto, and was thrilled by the opportunity to take it Kanab. "It's just kind of what I do, and I get to do it here," she says, putting an emphasis on "here" and motioning to the space around her.
To the space around Kanab? Francis Battista turns to the sanctuary to describe it: "So much of the work of Best Friends is inspired by the environment of the canyons and this whole area. It is transformative."
"I think we all believe the beauty of this area is its most valuable resource. It's irreplaceable," says Mr. Battista. "Of course, we're right here on the doorstep of the monument, which is a spectacular and amazing place as well."
"I think we all believe the beauty of this area is its most valuable resource. It's irreplaceable. "
Kanab has changed greatly over the last 150 years, but many of the surrounding lands remain as wild and untouched as they were when John Wesley Powell's team set up camp to survey this part of the American West for the first time. Kanab is no longer just the "end of the road". It's a beating heart of culture and adventure nestled in the magnificent deserts of southern Utah.
Next time you're nearby, exploring the Wave at Coyote Butte North or White Pocket, take a coffee break at Kanab Creek Bakery or end the night with some dessert and wine at Vermillion 45. Not in the area? Consider Kanab for your next adventure. It's worth the trip.