10 Top Stops Along the National Pioneer Mormon Heritage Area
On backroads and byways, see rich historic sites, awe-inspiring canyons, mountains and unforgettable outdoor adventures.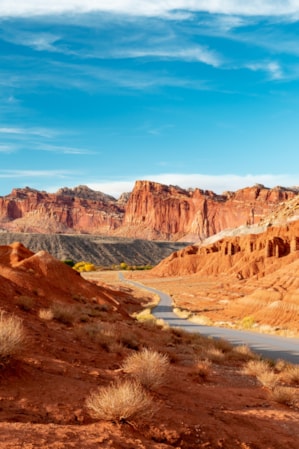 Stretching across six counties in Central and Southern Utah, the Mormon Pioneer National Heritage Area commemorates the settlement by emigrant members of the Church of Jesus Christ of Latter-day Saints, commonly known as Mormons, in a harsh and unforgiving environment. The area, administered by the National Park Service, includes over 400 miles of scenic highways in five distinct districts filled with national parklands, natural wonders and historic towns settled as early as 1849. Journey along the scenic roads and discover Utah's tenacious pioneer past, ancestral Native American cultures and astounding landscapes at Zion, Bryce Canyon and Capitol Reef national parks.
Here are 10 of the best stops along the National Heritage Area's backroads and byways to explore rich Latter-day Saint historic sites, awe-inspiring canyons and mountains and unforgettable outdoor adventures.
1. All-American Road, Scenic Byway 12
State Route 12, dubbed one of America's most gorgeous drives, twists across 122 miles of sheer scenic bliss that would take a lifetime to explore. The two-lane tarmac offers a gateway to epic adventures down slot canyons and hikes over slickrock domes, forever views across rainbow-tinted cliffs and snow-capped mesas, and some of Utah's iconic parklands, including Kodachrome Basin and Escalante Canyon. Famed national parks Bryce Canyon and Capitol Reef bookend the highway.
Stop and savor small-town Utah along route 12 at friendly stopovers like Boulder, Escalante and Cannonville. Learn about the early settlers at visitor centers and historic sites like the Ebenezer Bryce Cabin, a rustic log cabin built by homesteader Ebenezer Bryce in Tropic about 1881, and the Escalante Heritage Center which details the challenging Hole-in-the-Rock Expedition. In late 1879 a group of 250 men, women and children began a laborious six-month journey in Escalante that crossed a labyrinth of canyons, slickrock and desert to establish Latter-day Saint outposts in southeastern Utah.
After exploring the pioneer history, explore the rugged canyon country yourself by camping under starlit skies, hiring a guide to explore hidden hiking gems or tasting a five-star meal at acclaimed restaurants like Hell's Backbone Grill.
2. Escalante Canyon, a unit of Grand Staircase–Escalante National Monument
Escalante Canyon, lying at the heart of the National Pioneer Mormon Heritage Area, is a land of astonishing beauty that's seamed by slickrock canyons and lorded over by monumental buttes. From the frontier town of Escalante, intrepid visitors follow rough roads to primitive trails that lead into squiggly canyons filled with birdsong, tumbling waterfalls, sculptured slot canyons and oases filled with lush vegetation.
For well-prepared visitors with a proper vehicle, the best drive is the 62-mile Hole-in-the-Rock Road, a historic trail first navigated by Mormon pioneers from late 1879 to 1880. Their route traversed a slickrock desert past Hole-in-the-Rock Arch to a cliff where they lowered 83 wagons down a 1,000-foot crevice to a Colorado River crossing.
Some of the best adventures are off scenic route 12 in Escalante Canyon, a cliff-walled gorge carved by the Escalante River, and its narrow side canyons. Pitch a tent at Calf Creek Campground and hike to Upper and Lower Calf Creek Falls, explore the Escalante River to graceful Escalante Natural Bridge or trek down the river to Phipps Wash and a vaulting arch. Stop at the visitor center in Escalante for maps, exhibits and rangers to answer your questions.
3. Bryce Canyon National Park
Bryce Canyon National Park, one of Utah's best natural wonders, is a sandstone wonderland of goblin hoodoos, eroded fins and skinny spires stuffed into four square miles in Bryce Amphitheater. The bizarrely shaped formations, with fanciful names like Fairy Castle, Thor's Hammer and Queen Victoria, glow incandescent orange, red and yellow in bright sunlight. The place was named for Latter-day Saint pioneer Ebenezer Bryce who built a logging road into the amphitheater and called it "a hell of a place to lose a cow."
While it's easy to drive to Inspiration and Sunset Points, get up close to the standing rocks by following trails that wind through the maze of hoodoos. Superb hikes with solitude and scenery include the short Moss Cave Trail, Fairyland Loop Trail and the Peekaboo-Queens Garden Loop. You can also bring a bicycle and pedal the paved Rim Trail along the scenic edge. Visit at sunrise for the best color show, but don't forget a jacket since it's cold at 8,000 feet above the pinnacles.
4. Kanab
Wild nature and jaw-dropping scenery surround the Old West town of Kanab in far southern Utah. The town, first settled by Latter-day Saint farmers in the 1860s, makes an ideal basecamp to discover Zion and Bryce Canyon National Parks, the windswept dunes at Coral Pink Sand Dunes State Park and eroded sandstone features like The Wave, Vermilion Cliffs and narrow Paria Canyon. Kanab also offers easy access to the North Rim of the Grand Canyon.
Before exploring the natural wonders, take a tour through Kanab's rich Mormon past at the Kanab Heritage Museum with its thousands of artifacts and photographs and the Kanab Heritage House Museum, an elegant 1890s brick home called "the first modern home in Kane County."
Besides red rock wonders, Kanab is home to Best Friends Animal Sanctuary, the nation's largest no-kill refuge for unwanted and homeless pets. It also offers a plethora of outdoor adventures like hiking, mountain biking, canyoneering, off-roading and photography — as well as a remarkable dining scene. Kanab's glorious landscape, dubbed "Little Hollywood" in the 1940s, attracted every major film studio, and served as the backdrop for more than 150 movies and television series, including "Gunsmoke," "The Lone Ranger" and "The Greatest Story Ever Told."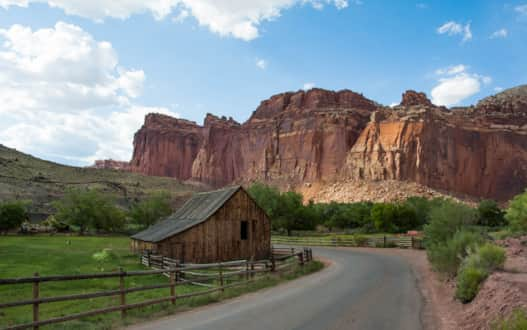 5. Capitol Reef National Park
Lying east of Torrey in the Heritage Area's Boulder Loop District, Capitol Reef National Park protects the Waterpocket Fold, a long monocline dissected by sharp canyons, towering sandstone cliffs and rounded white domes. Fruita, an old Latter-day Saint settlement from the late 1800s, straddled the Fremont River in the heart of the park. Fruit orchards and fields of sorghum, alfalfa and vegetables flourished around the once-isolated community, home to 10 families. Roam past the ghost town's log cabins, watch mule deer graze in open fields, pick ripe apples in October and gaze at thousand-year-old petroglyphs on varnished rock walls.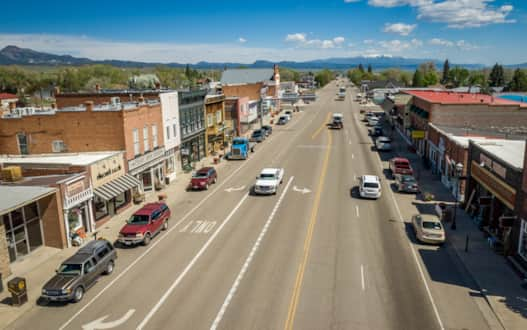 6. Panguitch
Panguitch, the seat of Garfield County, is a classic pioneer village that spreads across the west bank of the Sevier River. Lying in the Headwaters District of the Mormon Pioneer Heritage Area, Panguitch offers a glimpse into life in early Utah with red-brick buildings lining Main Street in the walkable Panguitch Historic District.
The town is famed for the Quilt Walk when seven men trekked west over the mountains for supplies when food ran low during their first winter in 1864. The snow was so deep they used quilts as snowshoes to keep from sinking. The annual Quilt Walk Festival celebrates their feat every June.
Celebrated native Robert Leroy Parker, later known as Butch Cassidy, was born on a ranch at Circleville north of town in 1866, the oldest of 13 children. You can stop by the crude log cabin to see that childhood home of the notorious outlaw. (Read: Butch Cassidy's West.)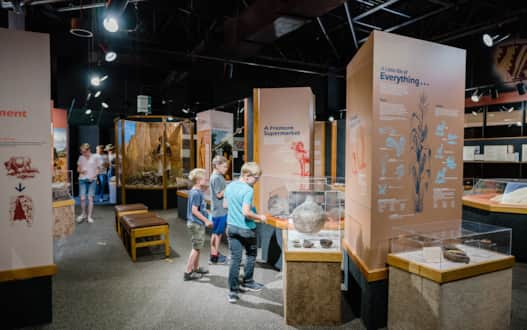 7. Fremont Indian State Park
Before the Mormon pioneers, Native Americans flourished in Utah over the last 10,000 years, hunting game, collecting edible plants and building pithouses and cliff dwellings. The construction of Interstate 70 west of the Sevier River uncovered abandoned villages and rock art panels left by the now-vanished Moqui or Fremont people over a thousand years. Protected in Fremont Indian State Park, the fascinating site offers a museum with exhibits and 12 interpretive trails that explore the largest known Fremont Indian village. You will find a trove of rock art, including a 16- by-4-foot pictograph depicting a Paiute blanket. (Read: Meet the Fremont's: Unearthing an Ancient Civilization)
A nearby Mormon pioneer site is Cove Fort, 20 miles west of Fremont Indian State Park. The restored structure, established in 1867, was a stopover for travelers on the Mormon Road between Fillmore, then capital of the Utah Territory, and Beaver. Take a guided tour of the historic site and discover the stone fort, a telegraph office, a log cabin, bunkhouse and the hardships of living at this remote outpost
8. Sanpete Valley
The broad Sanpete Valley, hemmed in by mountains on the east and west, is a breathtaking place filled with historic buildings and towns like Manti, Ephraim, Spring City and Mount Pleasant that date back to 1849 when Latter-day Saint emigrants began settling in central Utah. Scandinavian converts were among the valley's first settlers. Their culture is commemorated by the name Little Denmark District in the National Heritage Area.
Utah Heritage Highway 89, running south from U.S. 6 to the Arizona border, is the best way to explore Little Denmark's pioneer culture. Its two lanes swing past pastures dotted with grazing cattle, towns that harken back to simpler days, and craftspeople, woodworkers and artisans that retell the story of Latter-day Saint settlers with skill and artistry.
Roam around the valley and its classic towns to discover a rich Latter-day Saint history. Manti, settled in 1849, boasts an impressive Latter-day Saint temple built in 1888. Fairview offers the fascinating Fairview Museum of History and Art with a mammoth skeleton, 183 sculptures by renowned artist Avard T. Fairbanks and local artifacts. Ephraim, the valley's largest town, hosts an annual Scandinavian Festival, while Spring City to the north is one of only two towns in the country that's entirely listed on the National Register of Historic Places. (Read: Gleaning a Small Town's Harvest)
Mount Pleasant at the valley's north end was settled in 1852 and then abandoned the following year after Indian raids. The community was resettled in 1859 and, after over 100 battles, skirmishes and ambushes in the Black Hawk War, a treaty between the Latter-day Saints and Native Americans was signed in 1872 at Mount Pleasant's Old Pioneer Museum building.
After sampling town life, head for the hills to rock climb at Maple Canyon, off-road the spectacular Skyline Drive, or paddle a canoe at Palisade State Park.
9. Fishlake Scenic Byway
The Fishlake Scenic Byway makes a 40-mile loop drive through remote valleys and mountains and passes the 5.5-mile-long Fish Lake. The 2,500-acre lake is tucked among rounded mountains covered with quaking aspen and stately spruce. The crystal-clear lake, the largest mountain lake in Utah, offers superb angling for trophy-sized lake trout and boating. Stay in a lakeside campground or bed down at the historic Fish Lake Lodge, a massive log building erected between 1928 and 1932.
After fishing, hiking or mountain biking, follow the byway past mule deer grazing in open meadows to a long valley flanked by sagebrush-covered hills. The scenic drive is one of the premier spots for autumn leaf-peeping in the National Heritage Area when aspens paint a golden tapestry on the mountainsides.
East of the byway on Highway 24 are a succession of once-remote Latter-day Saint settlements. Loa, established in 1878 by 40 Latter-day Saint families, was named for the volcano Mauna Loa by a Latter-day Saint missionary who had just returned from Hawaii. The Wayne Stake tithing office, erected in 1898, is now a museum that recounts village history. Lyman, three miles east of Loa, is a ranching community settled in 1876 and later named for Francis Lyman, an apostle for the Church of Jesus Christ of Latter-day Saints.
Bicknell is another Latter-day Saint ranching and wheat farming settlement that was dubbed Thurber Town for its first resident. Settlers built its first community hall, a large log building that functioned as a school and church. in 1882. The town received its current name when Thomas Bicknell, a Rhode Island educator, offered any Utah town a library of 1,000 books if it took his name. Two towns agreed in 1916, split the books, and Thurber became Bicknell and Grayson took Blanding, his wife's maiden name.
10. Mystic Hot Springs
Heated by volcanic rocks deep below the Sevier Valley, water bubbles up cracks to the surface at Mystic Hot Springs and gushes from a dry hillside at a steamy 168 degrees. The hot water fills two large pools and several hot tubs, literally bathtubs supposedly pulled from an old brothel, at this funky desert oasis. The first soakers were nomadic Paiute and Shoshone natives and then early Latter-day Saint farmers who came by horse and buggy to relax and rejuvenate.
Now tired travelers rest weary muscles in hot soaking pools beneath mounds of brown travertine and watch the sunset behind Joseph Peak or listen to a live band perform Grateful Dead songs. After a soothing soak, spend the night in a rustic 1800s cabin, a half-dozen hippie school buses, or set up a tent under the Milky Way.