U.S. Federal Shutdown Information
At this time, all of Utah's national parks, monuments and recreation areas remain open.
Learn more.
11 Family-Friendly Activities Near SLC
Summer or winter, outdoors or in, Salt Lake City has myriad activities to keep everyone in your family entertained.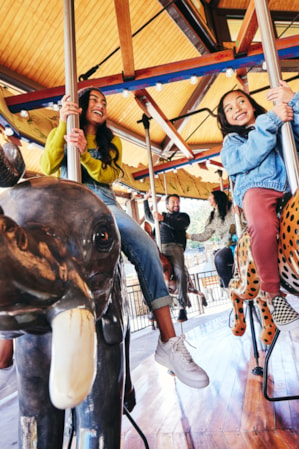 If you are looking for a great vacation spot to travel to with kiddos in tow, then Salt Lake City has you covered. Summer or winter, outdoors or in, Salt Lake has myriad activities right at its fingertips to keep everyone from the hiker in your family to the history buff or animal lover entertained. We have plenty of fun ideas for family vacations of any type, whether you visit in spring, summer, fall or winter. (Read: Why Your Kids Need a Utah Trip)
Here is a list of 11 must-do family activities in Salt Lake City for your next visit.
1. Discover the Trailhead to Utah
Really get to know Utah while entertaining the whole family with a visit to the east bench of Salt Lake City. Spanning five floors and tucked along the foothills of the Wasatch Mountains, the Natural History Museum of Utah features an outstanding display of paleontology (in addition to beautifully curated exhibits such as first peoples, the Great Salt Lake, life land and native voices) that covers eons of Utah's history and includes a frequently updated display of the latest dinosaur find — like Utah's state fossil, the Allosaurus, and incredible species from the Grand Staircase-Escalante National Monument. This figurative "trailhead to Utah" also sits on an actual trailhead to the Bonneville Shoreline Trail. Continue the exploration at the adjacent to Red Butte Garden. The Intermountain West's largest botanical garden includes kid-friendly areas and activities as well as a calendar of events, workshops and summer concerts.
2. View wildlife at Antelope Island
For families who love outdoor vacations, make the easy day trip to Antelope Island State Park. This island on the Great Salt Lake has sandy beaches with amazing photo-worthy views of the surrounding valley and towering Wasatch Mountains (Read: Great Salt Lake Needs Your Visit). It is home to wild pronghorn antelope, bighorn sheep, and bison — it's not unusual to catch a glimpse or two. There are trails of all difficulties that crisscross the island and are open to hikers, mountain bikers and horses. To spend more than a day here, you can camp at any one of three rustic campgrounds. If you're feeling especially adventurous and are here in October, plan ahead to see — or participate in — the annual bison roundup.
3. Ride a roller coaster at Lagoon Amusement Park
More than just an amusement park, Lagoon something for everyone in the family. It has roller coasters for the thrill seekers, a waterpark for the soakers, a zoo for the animal lovers, a pioneer village for the make-believers, live performances for the show-goers, a kiddie area for the youngsters and a campground for the whole family. Admission includes all areas of the park. Camping is additional but gets you a discount on tickets.
4. Learn your family history at Temple Square
At the heart of Salt Lake City is Temple Square — a beautiful public park and site of the magnificent Salt Lake Temple. While visitors may not enter the Temple itself, bring the family to explore flower-filled gardens in the summer and Christmas-light filled grounds in winter. You can learn about the pioneer history of Utah and the founding of Salt Lake City. Be sure not to miss the Family History Center, an interactive genealogy database that makes it easy and fun to discover your ancestors and retrace your family's roots. Admission to everything is free and open year-round. Even better if you time your visit to hear a free performance inside the Tabernacle. (Read: Temple Square: The Geographical and Musical Heart of Salt Lake)
5. Tease your brain at The Leonardo
Named in honor of Da Vinci's creative innovation, The Leonardo museum is designed to inspire discovery. Exhibits change regularly, so every visit offers something new. The overarching theme is 'perception'— exploring the ways we experience the world and intentionally challenging our typical methods. At The Leonardo you can dive into a life-size optical illusion, transport to other worlds with a live-action green screen, or sit through a virtual haircut. The museum is also one of 18 attractions included on the money-saving Salt Lake Connect Attractions Pass.
6. Experience history at This Is the Place Heritage Park
At This Is the Place Heritage Park, the family can pretend to be part of Utah's history. Learn how the settlers lived by stepping into their shoes. You can walk, ride a train, or saddle up on a pony for a tour around the replica pioneer town. Kids will love digging for gemstones, panning for gold, petting farm animals and watching a real blacksmith at work. The Native American Village honors pre-European heritage with Shoshone teepees and authentic live dance performances.
7. Touch a stingray at Loveland Living Planet Aquarium
The Great Salt Lake is more than salty enough to be an ocean, but the only real sea life resides inside this aquarium, and there is a lot of it. Take a trip to Loveland Living Planet Aquarium, featuring a huge shark tank with a viewing tunnel, a stingray touch pool, penguin encounters and multiple exhibits dedicated to Utah's native aquatic animals. There is also a special exhibit showcasing South American Rainforests. Kids will be amazed by up-close interactions with the animals that are possible throughout the aquarium.
8. Go local at the Downtown Farmers Market
Discover one of the longest-running and largest farmers markets of its kind in the country. There's a mix of vendors from more than 100 farms and ranches from within 250 miles of Salt Lake City, plus nearly 150 local artists during the season, live music and an abundance of energy and things to see and taste to keep the whole family entertained on Saturday mornings all summer long.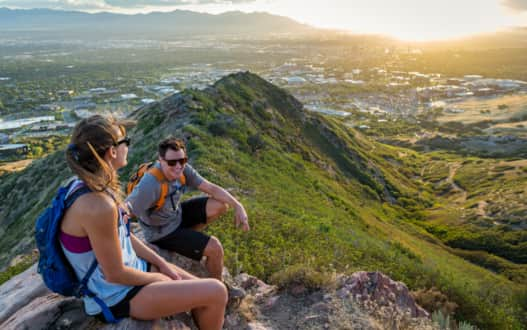 9. Hike the Living Room Trail
For the outdoorsy family, the popular hike up Red Butte Ridge is not to be missed. This 2.5-mile round trip travels among the bushes and wildflowers of Red Butte Canyon and leads to a spectacular overlook known as The Living Room where hikers have constructed surprisingly comfortable furniture out of rocks. Sit on a sandstone sofa or armchair and watch the sunset over Salt Lake Valley. The trailhead is on Colorow Road just east of downtown. This hiking trail is a local favorite for quick hikes in the evening. If the hike's nearly 1,000 feet in elevation gain and distance are a concern (please consider factors of high elevation, appropriate footwear, summer heat and younger children), the shorter hike to Ensign Peak behind the Utah Capitol Building is an alternative for the view, or you might consider a stroll or ride up City Creek Canyon.
10. Feed a giraffe at Hogle Zoo
Of course, no family vacation would be complete without a trip to the zoo. Not everyone will get to feed a giraffe, as this costs extra, but there are still plenty of up-close animal encounters and fascinating exhibits in SLC's Hogle Zoo, which has over 800 animals. Kids will also enjoy the carnival rides, discovery theater and mini water park that the zoo offers. Talented elephants, seals, and birds put on daily shows with their trainers, and there is plenty of shopping and dining to complement the trip as well, so save time for these side-adventures.
11. Ski or hike the Wasatch Mountains
The huge mountains right outside the city hold snow late into spring (with the occasional Fourth of July ski novelty at the highest elevations), because in winter they get dumped on. Thanks in part to the 2002 Olympic Winter Games, the Wasatch Mountains are world famous for winter sports, so there are plenty of opportunities for skiing and snowboarding, no matter your ability level. Alta, Brighton, Snowbird and Solitude are Salt Lake City's four resorts, but add Ogden's three resorts, Park City's three resorts and Sundance and you have 11 resorts right along the Wasatch Front. They all offer various options for lodging, dining, child-friendly activities, gear rental and lessons. And come summer, these same backyard mountains offer an array of hiking, climbing, bouldering, lift-served mountain biking, wildflower walks and more.