At Lagoon, a Utah-grown Amusement Park Where the Fun Never Ends
As the Farmington park marks the 100th-anniversary of its wooden roller coaster, Lagoon continues to attract crowds with its nostalgic rides and novel thrills.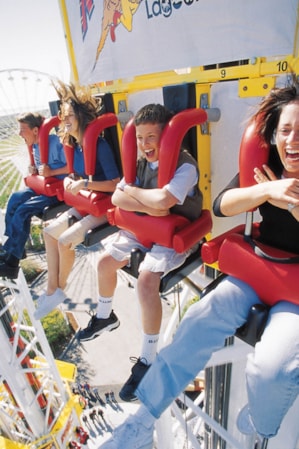 As the train makes it slow ascent to the crest of the hill, the ratcheting of the chain overtakes whoops of anticipation. While cars shake and wobble as only wooden roller coasters can, you don't need to know this coaster is a national icon to enjoy the thrill.
The Lagoon Roller Coaster, which is marking its 100th birthday and is the fourth oldest coaster in the country, underscores the appeal of Farmington's Lagoon Amusement Park, a place that has been attracting fun-seekers since Utah became a state.
There's only one place in the United States where you can indulge your nostalgia for old-time rides such as the wooden Coaster, in-between whirling and twisting on much newer adrenaline-spiking, stomach-lurching engineering feats. In addition, visitors can enjoy a taste of the Wild West, all while on a family-friendly budget.
After all, Lagoon is no cookie-cutter theme park. This is a place where Janis Joplin, Jimi Hendrix and the Rolling Stones once performed, and a place where live entertainment remains one of the park's biggest draws.
"The fun never ends!" exclaimed nine-year-old Ruby Putnam, throwing her hands up over her head in a cheer-like move when asked why she likes coming to Lagoon. Her mother, Brianna, bought season tickets this year, even though the family lives in Idaho, because her children love the park so much.
Here are four reasons to include Lagoon on your summer bucket list:
Nostalgia
If your parents or grandparents visited Lagoon during its 135-year history, there's a good chance you will step onto a ride and feel the same stomach-dropping bliss as your relative. That's because Lagoon's meticulous maintenance crew keeps them safe.
It originally opened in 1886 next to the Great Salt Lake with open-air dancing, roller skating and target shooting. It moved to Farmington in 1896 and served as a pleasure garden. Some rides from its early days are still in use. The Carousel debuted in 1918, though its 47 intricately hand-painted and hand-carved animals — horses, zebras, frogs in bow ties — were made by European-trained craftsmen even earlier, in 1893. According to an article in "Utah Preservation Magazine," each animal took 40 to 60 hours to finish, and are currently valued at $5,000 to $86,000 each. Most carousel animals today are made of plastic, which are much easier to clean and maintain.
But Julie Freed, a spokeswoman for Lagoon and part of the family who owns it, says a child on the merry-go-round could be riding the same animal her grandmother rode. "We don't really get rid of rides," she says. "We like to keep the classics."
The carousel was so prized, that when a fire in the 1950s eventually destroyed more than half of Lagoon, firefighters took up hoses and poured water on the ride to protect it. Scorch marks are still visible in the rafters.
You might think you're riding an antique when you step into your Lagoon Roller Coaster seat. But not to worry: The only original part of this nationally recognized ride designed by John A. Miller, the Thomas Edison of roller coasters, is the footprint and each drop and herky-jerky twist. The wood, tracks and technology are replaced as needed.
The Lagoon Coaster opened in 1921, with newspapers promising it would be as thrilling as an airplane ride but as safe as a rocking chair, according to the Lagoon History Project blog. Riders still love it: On a recent ride, as the train pulled into the station, people clapped.
Lagoon's appeal to visitors is "about tying in with the memories they had as a kid. People want to get a piece of their childhood back," says Braden Miskin, who created Lagoon History Project, after visiting Lagoon as a child and working there as a landscaper. "They have memories of going there with their parents and grandparents, and great-grand parents they didn't know about [visited too]. They all experienced the same place. It ties people together with their current family and past generations."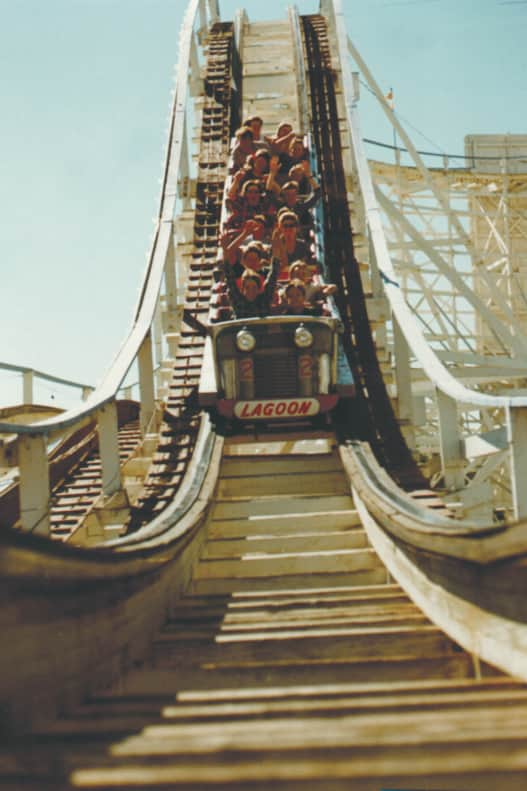 "The Lagoon Coaster opened in 1921, with newspapers promising it would be as thrilling as an airplane ride but as safe as a rocking chair, according to the Lagoon History Project blog."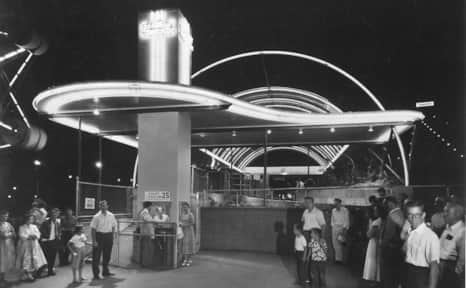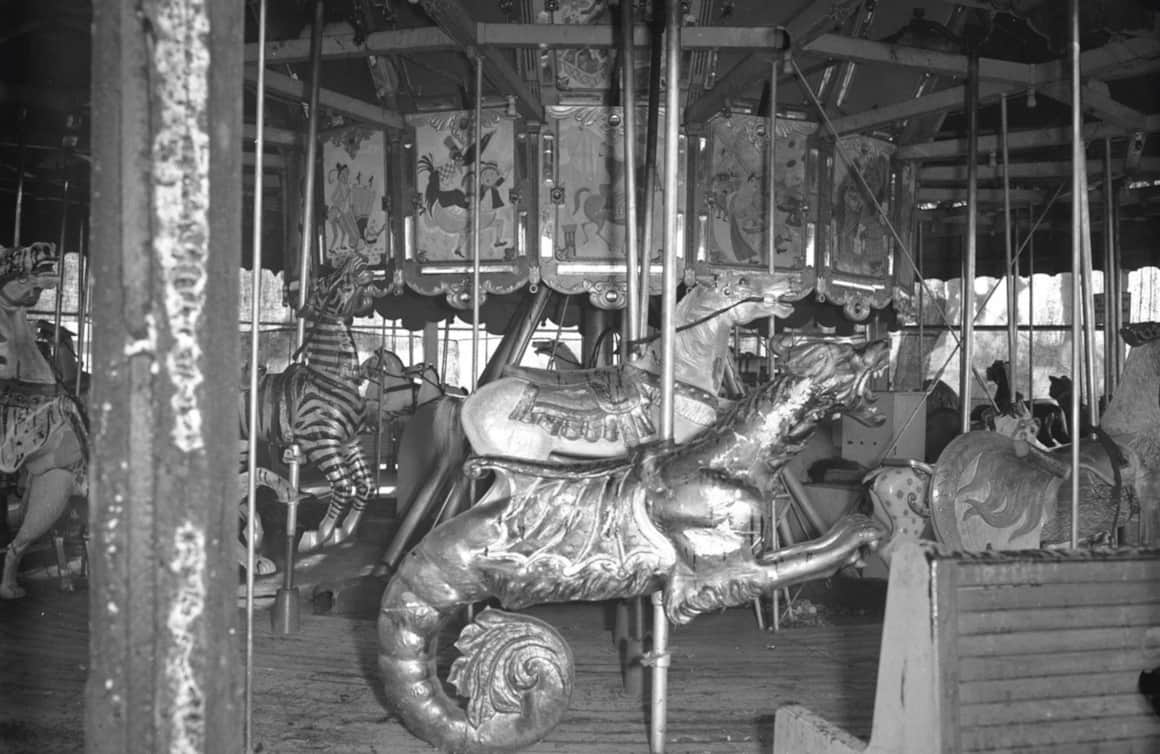 Family
Lagoon is the last family-owned amusement parks in the nation, according to its owners, the Freed family. "That's something really special to us. We don't want to be corporate," Julie Freed says. They've rebuffed sales pitches from larger amusement companies; if they sold out, the older rides would likely disappear, she says. And a perk that's been in place since Lagoon's beginning would end: It claims to be the only park in the nation that allows guests to bring in their own food and drinks, including alcohol.
Nearly three dozen pavilions can be found on the east side of the park for guests seeking shade and picnic spaces. (Lagoon also hosts family reunions, corporate retreats and high school parties.) The bring-your-own-food policy helps keep the park affordable for Utah's large families. And it harkens to Lagoon's history, when guests arrived in Victorian finery to walk the elaborate gardens, boat and swim in the man-made lagoon, dance and picnic.
Of course, the park offers plenty of food and treats to buy, from typical fast food and carnival fare (think pastries in the shape of beaver tails and topped with candy), plus a soda shop that sells flavored colas (Swig) and a new Bavarian-themed restaurant called Biergarten. That includes two bars, a sit-down and a grab-and-go restaurant. The stone facades, flower boxes, long wooden tables and clock tower give the restaurant a European feel.
The menu features German-inspired foods plus 20 beers on tap, including a Lagoon-A-Bier pilsner made just for Lagoon by Utah's Uinta Brewing.
But you don't go to Lagoon for the food or drinks. The park boasts 57 rides plus Lagoon a Beach, a water park with slides, waterfalls and a lazy river. Some 21 rides are for kids, from Baby Boats to Tipsey Tea Cups to a mini coaster called Puff. "Our kids love it," says Jason Burrows, standing in line at OdySea (a ride with flying fish that get sprayed with water). "Gets them off their iPads."
For riders who seek bigger drops and dizzier spins, there are rides such as the Cannibal, a custom-coaster that Freed says has the steepest drop in the world. Riders travel up to 70 m.p.h. through three inversions, and start with a beyond-vertical, 116-degree free-fall. On the Wicked coaster, riders seem to rocket up 110-feet without warning before dropping back down to take on rolls and flips and an inversion. And The Spider features spinning cars that can rotate 20 times a minute.
For an additional fee, guests can try the X-Venture Zone rides: a Catapult ($20) that launches riders over 200 feet in the air to weightlessness; the go-cart Double Thunder ($6 per driver); and Skycoaster, a giant sky-dive-like ride ($15) that reaches up to 80 m.p.h.
"'We don't really get rid of rides," she says. "We like to keep the classics.'"
– Julie Freed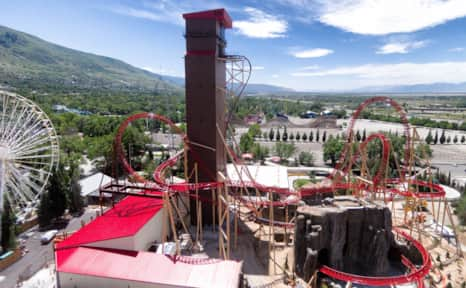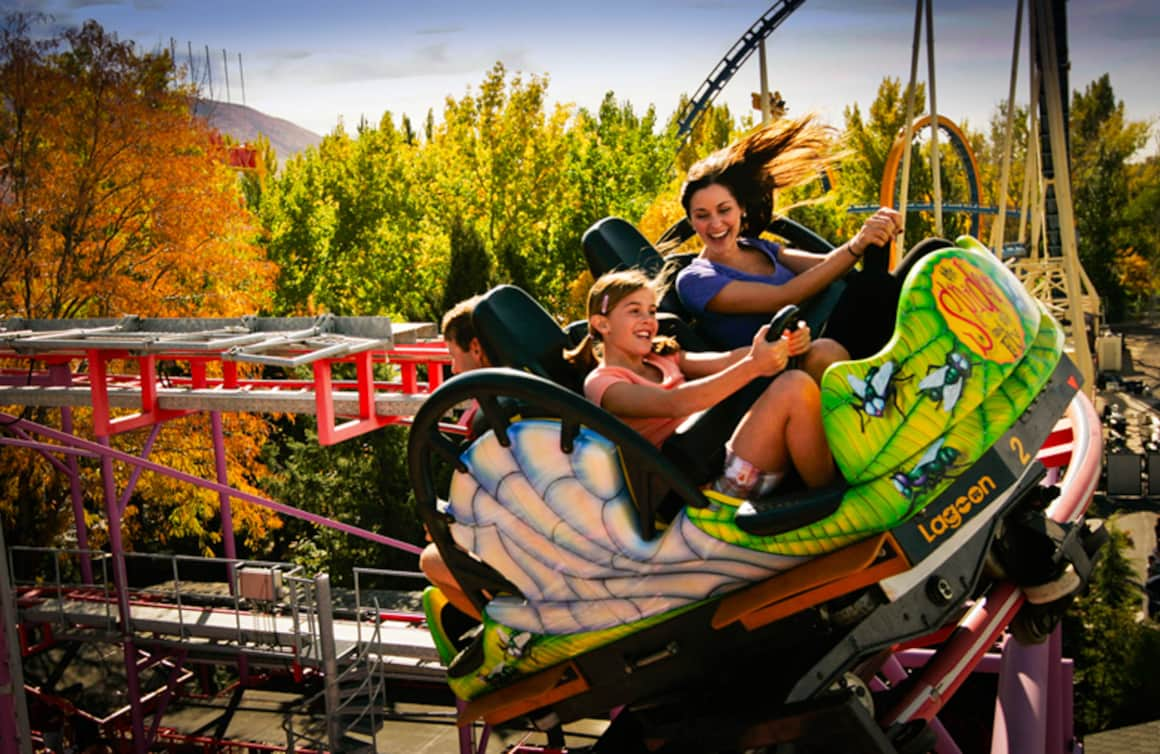 Wild Wild West
If you head east toward the mountains, the buzz of the park fades away and you'll find yourself walking among strutting peacocks. You're in Pioneer Village, a collection of authentic 19th-century buildings that recreate life for early white settlers in Utah. Among the 42 buildings, moved from around the state into this 15-acre restoration, are a drunk tank, a print shop, chapel, co-op and shoe shop.
Be sure to hunt for the Sovereign Jewel, an antique stove blinged out in intricate nickel drapery and large gems. There are other unexpected finds: A telephone museum; a model train museum; a miniature hand-painted circus display among a collection of dolls from the 1800; a barn full of horse-drawn carriages (including a hearse); and a gun exhibit with weapons used in the Revolutionary and Civil wars. There are also two rides tucked away in the village, both good places to get wet.
"It's our hidden gem," Freed says. "It's unique to Utah. It's a great part of Utah's history being able to see what [pioneers] came over with."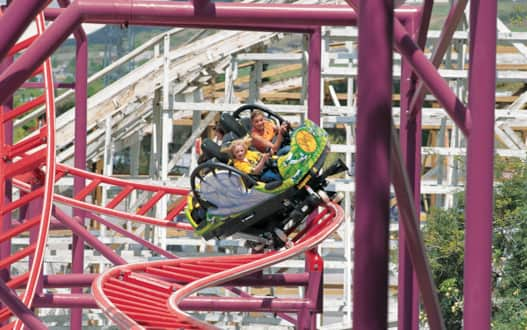 Entertainment
The Beach Boys played here, and even included lyrics about Lagoon in their song "Salt Lake City."
"There's a park near the city, yeah
All the kids dig the Lagoon now
It's full of all kinds of girls
And rides and we'll be flyin' there soon now"
Video footage shows the Monkees riding the Roller Coaster. Ella Fitzgerald, Louis Armstrong and Nat King Cole played at Lagoon, even though Blacks were barred through city code from dancing or swimming at the park during the 1950s and early '60s. The Freeds, who operated the park but didn't yet own it, helped overturn the ordinance and desegregated the park, putting Lagoon on the vanguard of civil rights in Utah.
While the music venues have been replaced with rides, entertainment still reigns. Frightmares, which runs from mid-September through the beginning of November, includes eight haunted houses (some kid-friendly, some labeled "too scary") and draws the park's largest crowds of the season.
"We're a family park run by a family made for families," Freed says. "There's something for everybody. We just want people to come make memories here."