Antelope Island's Bison Roundup
The annual roundup is just one reason to visit this state park in the Great Salt Lake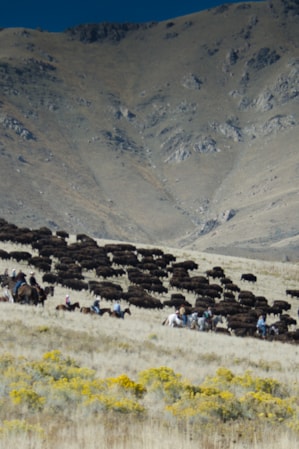 Snorting bison push their way through the sagebrush heading north on Utah's Antelope Island State Park. But they're not alone. Whistling and shouting horseman follow, men and women trained and instructed in the fine art and science of wrangling 2,000-pound animals. Ready to join the roundup? Read on. Whether you're doing the herding, or watching from a safe distance, you'll want to join the adventure.
Antelope Island's annual bison round-up takes place in relative obscurity, on a stunning landscape from another geologic era, making this event a wonderful opportunity to view the Utah bison population close-up and in a relatively natural habitat. Watching an authentic roundup with real cowboys and cowgirls is like being on the set of an old west movie or transported to a distant era — yet it's only 25 miles northwest of Salt Lake City International Airport.
"It's something to see cowboys (and cowgirls) chasing 700 bison around with dust flying everywhere and them snorting and hollerin'."
The sage scented serenity of the island slowly recedes as spectators and riders arrive for the big day. Spectators rush to find a good spot to watch in anxious anticipation of the arrival of the parade of buffalo. The buffalo are followed by the riders as they negotiate their way from the southern area of the Island to the north holding pens. The somewhat slow but forced pace, ensures the safety of all humans and wildlife for this spectacular event. Spectators are always delighted with the number of good locations to stop and follow the herd as it makes its way north.
Ride with the Herd
Jeremy Shaw is park manager for Antelope Island and leads the annual roundup.
"We ask when people sign up (for the roundup) if you want to be an aggressive rider or if you want to be a leisurely rider," said Shaw. "Typically, about 100 people will want to go on the leisurely ride and be close to the bison but not engaged. We take the other 200 and break them into teams and call them a left flank, right flank and center."
About fifty people who are allowed to ride with Shaw are called the core group of riders. "These are the guys that know what they are doing, have done this year after year, know what the bison are going to do, know when it's dangerous, when it's safe, when we need to ride harder on one side or harder on the other."
"It's something to see cowboys (and cowgirls) chasing 700 bison around with dust flying everywhere and them snorting and hollerin'," said Shaw. "The goal is to get all the bison into the corral safely and not have any of the riders injured in the process."
That's the thing about bison. They're big animals. Shaw and his staff say they frequently get asked if the bison are tame. They stress to visitors these are wild animals and caution people not to approach them. Signs are posted throughout the park and the best course of action is to keep a safe distance. Bison can run up to 30 miles per hour, which is much faster than humans. They don't have to run around obstacles (brush), they rumble through things.
"We bring in every bison except for the mature bulls," said Shaw. "Any bull three years old or over, we leave out. "We don't really need them. We're not going to sell them and they don't need to be vaccinated again. They're basically breeder bulls and they're hard to herd, and they're really ornery when you get them with a bunch of other bison." Once corralled the bison will have a thorough health check the following weekend which is also a sight to behold. Two weeks later some will be auctioned off to the public. In 2016, approximately 250 bison were sold to high bidders.
Jolene Rose is a wildlife biologist on staff at Antelope Island. She refers to the 50 or 60 mature bulls left out of the roundup as members of the "grumpy old men's club." They can be seen in small groups scattered throughout the island.
A Spectator Sport
Rose is the longest tenured staff member at Antelope Island with more than 23 years. She has a healthy respect for the bison. "They're almost a sexy animal," she says with a big grin. During her early years on the job that they conducted the bison roundup using vehicles and helicopters. The last time they used vehicles and helicopters Shaw watched a full-grown bull put its horns through the door of a full-size Ford Bronco and almost put the vehicle up on two wheels. "He apparently had enough of being pushed around," said Shaw. This practice stressed the bison and was abandoned for the current roundup procedure on horseback.
Where do Bison Live
Custer State Park in South Dakota and Antelope Island State Park are about the only places where people can actually experience a public bison roundup first hand. Though Yellowstone National Park is home to one of the nation's most famous free-roaming herds of bison, they are not rounded up.
"If you want to herd wild bison off the range, this is the spot … this is the place," said Shaw.
"I've participated in the Custer roundup by invite," said Shaw. "When I left Custer, my goal was to make this roundup more organized." That was in 2012 and today Shaw credits his mentors at Custer with playing a big role in helping to get the event in Utah running more smoothly. Through lessons learned we now limit the number of riders but we still try and invite enough public folks to keep the experience authentic."
For those interested in participating but not riding, spectators are welcome and encouraged. There are two ways to participate. Individuals may view the roundup from inside or outside their vehicle along the miles of roads that parallel the driven bison. Visitors can find plenty of areas on the island where they can catch all the action from a safe distance.
It All Leads to This
Shaw calls the roundup the culmination of their year. The state park offers a number of recreational events throughout the season and has plenty of other wildlife available for viewing. Hikers, cyclists and photographers are likely to see the island's namesake pronghorn antelope and mule deer, but the park is also home to bighorn sheep, coyotes, bobcats, badgers, porcupines, and numerous birds of prey. But the bison roundup is the crème de la crème and a truly distinct Antelope Island experience. The "roundup is ours," Shaw said.
"You're talking about a lake (The Great Salt Lake) just out our back door that's about the size of Rhode Island — that's a huge draw in of itself, said Shaw. Then you couple the island with it and it's almost a combination that can't lose. It's truly like no other place in the world."
Judy Gardner, the first manager of the Antelope Island Buffalo Grill echoes the same sentiments. "I moved from California to Utah and I claimed the island for myself," said Gardner. "To find an island out in the middle of the Great Salt Lake that has what this island has, there is no comparison, she said. I love Yellowstone but out here it's kind of a home away from home. This is my island!"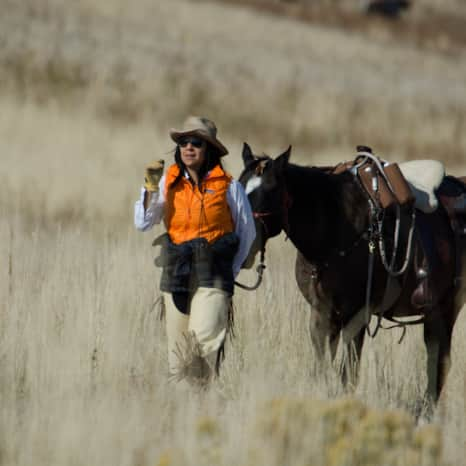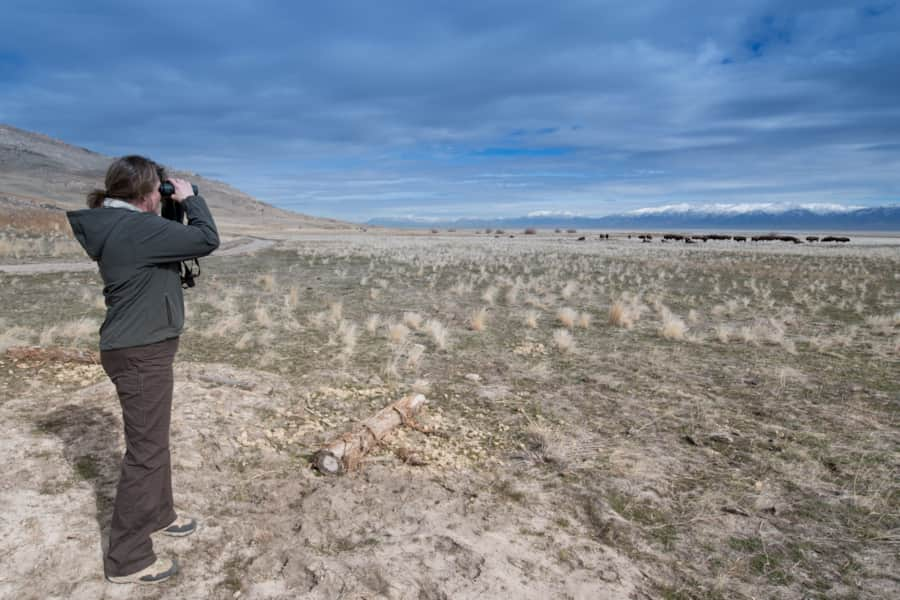 "You're talking about a lake just out our back door that's about the size of Rhode Island. Then you couple the island with it and it's almost a combination that can't lose. It's truly like no other place in the world."
"You don't herd buffalo," said Kendalyn Hill, a local three-time rider in the event. "You suggest and they (Bison) might consider," she said smiling. Hill has ridden in the past but on occasion she can be seen playing her wooden flute while observing the roundup from a safe distance.
Shaw has been asked thousands of times what makes his state park so special. Now his response is always the same thanks to a group of people living over 6,000 miles away.
"In 2013 we signed a memorandum of understanding (MOU) with the Great Wall of China," said Shaw beaming from behind his modest desk at his office. In recalling the events that led to partnership between the two nations, Shaw said it was "pretty cool" how it all went down.
According to Shaw, Utah State Parks took the Chinese contingent through Canyonlands and Arches national parks as well as Dead Horse State Park. And they also took them to Antelope Island. When the Chinese delegation went home they decided to sign the MOU with Antelope Island. Shaw says he later asked why did they picked them over all the other places they visited in Utah?
"He said this place is so peaceful and yet so wild. When you visit it, it changes your heart." Shaw agreed. "I think that's the draw," he said with a nod of his head …" It changes your heart."
This relatively obscure local event can be a great opportunity for a family wanting to see a real roundup of a wild bison herd.
Where to Stay Near Antelope Island
This event takes place just 25 miles northwest of Salt Lake City International Airport. It is easy to find, with great accommodations just off the I-15 exit 332 Antelope Drive located east of Antelope Island in the surrounding community. All hotels and restaurants are within an easy driving distance of the island. The are several campground options at Antelope Island, including some camp sites with individual hook-ups.
Get Involved
Interested in riding in the Antelope Island bison roundup? You absolutely can. The annual bison roundup is open to the public with hundreds of riders getting the opportunity to round up wild bison on horseback. Online registration typically opens the first of September. Sign up early as there is a cap to the number of riders the event can allow. Last year, approximately 250 riders signed up to help out.
Riders will need to be registered. Park officials typically open the bison roundup registration on their website stateparks.utah.gov/parks/antelope-island/ to the public in September. The actual roundup is always in October when the weather is a lot cooler. According to state park bison roundup rider registration information, riders "must provide their own horse to ride in the Roundup." The registration fee includes park entrance, a souvenir bandana and dinner. If any bison are left on the range, which rarely happens, they will be moved the following day.

Ready to participate in the Antelope Island Bison Roundup and see where bison live? Plan your Utah adventure today!