Salt Lake City International Airport
In September 2020, a new Salt Lake City International Airport (SLC) was unveiled to travelers. Located just five miles northwest of downtown Salt Lake City, the LEED Gold-certified complex houses one central terminal with two linear concourses. The new design features a state-of-the art parking garage; a faster, all-electric baggage system to move large items (think: skis, mountain bikes); 58 restaurants and shops; a 28,000-square-foot Delta Sky Club (we're a Delta hub); 16 security screening lanes with automatic return bins to aid in touchless travel; as well as Utah-themed art installations to inspire your adventure planning.
Alaska, American, Delta, Frontier, JetBlue, Southwest, United and their affiliates all serve Salt Lake City.
Travelers arriving at the Salt Lake City International Airport have the convenient transportation option of TRAX light rail. It's a 20-minute ride to City Center. There are also taxi, Uber and Lyft services to downtown.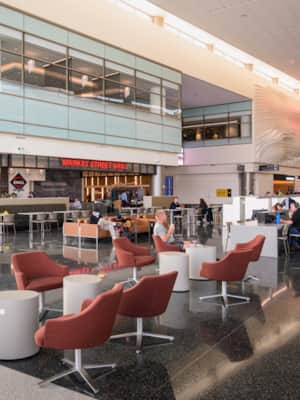 Finding Local Flavors at the New Salt Lake City International Airport
Explore the best places to eat at Salt Lake City's new airport, which features many local restaurants and impressive public art.
Regional Flights
Commercial air service, charter flights, or aerial connections connect Salt Lake City to other Utah destinations, or make areas of the state more accessible to charter and private aircraft. These smaller airlines offer unique experiences often missed by visitors.
SkyWest Delta Connection serves cities throughout the West and scheduled flights from Salt Lake City to Cedar City, St. George and Canyonlands Field near Moab. St. George Municipal Airport also offers direct service to Denver, CO.
Allegiant Air provides commercial air service to Provo Airport from Anaheim, Austin, Denver, Houston, Los Angeles, Palm Springs, Phoenix, St. Petersburg, Santa Ana and Tampa Bay.
Breeze Airways also offers commercial flights from Provo Airport to Charleston, Las Vegas, Los Angeles, Orange County, Orlando, Phoenix, San Bernardino and San Francisco.
Redtail Aviation provides scenic flights over national parks and charter flights to and from the Moab and St. George areas. Call (800) 842-9251. Contact Canyonlands Field at (435) 259-4849 for information on other services offered. Redtail also offers a Mighty 5 Tour that includes all of Utah's five national parks "in one life-altering air tour." The tour is offered out of both of the Moab & St. George locations.
Russ McDonald Field in Heber, Utah, is available to smaller aircraft and serves the Heber, Park City and Deer Valley area.