Air Travel
Utah is accessible to the world via Salt Lake City International Airport (SLC). Starting in Salt Lake City is the best place to begin your trip if you want to understand Utah's culture, history and local flavors — and see the towering mountains overlooking the city. Travelers can also fly into Las Vegas' McCarran International Airport for slightly closer access to Southern Utah sites, including a 2.5-hour drive from Zion National Park, St. George and Kanab.
Additional connection flights from SLC or other airports in the region include Provo (PVU), located along the Wasatch Front in the Northern Utah region, and St. George (SGU) and Moab/Canyonlands (CNY) in the Southern Utah region. Ogden (OGD) has an airport, but commercial flight options are not available. It is very convenient to get to Ogden from the Salt Lake City International Airport as there is a Front Runner commuter rail servicing both cities.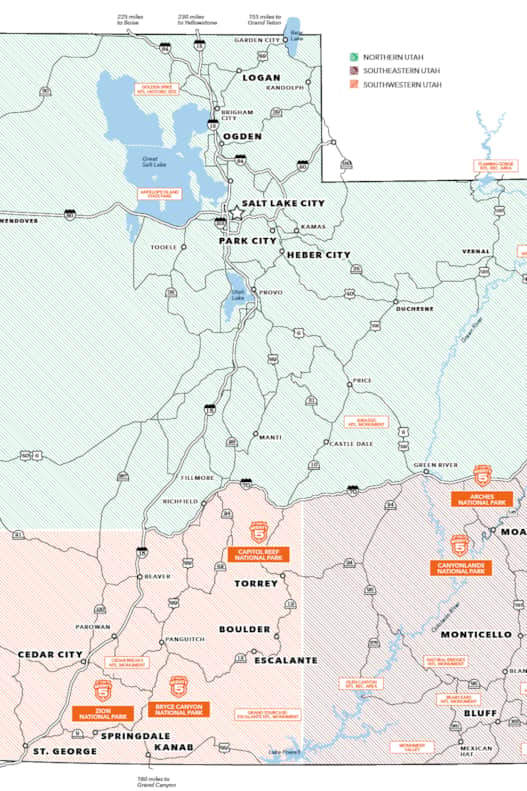 Bus and Rail Travel
Experienced travelers say Amtrak's California Zephyr is one of the most beautiful train trips in North America. The Zephyr runs daily between Chicago and San Francisco. Utah stops include a staffed station in Salt Lake City and unstaffed stops in Provo, Helper and Green River. Amtrak bus service connects to Ogden.
If you prefer to go by bus, Greyhound Bus Lines offer frequent service to and throughout Utah on its transcontinental routes along all interstates (I-15, I-84, I-80 and I-70) as well as to Denver along U.S. 40 and Moab along U.S. 191. Greyhound provides the primary means of public transportation to Southern Utah. Another affordable option to consider when planning your Utah trip is Salt Lake Express. Check for current specials and shuttle services between St George and Springdale hotels as well (~$78) — and keep in mind that Springdale hotels have easy access to the free Zion National Park multi-passenger shuttle system during the warmer months.
Traveling Around Utah
The best way to explore the state is to rent a car, though there are private shuttle and tour options. In the Wasatch Front urban corridor of Northern Utah there is great public transportation, including TRAX light rail, FrontRunner commuter rail and the UTA bus system. For statewide travel, it takes time to travel between major locations. Take advantage of the many scenic byways to enjoy the local scenery, small towns and off the beaten track attractions. Learn more about transporation and getting around Utah.