Why a Visit to the Blanding Dinosaur Museum is a Must
The Blanding Dinosaur Museum, off U.S. 191 in Southeastern Utah, is a hidden gem: The artifact collection here includes bones, dinosaur eggs, and even fossilized skin! The museum also has three wonderfully preserved petrified trees and unique movie memorabilia.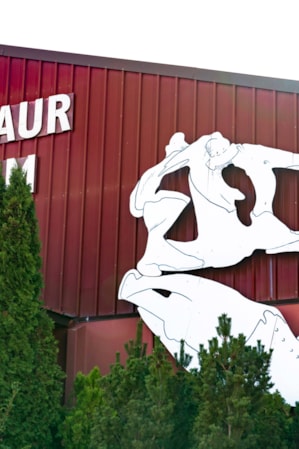 Many travelers drive right through the small, rural town of Blanding, Utah. Tucked down in the far southeast corner of the state, it's not on many people's radars, even with the designation of Bears Ears National Monument. But the Dinosaur Museum in Blanding is a must-see for any dinosaur aficionados out there. Here, you'll find some of the most complete displays and rarest artifacts in the paleo world. It's a true hidden gem of fun, entertainment, and education that is worth going out of the way to reach, not just an "I'll stop if I'm nearby" destination.
The museum sits in a charming downtown surrounded by the rugged red-tinged desert that perhaps looks not too dissimilar to when the dinosaurs walked this land. Sure, a river or two may have dried up, a dune here and there may have petrified, but it's easy to imagine the giants lumbering along what is now the main highway through town, while winged beasts soar overhead.
Blanding forms the extreme southern tip of what is called the "Dinosaur Diamond," a hotbed of prehistoric dinosaur activity and fossil finds. (The other points are Price, Moab and Vernal, Utah, and Fruita, Colorado.)
In the Museum
The museum contains fossils found nearby in the Four Corners region and from around the world, including a large gathering of dinosaur eggs and pieces of actual fossilized skin. Storyboards abound that tell the often fascinating tales of where they were found and how they were excavated, it may make visitors grab a shovel and walk off into the desert. Take the Blanding Brontosaurus, for example. Two sections of a leg were actually used as decorations in a local resident's garden for years!
The halls are filled with replicas and life-sized, models as well. Be sure to check out the petrified trees too. They're older than the dinosaurs themselves and of the six specimens of this quality in the world, Blanding has three.
Dinosaurs in the Movies
Aside from the fossils, footprints, and bones that you would expect to find in a place called "The Dinosaur Museum," there is also a fascinating exhibit on the huge role of dinosaurs in pop culture, media, and movies. This section is worth the visit in and of itself. An extensive collection of foreign and domestic movie posters and memorabilia, antique books and comics, prints, paintings, and sketches takes up the entire Special Exhibits Hall. Movie buffs love it.
The rooms feature an original mechanically operated brontosaurus model from the 1933 version of King Kong. And, if you've always been curious about stop-and-go special effects, there's a fun display showing how they used matte paintings on glass and background art to create depth and realism to bring these clay models to life.
The Founders
The Hollywood connection is not surprising, given the founders' history and backgrounds. The founders, Stephen and Sylvia Czerkas, are both accomplished paleontologists. Sylvia has authored and edited several books on dinosaurs, and Stephen was a sculptor. Early in his career, Stephen worked in Hollywood designing and sculpting dinosaurs for the motion picture industry. He also created stop-motion models and worked in animation and special effects for both TV and film.
"Seeing actual, real-life dinosaur skin alone is worth the price of admission."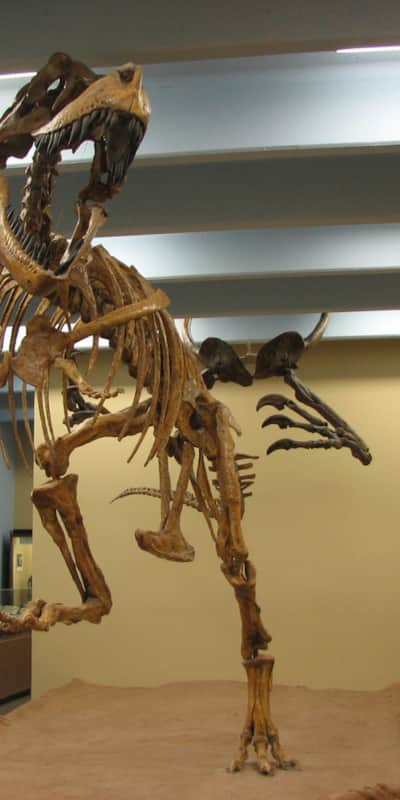 As his work got more and more recognized, he began creating life-size dinosaur models for museums around the world. He also made a name for himself by correcting misinterpreted reconstructions of famous dinosaurs like the Stegosaurus (more on this later). Steven and Sylvia opened the museum in 1992, and though Stephen passed away in 2015, Sylvia continues his legacy.
Rare, World-Class Displays
Among the many must-see artifacts here, one stand out is the cast of a mummified Edmontosaurus. This 40-foot-long, duck-billed dinosaur was discovered in Wyoming in 1891. In an incredibly rare find, it had large patches of skin intact, allowing scientists the world over to actually understand dinosaur flesh. The cast here in Blanding is one of only two in the entire world. Seeing actual, real-life dinosaur skin alone is worth the price of admission.
Rabid fans of the Jurassic Park movies may want to look away now. The velociraptors made famous in those movies were actually feathered, and the Blanding Museum has the proof. One room called "Feathered Dinosaurs — Correcting the Mistake" explores the links of long-ago dinosaurs to modern-day birds. It also lays out all the latest research and state-of-the-art evidence of the Velociraptors' feathers.
Planning Your Visit
The museum is open Monday through Saturday, 9 a.m. to 5 p.m. from April 15 to October 15. In June, July and August, it's open from 8 a.m. to 8 p.m. The museum is closed during the winter months. Group tours are allowed and even encouraged, especially ones with kids, just give the museum prior notice. The entrance fee is only $3.50.
Like any great museum, the gift shop is worth a visit. It's also a great source if you're looking for books on dinosaurs, perfect for further expanding your knowledge about this land's ancient past and your own place in that timeline.