U.S. Federal Shutdown Information
At this time, all of Utah's national parks, monuments and recreation areas remain open.
Learn more.
Seeing the Dinosaurs of Utah Valley
Tons of dinosaur fossils have been found in Utah, and plenty of them are on display in museums in the Utah Valley area. Ranging from smaller collections to one of the world's largest collections of complete dinosaur skeletons, there's something for every dinosaur lover to enjoy!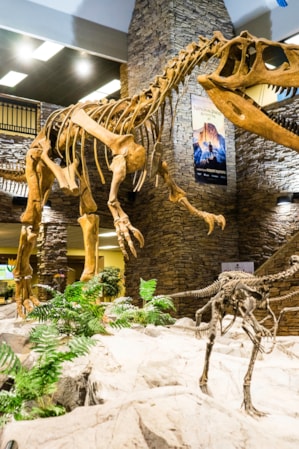 The state of Utah as a whole is known as important dinosaur country, but the central part of Northern Utah, known as Utah Valley, is a hotspot of dinosaur action. In prehistoric days, dinosaurs ruled this area, and Utah's geology and climate provided the perfect conditions to preserve the remains of these magnificent creatures.
Museum of Paleontology
The first stop on any dinosaur hunter's checklist has to be the Museum of Paleontology at Brigham Young University in Provo. This modest-sized museum holds an impressive collection of fossils from the Jurassic Period, including the world's only complete skeleton of the predatory Torvosaurus, measuring 30 feet long and 12 feet tall. It's also home to a skeleton of the Utahraptor (meaning "Utah's predator"), which inspired the inclusion of Velociraptors in the Jurassic Park movies.
The high-quality exhibits are not only informative and educational, but also fun, making this a good place to take kids. In addition to the full-size skeletons and mineral displays, there's a viewing gallery where you can watch scientists and students process actual fossils. The museum is constantly refreshing and updating its displays as new things get discovered or new information comes to light. (Be sure to see the fascinating video presentation that details where and how the museum collected its fossils!)
While most museums don't allow visitors to touch displays, there is a whole section where people are actually encouraged to touch the fossils. This is deeply satisfying for kids and adults who are fascinated by the opportunity to handle an ancient relic.
Because the museum is not very large, you can see everything in about an hour, making it a good destination if you only have a short amount of time available. Another great thing about the museum is that admission is free.
Thanksgiving Point
Twenty minutes north of Provo is the rapidly growing town of Lehi, near the southern border of Salt Lake County. In Lehi sits Thanksgiving Point, a sprawling museum complex that is a destination in and of itself and big enough to keep you busy for several days. It includes the Museum of Natural Curiosity, with more than 400 interactive experiences; Farm Country, a working farm where visitors can see the usual, and not-so-usual, farm animals; Ashton Gardens, a 55-acre botanical garden that includes the largest manmade waterfall in the Western Hemisphere; and the focal point from the perspective of this story, The Museum of Ancient Life.
The Museum of Ancient Life
The Museum of Ancient Life proudly showcases one of the world's largest displays of mounted dinosaurs. You'll find more than 60 complete dinosaur skeletons from both nearby and all over the world, including two T-Rex skeletons, the world's most complete Stegosaurus, and a 120-foot specimen of the largest dinosaur ever discovered, the Supersaurus.
"Experience and unlock the mysteries of the prehistoric world."
The museum is cleverly organized, so the displays start at the Big Bang and go through every geological period to modern time with more than 50 hands-on, interactive exhibits. Kids can play paleontologist by digging for bones in the quarry dig or casting and drilling their own fossils to take home at the Junior Paleo Lab. Adults can watch the scientific process in real time at the viewing gallery, where workers are unearthing real dinosaur bones.
Perhaps best of all, once a month, lucky visitors can spend a Late Night with Rex: Go on a scavenger hunt through the museum, take fun paleontology classes, and watch a 3D movie on the Mammoth Screen.
With so much to see and do, a trip to Utah Valley to experience and unlock the mysteries of the prehistoric world stokes the passion to learn for kids and reignites that childlike wonder in adults. Because really, who doesn't love dinosaurs?