How to Experience Utah's Dinosaur History at the Prehistoric Museum in Price
Central Utah's Prehistoric Museum in Price houses fossils from more dinosaur species than any other museum in the country. World-class exhibits of the region's unique paleontology, archaeology and geology can all be found under one roof.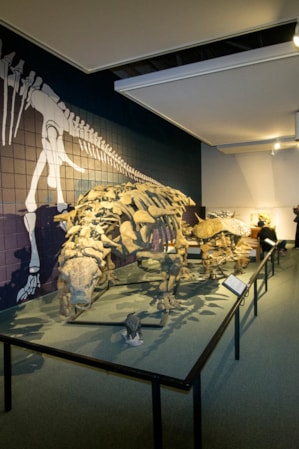 I never considered myself much of a dinosaur history buff, but as soon as I stepped into the Utah State University Eastern Prehistoric Museum and came face to face with the full body skeleton of a fearsome-looking Utahraptor, a smile spread across my face. And that smile stayed there for the entire two hours I spent exploring the museum on a quiet Thursday afternoon.
In a region where archaeologists have found fossils from more dinosaur species than anywhere else in the country, a museum like this feels right at home in Utah (Read: A Deep Dig into Utah's Deep Time). Located in downtown Price, the Prehistoric Museum showcases 3 billion years of Utah's history through exhibits in geology, archaeology and paleontology. It's a place where the stories of Earth's landscapes transforming across millennia, dinosaurs evolving and dying, and humans making this land home for thousands of years all come together under one roof. In many regards, the museum houses the most complete record of prehistoric life of anywhere on the planet.
First, The Story of Humans in Utah
Prehistoric human and Native American cultures have always been one of my main interests, so my first stop was the Hall of Archaeology. It's a little hard to ignore the elephant in the room — or, rather the Ice Age mammoth skeleton — right as I walk in. I'm amazed at the thought of humans coexisting with and hunting these massive mammals that seem like such a figment of our imagination today.
The archeology exhibit carries me through time, showcasing the history of Utah's human inhabitants from 14,000 years ago up until present day. I find myself particularly drawn to the Ancestral Puebloan (formerly referred to as Anasazi) and Fremont Indian cultures, thanks to the impressive displays of rock art, pottery, basketry and clay figures in the museum. The exhibit's collection of 1,000-year-old clay Fremont figures, which includes the world-renowned Pilling Figurines discovered near Price, truly captivates me. These small works of art measure just a few inches, but they feature such intricate details in dress and appearance and are in such pristine condition that I can hardly peel my eyes away from them.
Learning How the Land Took Shape
In a place like Central Utah, where a two-hour drive can bring you to one-of-a-kind red rock arches, dramatic cliffs of shale and sandstone, snow-covered mountain ranges and some of the country's mightiest rivers, it's only natural to get a bit curious about how these wild landscapes formed. Fortunately, Price's Prehistoric Museum steps up to feed that curiosity.
"In many regards, the museum houses the most complete record of prehistoric life of anywhere on the planet."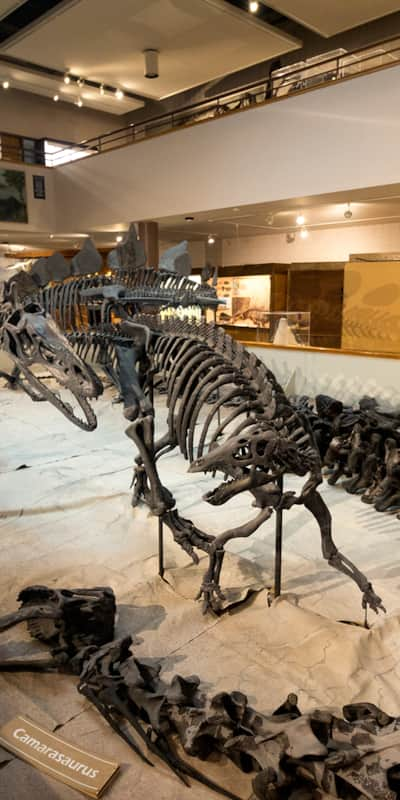 The Hall of Geology unravels billions of years of Earth's history, from continental plates colliding and shifting to their present-day positions, through periods of freeze and thaw, to the eroding forces of water and air shaping the rock we see today. Entirely new to me — which again brought back that sense of childlike awe — was the story of the Mancos Sea, a shallow, saltwater sea that covered the central part of North America toward the end of the Age of Dinosaurs. It was this ancient sea that deposited the layers of shale and sandstone, along with plenty of marine fossils, that we see in Utah today.
Finally, A Walk with The Dinosaurs
The Hall of Paleontology.
If you only have time to check out one of the exhibits in Price's Prehistoric Museum, make this the one. Towering full-body dinosaur mounts fill the room, alongside illustrations of what these creatures may have looked like and educational displays detailing the rise and fall of their time on Earth.
Most of these real dinosaur bones and tracks were discovered within the very region of eastern Utah where the museum sits. In fact, evidence of many of these dinosaur species have only been found in Utah. I can't help but imagine the sight of Tyrannosaurus, Utahraptor, and Allosaurus wandering the valleys of Utah, living on the same land where we now stand. That sense of childlike wonder surely cannot be shaken in this exhibit.
The Future of Price's Prehistoric Museum
After more than 50 years in operation, the Utah State University Eastern Prehistoric Museum has plans to expand into a new building. The current collection of artifacts and fossils is housed both on-site in the museum as well as off-site at the university. As the collection (and visitation) continues to grow, plans and an active fundraising effort to build a larger, state-of-the-art facility for the Prehistoric Museum are underway.
Museum Basics
In addition to serving as a great base camp to the San Rafael Swell, Price is a logical stop on road trips between Salt Lake City and southeastern Utah, which includes Moab, Arches and Canyonlands national parks and Bears Ears National Monument.
Hours: Monday–Saturday 9 a.m. to 5 p.m.; Closed Thanksgiving, Dec. 24, 25, 31 and Jan. 1

Address: 115 East Main, Price, UT 84501

Coordinates: 40.741895,-73.989308