Digging Salt Lake City for 48 Hours
Discover a vibrant city teeming with arts, nightlife and attitude.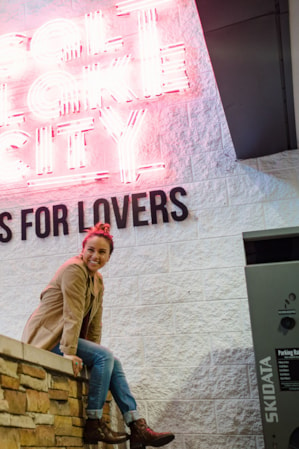 Like the western rattlers that stow beneath erratic boulders in the surrounding foothills, Salt Lake City has shed its skin several times in the past two decades. SLC's glistening new look reveals a town teeming with arts, nightlife and attitude that left me hissing for just one extra play day — if not two. Though there are enough fun things to do in Salt Lake City to keep you occupied for a week, visitors with less time can read below for the best way to enjoy SLC on the quick.
Settle Into Downtown
I've been a Salt Lake cruiser for years, zipping past downtown on my way to visit Park City or play in Little Cottonwood Canyon. So imagine my surprise when I finally checked into a boutique hotel here and took a look around. First impression? Everyone's having a good time, whether they're hanging out on the Beerhive Pub terrace, catching some live jazz or hitting one of multiple downtown breweries (see "Hit the Pubs" below and read: "Discover the Breweries of the Wasatch Front"), queuing up for the Tumbleweeds Film Festival at the Rose Wagner PAC or tailgating before the nationally ranked Utah Utes football game. Must be that Wasatch Range elevation.
"SLC's glistening new look reveals a town teeming with arts, nightlife and attitude."
Share a Bike and Bites
Bike share programs have swept across North America, but they make the most sense here, given SLC's relatively flat topography. With stations every few blocks, and an award-worthy app, grabbing one of GREENbike's bright green cruisers becomes a no-brainer. I also appreciate the broad baskets and optional aluminum panniers, perfect for camera bags or farmers' market finds. I cruise over to Current Fish & Oyster, an elegant and fun restaurant set behind an impressive historical brick façade. I follow a dozen of the day's oyster selections with what I would call "pescado al fresco," as in Mediterranean sea bass served to me on the vibrant, bustling terrace.
Living Room Sunset
A living room sunset suggests couch slouching and a picture window. Not so in always active SLC, where hiking trails disappear into the foothills from seemingly every direction. We embark from the Natural History Museum of Utah parking lot upon an evening saunter up the Living Room Trail, a 2.7-mile route that leads to a photo-worthy plateau "furnished" with an assortment of chairs and settees assembled from loose sandstone rock. It turns out the Great Salt Lake provides an ideal canvas for the setting sun's dazzling palette.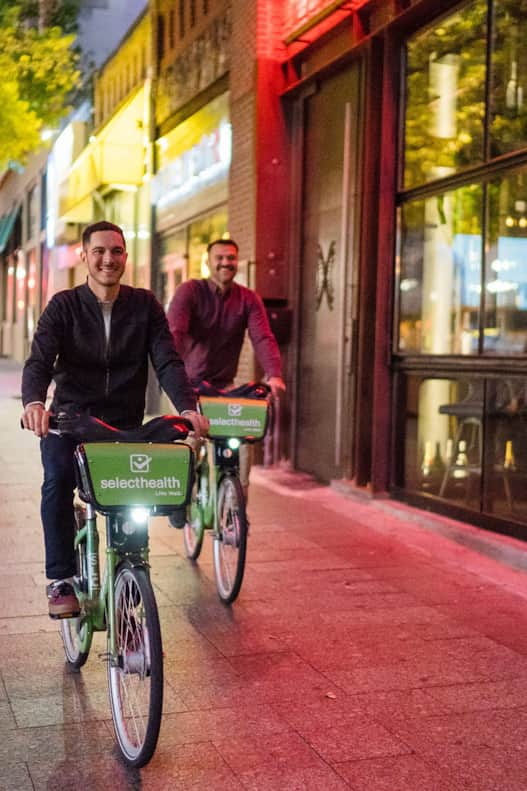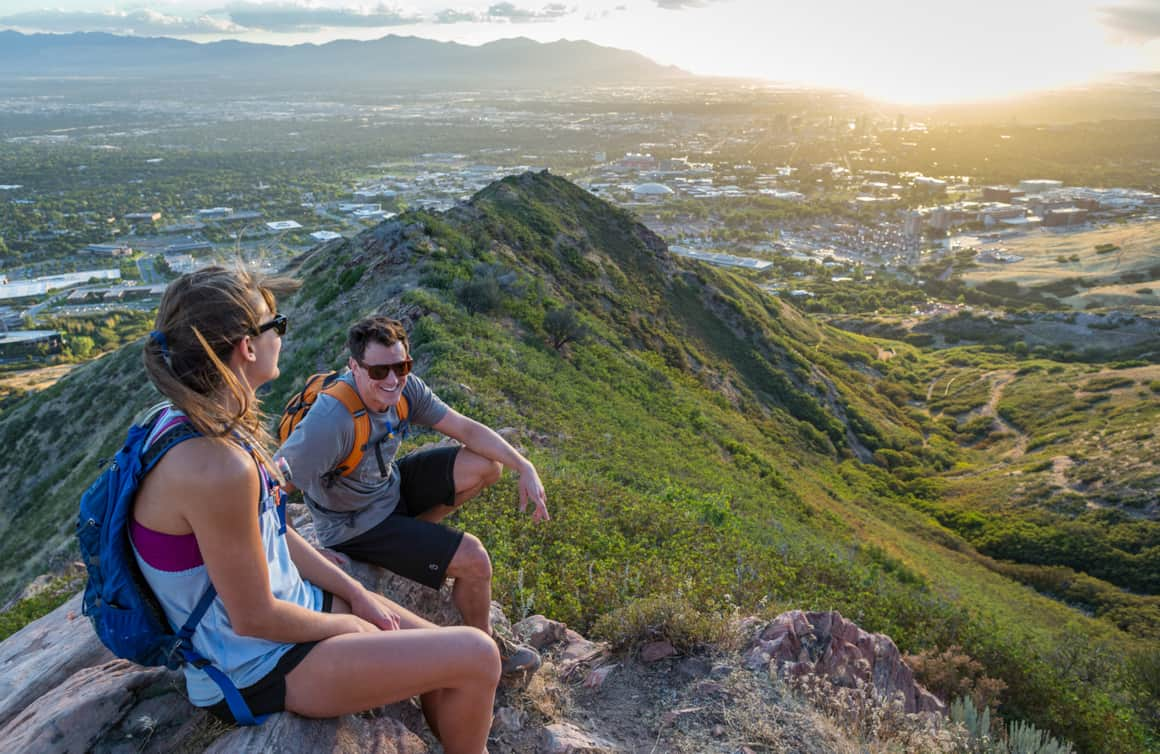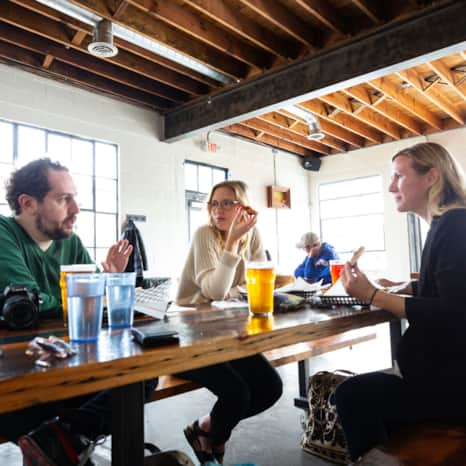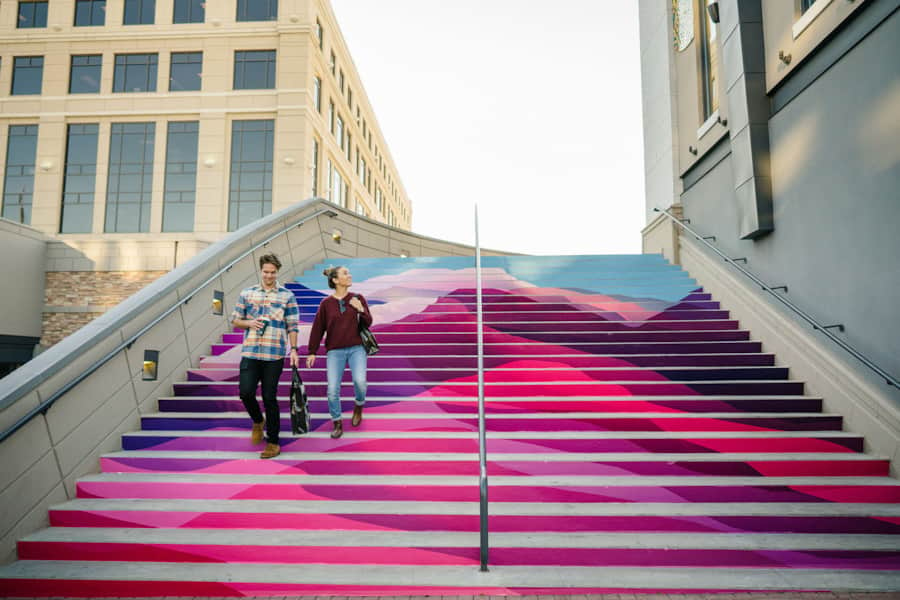 Hit the Pubs
I'm not sure why, but trolley barns and breweries seem to go together like brick and mortar. The Desert Edge Brewery, started in '72 as a college fueling station, pioneered the city's micro scene, and has the gold ribbons to prove it. The ambience at trendy Trolley Square complements ale batches such as Citra in Red and the Helles Lager-style Desert Hell. Experience a different kind of ambiance across town in the up-and-coming Granary District. Just a block from the 900 South "Central Ninth" neighborhood are two powerhouse names in Utah brewing: the revived historic Utah brewing brand A. Fisher Brewing Company (Read: "Rediscovering A. Fisher Brewing") and the Templin Family's TF Brewing — with rotating food trucks, both facilities are a great place to spend an afternoon or evening.
Discover more of Utah's craft brewing scene in and around SLC.
Good Morning Garden
I find quiet time among the flora always adds a nice afterglow to a previous evening's pub crawl, which is one of many reasons I wander into Red Butte Garden to start my day. Like a lot of non-desert dwellers, I admit to a certain bias against cacti and succulents. Imagine my surprise to find myself within this warren of broad blooms juxtaposed with outdoor sculptures and, my personal favorite, poetry hoisted in iron ore frames. (Home garden inspiration? Check.) My two hours would have stretched to four if I had young kids in tow, the Children's Garden is that perfect. Add this to your list of locations to visit if you love checking out the local plant life.
Future to the Back
The Grand Staircase in Southern Utah is just plain cool — massive layers of sedimentary rock that have yielded thousands of dinosaur bones from paleontological rock stars such as Allosaurus and Stegosaurus. And just next door to the Red Butte Garden, the Natural History Museum of Utah in Salt Lake City (Read: "An Afternoon at the Natural History Museum") is also pretty sweet. Housed in a gorgeous building that settles perfectly against the city's foothills, it contains permanent exhibits exploring over 150 years of Utah's ancient past, as well as rotating shows of global significance.
One After 9th and 9th
Few indicators show off a city's urbane evolution like its neighborhoods (Read: "Insider's Guide to Salt Lake City Neighborhoods"), so I make my way to 9th & 9th (900 East, 900 South), an up and comer that's arrived. Restaurateur Scott Evans helped launch the area into its modern incarnation with his farm-to-table inspired Pago and nearby East Liberty Tap House. I loved the gelato at Dolcetti — every good 'hood needs a solid gelato spot. Terraces rule this corner. The Stockist (men's and women's specialty clothing store) and Children's Hour (bookstore) also hit their marks perfectly. One of the two 9s of 9th & 9th, namely 900 South, has taken on new life as Harvey Milk Boulevard with new restaurants and shops springing up all along the route to the Central Ninth neighborhood on 200 West. I pick out a $20 rose gold ring at The Land of Salt for my wife that she actually wears.
Downtown Dins & Sins
I make a rule of sitting at the bar when traveling alone, a fine way to capture the pulse of a town or, at the very least, gauge its friendliness. I'd say lively and amicable. Working my way through Bambara chef Nathan Powers' "Snake River Farms Pork Shank," my conversation with multiple locals yields a backcountry skiing invite, secret-fishing-hole intel and an enticement to Whiskey Street, a compelling urban saloon.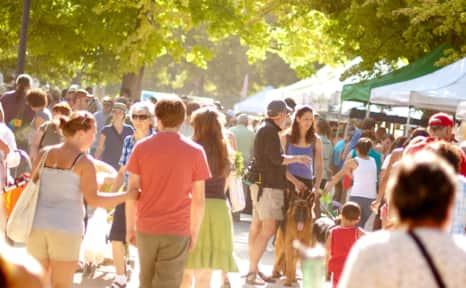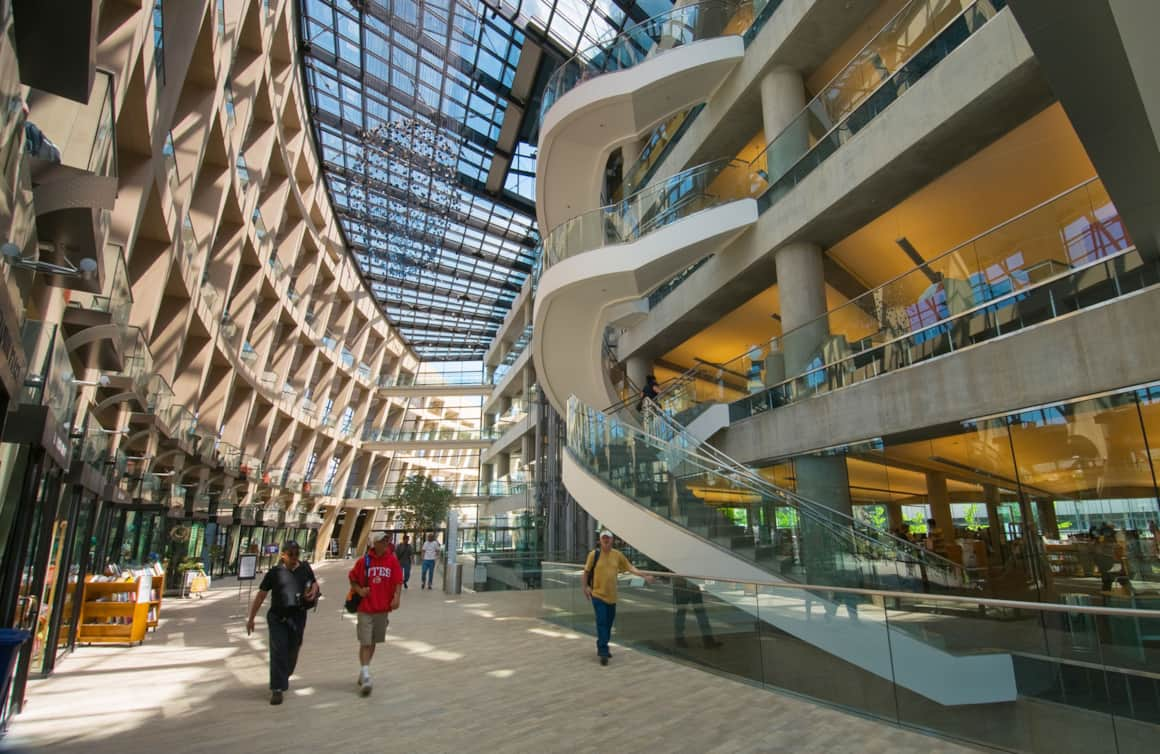 Arts at Leisure
I may not call SLC's growing downtown cozy, but it is very walkable, especially when out for a museum crawl. The Leonardo provides an awesome children's learning, I mean play space, filled with interactive activities as well as some thought-provoking installations, like a mixed-media exhibition that profiles Salt Lake's homeless population. Though you may not think of a library as a tourist attraction, the City Library exemplifies SLC's ascendant spirit, a coliseum boasting a rooftop vista and garden patio that is not to be missed. I expect a family-centric hub like SLC to possess a top rate science museum and library, but I wasn't prepared to discover the Utah Museum of Contemporary Art and its provocative exhibits. I round out my afternoon with an informative stroll through Temple Square.
To Market, To Market
True, every American city offers a Saturday Farmers' Market, but Salt Lake's bazaar rocks out, encompassing all of Pioneer Park — a historic park that fills one of Salt Lake City's large blocks. Makes sense, since the entire population appears to be here. At the Salt Lake City Pioneer Farmers Market cellist plies her bow beside flower blossoms, steel windmills spin tails, heirloom tomatoes bulge from their crates while a Dixieland band shuffles past to keep time.
Tempted by more varieties of honey than I could ingest in my lifetime, I skip across the street for a breakfast at the Tin Angel, one of those fantastically fringy feeling food stops that no doubt was opened by a Denver or San Francisco transplant who'd lost interest in the big city hustle.
Viva Caputo's
There are logical reasons to pack lightly but you better toss out that extra pair of socks before visiting Salt Lake. You'll appreciate the room when you convey a crateful of Tony Caputo's Italian and local artisan delicacies back home. I'm not sure there's a comparable shop this side of New York City or, perhaps, even Rome. The Cheese Cave alone is worth doubling up undies days (Read: "Six Utah Artisan Cheeses to Try Right Now"). I score some choice olive oils, before grabbing a wind-down tea and biscotti next door at Carlucci's.
Extend the Stay
While Salt Lake City's surrounding foothills and canyons offer plenty of outdoor adventure to extend your stay, also consider saving time for the hour's drive north to the Ogden area, where a whole other mountain of action awaits, including great mountain biking and hiking trails and fishing on the scenic Ogden River.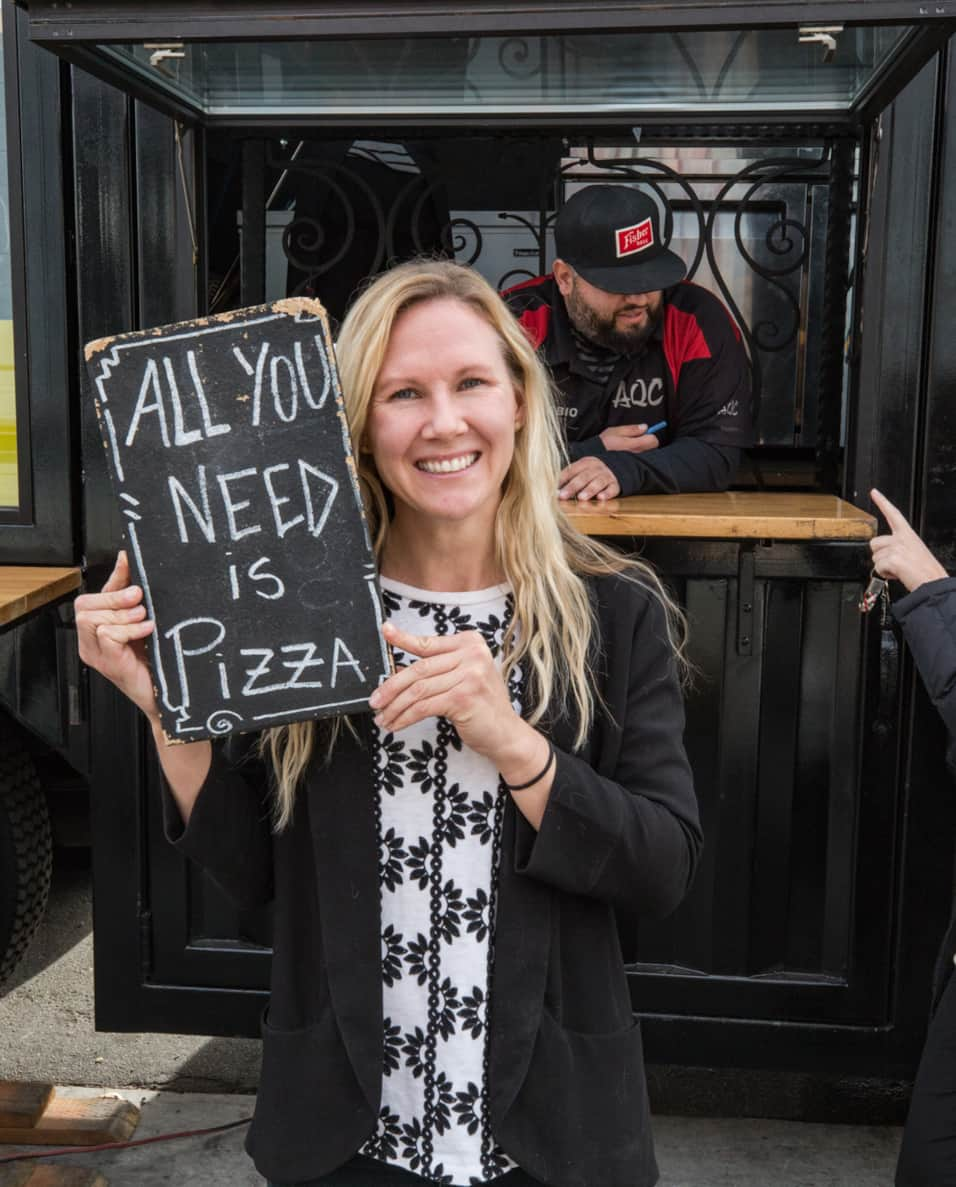 #Utahisrad: The Cool Kids' Guide to Salt Lake City
Meet the locals, see the weird stuff, try the local beer, see the bands and discover why #utahisrad.
Highlights
Farmers Market and GREENbike Tour
Local Brews and a Show
Natural History
Otherworldly Utah