Best Trails for Horseback Riding Within an Hour of Salt Lake City
Five trails for those who want to escape the city and have access to horses and trailers.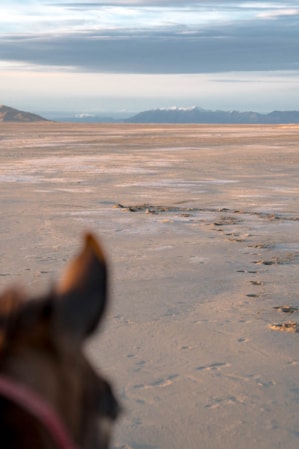 Escape the city and experience Utah the way settlers of yesteryear did — on horseback. Away from modern highways and busy city streets, you can breathe fresh air on trails through the forest, up mountains, and through the canyons surrounding Salt Lake City, along the metropolitan Wasatch Front. While many guided horseback riding experiences are available throughout the valley, these five trails are for those with access to horses and trailers.
1. Antelope Island
The most unique place to ride horses near Salt Lake City is the Great Salt Lake's Antelope Island State Park where you can find remnants of Lake Bonneville and ancient volcanoes. Bring a cowboy hat, because the riding here is all Wild West vibes thanks to its abundant wildlife and untouched landscapes. The largest of the lake's 10 islands, Antelope is home to big-game animals such as pronghorn (an antelope-like mammal), coyotes, bighorn sheep and free-roaming bison with a herd numbering around 700. The island is ideal for riding with its sandy trails that are easy on hooves, large trailer parking lots and corrals in case you and your horse stay overnight.There are a variety of trails you can ride along and most, with the exception of Frary Peak and Dooly Knob, are horse-friendly. Even the trailheads on the island are welcoming to horses and you will find hitching rails for saddling up at Mountain View, White Rock Bay and Fielding Garr Ranch. Once on the trail, horses must follow the trail routes, but should step to the side whenever possible to prevent trail damage. Once your riding for the day is over, you can stay the night at one of the equestrian camping spots available at White Rock Bay Campground next to the horse trailer parking area.
Things to know:
If you're coming from sea level, be aware the elevation is 4,200 feet at lake level and goes up from there so altitude may become an issue.
Bugs can be brutal during summer months, so consider planning your rides for October, November, March and early April. You can even ride through the winter during low snow years.
Fees: $10 for a vehicle (up to 10 people), and $5 per vehicle for seniors.
Where to park a trailer: Take the 7-mile causeway to reach Antelope Island. Park trailers at White Rock Bay where there is ample space with tie-ups and horse camping spots.
2. Midway
One of the best places to saddle up in Midway is the Dutch Hollow Trail System. This multi-use area is located just northeast of town at 5,750 feet. It consists of more than 20 miles of trails for hiking, biking and horseback riding. Choose one of the interconnected singletrack loops to end up back to the parking area after riding. You can find easy and difficult loops frequented by mountain bikers, but avoid downhill singletrack trails as mountain bikers ride these trails fast, and that can easily spook even the most stable steed.The scrub forest of Gambel Oak is popular with horseback riders thanks to its soft dirt base and beautiful oak groves. However, the dirt can be soft and sticky when wet and is easily damaged by horses in spring conditions so it's best to wait until summer to ride here. Another great trail option is the Cottontail Loop. This easy trail is found north of the parking area and features excellent Heber Valley views and ends right back at the parking lot.
Fees: Pay $7 in a fee envelope, or use your Utah State Parks pass to park your trailer in the lot.
Where to park a trailer: Take Highway 40 to Heber and turn west on River Road. Follow it 2.3 miles then turn right on Dutch Canyon Rd. Follow the road, staying to the right, until you reach the parking lot.
3. American Fork Canyon
Tibble Fork, in American Fork Canyon, is a well-loved mountain trail frequented by horseback riders, mountain bikers and hikers. All share the trail, which features steep switchbacks for the first mile that lead to spectacular views of Tibble Fork Reservoir and the surrounding mountains. Continue up the trail to reach open meadows and venture into the trees. From here riders have a variety of options to continue their ride. Continue the loop and head back to the reservoir or choose one of many options to head out further into the trail system via Tibble Fork Trail, the Mud Springs Trail or the Mill Canyon Trail, which eventually loops back to the reservoir.
Things to know:
Be sure to let your horse stop for a drink at the springs along the trail and at the transfer station before and after your ride.

This area is not for rookie riders, the trail does have some steep drop-offs and bogs in springtime that require more advanced riding skills.

S.R. 92 closes in winter. In the warmer months the scenic backway is popular with cyclists, so drive carefully.
Fees: $6 fee for a one- to three-day pass for American Fork Canyon.
Where to park a trailer: Once in American Fork Canyon, continue on S.R. 92 past Timpanogos Cave National Monument and turn left to Tibble Fork Reservoir. Follow the road to the Horse Transfer Station. Water and trailer parking is available here.
4. Dimple Dell
In order to access most of Northern Utah's horseback riding trails, it's necessary to navigate winding canyon drives with a trailer in tow. However, that is not the case with Dimple Dell Park in Sandy. Located right off 1300 East and not far from I-15 means you don't have to strategize ways to get in and around twist, turns or tough parking spots. While Dimple Dell is in an urban area it offers a variety of equestrian trails spread throughout its 600 acres and feels removed from town once you descend into the property's ravine. This is an excellent equestrian destination because it offers trails for beginners as well as more experienced riders. From the main Wrangler Trailhead, descend onto the trails and follow the canyon up along a stream — don't forget to let your horse grab a drink — into a shady, wooded area.
Things to know:
Trails are shared with cyclists and hikers, and while trail etiquette dictates that bikers and hikers yield to equestrians, you can't guarantee that all trail users know the rules. On singletrack trails, make sure the cyclist or hiker has left room for you to pass before proceeding.
Fees: None
Where to park a trailer: Park your horse trailer and unload at Dimple Dell Nature Park's Wrangler Trailhead (10400 South 1300 East in Sandy). Restroom facilities, picnic tables and a drinking fountain are available here.
5. Provo Canyon
Some of the Wasatch Front's most dramatic mountain views are in Utah Valley, south of Salt Lake. S.R. 92 of American Fork Canyon described above connects with the valley's other renowned canyon, Provo Canyon. There's no better way to see Provo Canyon's mountains and meadows than from the back of a horse. The equestrian trails here ascend to beautiful views and amble through lush forests that open into wide, flower-filled meadows where you can lope your horse with ease. Ride the famed Great Western Trail or the Big Springs Trail from the Southfork Equestrian Trailhead. You can also find more trails in the area from Nunn's Park, the site of a hydropower plant owned by hydroelectric pioneer, L.L. Nunn. Today, the site is nestled in a grove of trees overlooking the South Fork of Provo Canyon and has overnight camping and picnicking.
Things to know:
The trails from Nunn's Park are steep, rocky and meant for advanced riders. They are also out-and-back and require a shuttle system.
Fees: None
Where to park a trailer: The South Fork Equestrian trailhead features horse trailer parking and a portable restroom year-round. Park here for access to Big Springs Canyon, the Great Western Trail and other U.S. Forest Service land. The Nunn's Park Equestrian Trailhead also has trailer parking.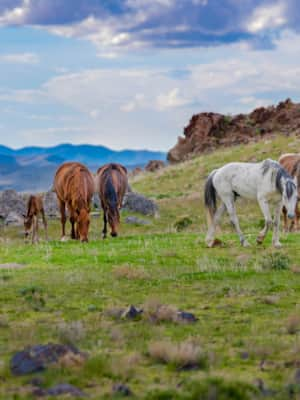 5 Best Ways to View Wild Horses in Utah
There are plenty of opportunities for viewing wild horses in Utah. Here are five things you need to do and plan on to increase the likelihood you will spot these majestic creatures and get the most of your adventure.