Where to Find the Best Snowmobiling in Heber Valley
Explore Wasatch Mountain State Park and other nearby trails.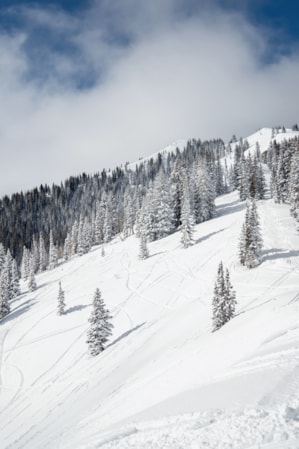 Revving our engines, we climb through dense forest, leaning into our turns as we aim our snowmobiles toward the summit, fresh snow lightly falling around us. Our guide and local snowmobiling expert, Brent Hill, is the owner of Daniels Summit Lodge, and he grooms these trails every day all winter long. He has the trail map memorized and doesn't hesitate as he hangs quick turns through the seemingly endless wilderness. But soon the aspens open up, and we pop out at a clearing with 360-degree views of Heber Valley and dramatic, distant peaks. Then it's back on our machines to race back to the lodge on thrilling, hairpin-turn trails to make it back in time for a hearty dinner at the down-home Lodge Pole Grill.
Daylong snowmobile tours like this are easy to find Heber Valley — and they're all less than an hour from Salt Lake City. Thanks to its high elevation and proximity to vast expanses of national forest and premier state park for snowmobiling, Heber Valley is the perfect Utah snowmobile basecamp for newbies and experienced riders alike.
Choose from guided or do-it-yourself rides through the vast, open lands of Winter Olympic host, Wasatch Mountain State Park, or guided tours on pristine backcountry trails with the private purveyors of Daniels Summit Lodge and Thousand Peaks.
Wasatch Mountain State Park
Since the land was set aside in 1961, Wasatch Mountain State Park has been an outdoor adventure mecca for off-road winter riders. The park played host to the 2002 Olympic Winter Games at Soldier Hollow, and the area's alpine terrain, wide-open views and plentiful snowfall make it a spectacular winter-sports playground. You'll find plenty of groomed and ungroomed snowmobile trails spread throughout the canyons near Midway and American Fork, but here are a few of our favorites to help you find your next winter ride.
Midway Reservoir Trail
For a quick, fun tour, cruise up this 4.8-mile trail that begins at Wasatch Mountain State Park and travels to Midway Reservoir. Find canyon views and solitude as you ascend through Pine Creek Canyon's forest to this sparkling reservoir surrounded by snow-capped hills and brush. For extra adventure, continue beyond the reservoir to an ungroomed trail that crosses private property but is open to the public.
Snake Creek Trail
See local animals roam and the Wasatch Mountain Golf Course on this basic, all-abilities ride to the Wasatch Mountain's eastern slope. Switchback up to views of Heber Valley on this gradual climbing path that connects to the Mill/Tibble Trail. Keep an eye out for the wild turkeys and deer that call this area home and tend to hang out near the trail.
Cummings Parkway
Find epic views from atop this 20-mile snowmobile ride that showcases the valley, Heber City, and mighty Mount Timpanogos from afar. Its wide trail provides an attainable ride for beginners, but it is equally fun for experienced riders. Beware that drifts near the ridgeline that can make riding through on windy days difficult, if not impossible.
Mill Flat-Tibble Fork
Rev your engine and climb to views of Lone Peak and Mount Timpanogos on this narrow, frequently groomed 15.7-mile snowmobile path. It begins at the Mill Flat Trailhead and summits a mountain before quickly descending down American Fork Canyon to Tibble Fork. The trail features narrow switchbacks up and down the mountain, and you can expect windy canyon conditions at times. The trail is welcoming to riders of most ability levels, but it does feature some steep climbing.
Cascade Springs
Relive Utah's Olympic glory on this ride past the old Olympic biathlon competition site at Soldier Hollow. Ride through open farmland then up to views of nearby Deer Creek State Park and the valley before reaching Cascade Springs — a well-known American Fork Canyon natural wonder. See the tiered springs without the summer crowds and bring along your newbie friends — the riding here is perfect for rookies.
Mutual Dell/Sundance
Looking for authentic Wasatch Mountain climbing? Head to this pair of trails and ride up steep, winding switchbacks through pine and aspen forests to reach impressive views of Mount Timpanogos, one of Utah's highest peaks. Sundance is much shorter than Mutual Dell, but both rides offer impressive opposing views of the mountain.
"Soon the aspens open up, and we pop out at a clearing with 360-degree views of Heber Valley and dramatic, distant peaks."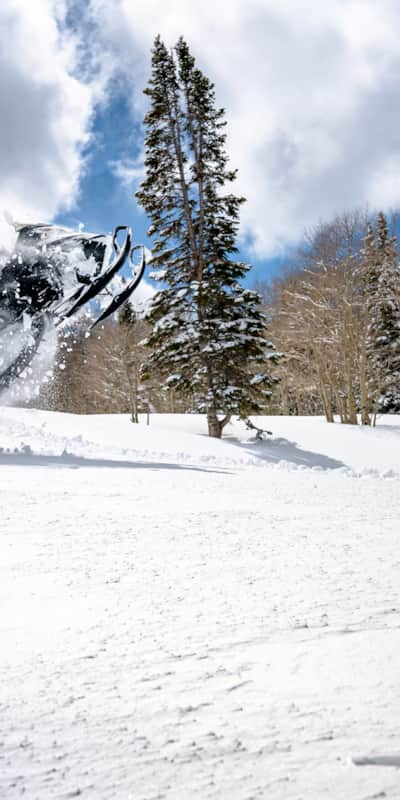 Guides, Rentals and Private Terrain
Wasatch Excursions
Whether you're looking to simply rent snowmobiles or take a guided tour through the park, Wasatch Excursions is your rental company. As the exclusive outfitter for Wasatch Mountain State Park, it's the only company authorized to give guided tours on the park's lands, and taking one is wise if you're unfamiliar with the terrain or newer to snowmobiling.
Unguided tours are also an option with Wasatch Excursions, and its sole partnership with the state park means you can rent onsite — no equipment hauling required. Detailed trail maps and guidance from the pros assures your day on the trails is a good one. Choose from single or double Ski-Doo snowmobiles or the family-friendly winter UTV (a side-be-side with an enclosed, heated cab and snow tracks). Wasatch Excursions also provides free shuttle service so you can relax on your way to and from the park.
Daniels Summit Lodge
Hailed as one of the best snowmobiling areas in Utah, Daniels Summit Lodge grooms more than 200 miles of trails in the Uinta-Wasatch-Cache National Forest and offers out-the-door access to the whole network. Options range from easy, family-friendly rides to challenging, steep climbs to 10,000 feet. From the summit, riders enjoy views of the valley from a windy mountaintop before descending through the trees back to the trailhead. No trailering or towing required. Daniels Summit Lodge can outfit you with machines, warm apparel and guides for a day in the mountains. Or you can just rent the machines, grab a map and set out on your own adventure.
Park City Peaks
Access 60,000 acres of private snowmobiling terrain — more than all Utah snowmobile companies and ski resorts combined — with Park City Peaks at Thousand Peaks Ranch near Kamas (about 45 minutes from either Heber or Park City). Thanks to the ranch's high elevation (11,000 feet), the snowmobiling season lasts longer here than elsewhere, and there's plenty of powder for all. As Utah's largest private mountain ranch, snowmobilers ride through vast powder bowls, giant valleys and tall peaks — often without seeing another soul. Two, three and four-hour guided tours on top-quality Ski-Doo snowmobiles are available for solo or double riders, and you can add on lunch at Thousand Peaks' backcountry lodge. (Unguided tours are not available so skip this option if you like to hit the trails solo.)
Trip Planning & Logistics
Wasatch Mountain State Park is located at 1281 Warm Springs Road in Midway, Utah.

It's open from 8 a.m. to 5 p.m. daily, but is closed on Thanksgiving, Christmas, and New Year's Day.

Facilities for snowmobilers include free parking, restrooms and warming stations at the golf course clubhouse and park visitors center.

Download a guide to the Wasatch Mountain Snowmobile Complex for complete trail information.
Recreate Responsibly
An inherent risk accompanies backcountry use, so it's crucial that you are prepared with the right gear and knowledge for the trip. Learn more about winter backcountry recreation and become an advocate for keeping Utah's backcountry Forever Mighty.