The Lowdown on Ice Climbing in Utah
With routes ranging from approachable to challenging, Maple Canyon is one of Utah's most beloved ice-climbing destinations. Take advantage of the variety of climbing available to enjoy this scenic winter climbing destination.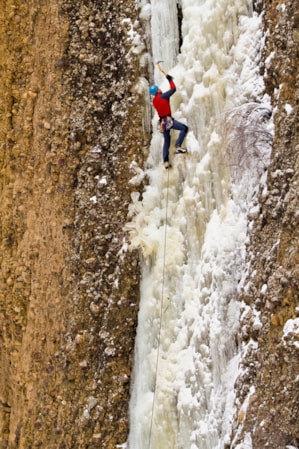 Maple Canyon is a beloved Utah climbing destination widely known as a go-to spot to beat the summer heat. But it's also known as one of the state's best ice climbing areas. Unique among the canyons of the San Pitch Mountains (distinct from the Wasatch Range to the north), they're sprinkled with its namesake maple trees, rather than the area's usual aspens and pines. When the snow starts to fall, the trees add to the feeling that you're climbing in a winter wonderland. With routes ranging from an approachable WI2 to a challenging WI5, and all just a two-hour drive south of Salt Lake City, this gem in the Manti-La Sal National Forest is well worth a winter visit.
In fact, the sport of ice climbing in Utah got its start not far from Maple Canyon. Just north of Maple Canyon, was the first ascent of the iconic Malans Falls in 1971 by climber Greg Lowe. Malans was among the area's first ice ascents, and with his accomplishment, Lowe established ice climbing as a sport in Utah.
Ice Climbing Basics
Ice climbing has developed radically since its inception in the early 1970s. Like rock climbs, ice climbing routes are graded according to difficulty. Grading is based on a number of factors, including the steepness and sustained difficulty level of the route and the ability to place protection — in this case, ice screws — into the wall, which help to keep climbers from falling.
Grades begin with WI1 (WI stands for "water ice," which forms seasonally, as opposed to alpine ice, which is present year-round). This easiest grade is low-angle enough that ice tools aren't typically required. WI2 and WI3 ratings indicate steeper ice, but climbs in this range are reasonably easy to protect and have decent stances for placing ice screws. When you get into the WI4 and WI5 range, climbs are getting into the 80s or even 90 degrees in steepness, and it's more difficult to place protection on increasingly technical or poorly formed sections of ice. Grades go up to WI7, beyond which the criteria for ratings are still being discussed in the climbing community.
Like rock climbing, ice climbing involves scaling a natural feature, typically on a rope. But that's about where the similarities end: unlike climbing on rock, where you're confined to whatever holds you see in front of you, ice climbing allows you to choose your route a little more creatively. It takes some elbow grease to place a tool in ice, but with some practice, swinging ice tools and crampon-clad boots into the wall is incredibly satisfying.
"The sport of ice climbing in Utah got its start not far from Maple Canyon."
Ice Routes in Maple Canyon
Because the ice climbs in Maple Canyon require a melt-freeze cycle — meaning moisture, which, in the cold winter temperatures, means snow — in order to form, you can count on snow-covered roads during ice season. This means you'll likely be hiking into your chosen climb. There's a pullout near the canyon entrance, and many climbs are a mile or less from this parking area. Fortunately, this makes for a good warm-up before you get on the ice.
The main road up the canyon has the highest concentration of ice routes. You'll find about 20 routes on the south side, many of which are in the moderate WI3 range. A half-dozen or so of those climbs are considered classics, including Roadside Couloir (WI3-) and Under Wraps (WI4+).
Box Canyon, a side canyon with towering walls up to 700 feet in some places, is among Maple Canyon's most attractive features, and it's home to a dozen high-quality ice routes. It's just under a mile hike from the Maple entrance to Box Canyon, which you'll see on the right side of the road as you approach. Climbs up here are tougher than those on the main road, but they're well worth it. Maple Syrup (WI5-6) and Cobble Cruncher (WI4) are among Box Canyon's best routes. You'll need two 60-meter ropes to rappel off most Box Canyon climbs.
If you've got some non-climbers in your group, have them tag along up to Box Canyon, which is a gorgeous hike even if you're not planning to swing tools into the ice. Sometimes it's possible to hike without snowshoes, depending how much snow is on the ground, but consider having your companions bring along some flotation just in case.
"If you've got some non-climbers in your group, have them tag along up to Box Canyon, which is a gorgeous hike even if you're not planning to swing tools into the ice."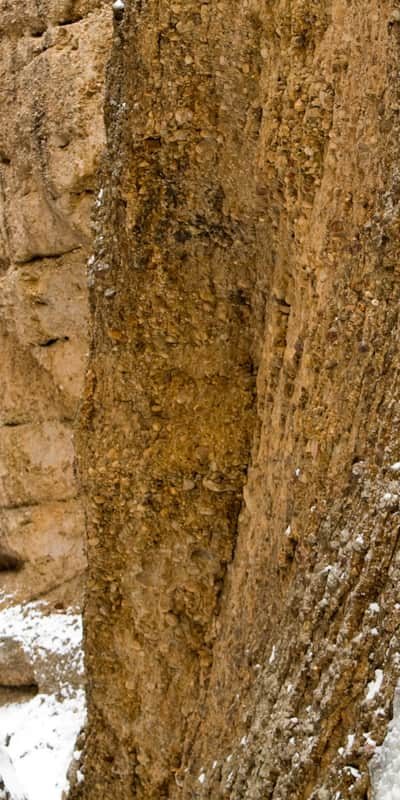 Planning and Logistics
Ephraim is the nearest town with many amenities, including the Solid Rock Cafe, the local favorite coffee shop. Consider snagging a room in Ephraim in the chilly winter months — the Willow Creek Inn is an affordable option.

Once you get to the canyon, you'll need to pay a day fee to park anywhere in the U.S. National Forest Fee Area.

If you're headed into Box Canyon, you won't be parking within the fee area; that's private land. Still, consider making a donation to the landowners to help keep access to the area open.

Pick up a copy of "Maple Canyon Ice Climbing" by Jason Stevens from a shop in the area for a guide and beta to the area.
Getting There
Maple Canyon is about two hours due south of Salt Lake City, and an hour south of Provo. The closest towns are Freedom and Moroni, each just a few miles from the mouth of the canyon.