U.S. Federal Shutdown Information
At this time, all of Utah's national parks, monuments and recreation areas remain open.
Learn more.
Winter Road Trip: Where to Stay, Hike and Eat When Traveling from Capitol Reef to Bryce Canyon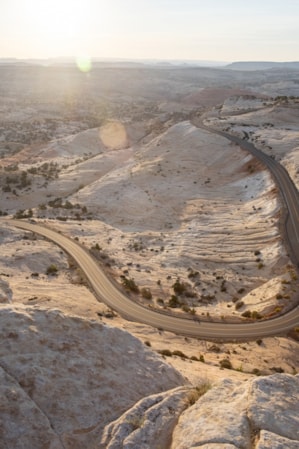 Scoring solitude on the famous trails of a national park is an experience like no other. While many travelers shy away from a chilly outdoor adventure, winter proves to be the best season to hit the road in search of peaceful paths. Case in point: Scenic Highway 12 connecting Capitol Reef National Park to Bryce Canyon National Park.
Traveling along
Scenic Highway 12
any time of the year is a truly wondrous driving experience. But wintertime life along this stretch of highway revels in fewer cars, sparse parking lots and affordable lodging, a stark contrast to its busy season. Bookended by Capitol Reef and Bryce Canyon (both of which are open during the winter), there's plenty to see between these two illustrious national parks.
Map Your Route
You can begin your winter road trip at either end, Torrey for Capitol Reef and Bryce Canyon City on the flip side. The path between is marked by two little towns — Escalante and Boulder. By taking the scenic drive between the parks, you can see Grand Staircase-Escalante National Monument, the Escalante Petrified Forest, and much more.
Feeling ready to make the trip between Capitol Reef and Bryce Canyon? Give yourself a head start and check out the following itinerary. And while you're at it, don't forget to check out these handy winter packing tips.
"By taking the scenic drive between the parks, you can see Grand Staircase-Escalante National Monument, the Escalante Petrified Forest and much more."
Day One: Capitol Reef National Park
Capitol Reef's winding canyons and Parisian boulevard-like washes offer stunning displays of the power of wind and water to shape the land. And it is essentially empty during the winter months – perfect for family vacations or weekend getaways.
What To Do
Take delight in the view of snowcapped Entrada and Navajo sandstone formations of the park's Waterpocket Fold from Scenic Byway 24 or enjoy the park's many hikes from trailheads along S.R. 24, when conditions permit. In the winter, the Capitol Reef's visitor center is open 8 a.m. to 4:30 p.m. except on major holidays. If you want to camp in Capitol Reef during the winter, keep in mind that it will be fairly empty so make sure to be prepared with food, water and supplies.
Where To Stay: Torrey
Set up base camp in: Torrey, Utah, only eight miles from Capitol Reef National Park. This tiny town (a population of 240) spans just a few blocks along State Route 24 and touts a general store and gas station, and easy opportunities to grab a hearty meal, coffee or ice cream to fuel your day's adventure. (Read: An Insider's Guide to Torrey)
Broken Spur is one of the most affordable lodging options open off-season (March to mid-November) in Torrey. The homey, family-run establishment is the type of place with Zane Grey books in the lobby and a hearty western breakfast included.
The Red Sands Hotel & Spa is also open in the winter. For pre- or post-hike relaxing, the hotel offers an outdoor fire pit, stargazing deck, indoor pool and library, plus a spa that provides treatments specific to hiking recovery, including massage, a zero-gravity float tub, body wraps and scrubs and guided meditations. An onsite eatery serves up coffee, sandwiches, burgers and local craft beer.
Where To Eat
The Pioneer Kitchen sits across from The Rim Rock at the Capitol Reef Resort. This family-style restaurant serves up tasty, hearty meals like short rib stew, pork chops, enchiladas, pasta and much more. It's a perfect stop after a long day of hiking at the park.
It's easy to spot Wild Rabbit Cafe on Torrey's Main Street. The counter-service cafe offers hearty breakfast and lunch options: bagel egg sandwiches, homemade pastries, soups and sandwiches. Sit on the outdoor patio if the winter sun feels warm, or grab a spot indoors if the sun is hiding.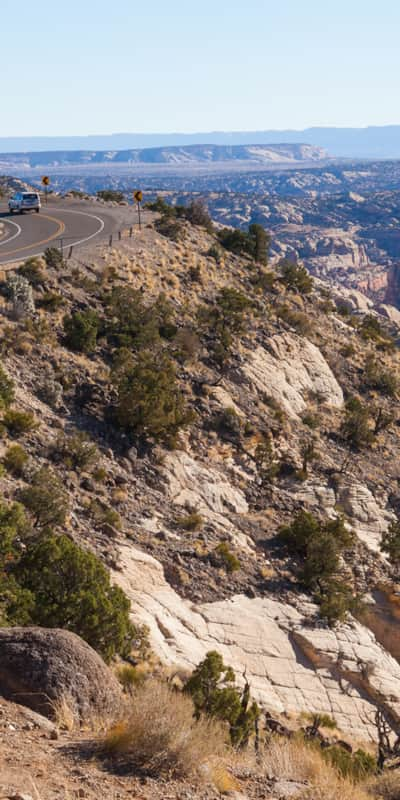 Day Two: Grand Staircase-Escalante
For more than 25 years, Grand Staircase-Escalante National Monument has wowed visitors with its incredible cliffs, terraces, and rugged terrain. This stunning monument offers a diverse range of monoliths, slot canyons, natural bridges and arches. Additionally, the Anasazi and Fremont cultures had a strong presence in this area. Visitors can see rock art panels, campsites, occupation sites, and granaries dating back to 950-1100 AD. (Read: How to Visit Rock Imagery Sites Like an Archaeologist)
What To Do
For unique scenic drives, jump on Scenic Highway 12 or check out Hell's Backbone Road. Looking for some great hiking trails? Calf Creek Falls, Coyote Gulch, and Peek-a-Boo and Spooky Gulch are sure to impress. To learn more about the rich history of the area, visit the Escalante Petrified Forest State Park or the Anasazi State Park Museum.
Where To Stay: Escalante or Boulder
Either Escalante or Boulder makes a great home base for touring around Grand Staircase for today — or for the next few days. There's so much to explore, you may want to stay an extra day or two.
If you find yourself stopping for a night in Boulder, the Boulder Mountain Lodge has spacious rooms in a variety of configurations. Whether you're looking for something that's dog-friendly or need a full kitchen, this lodge offers flexible accommodations and great views for everyone.
If your plans include Peek-a-Boo and Spooky Gulch or Hole-In-The-Rock, Canyon Country Lodge in Escalante is the closest option. Offering views of Boulder Mountain, this newer Craftsman-style hotel overlooks its township and offers deluxe rooms, an onsite restaurant grill, an indoor pool and even Tesla charging stations.
Where To Eat
Escalante Outfitters is a one-stop-shop for gear, guide services, actual real coffee, and advice along with some fine pizza and calzones. The store also has an RV park, campsites and small cabins for rent.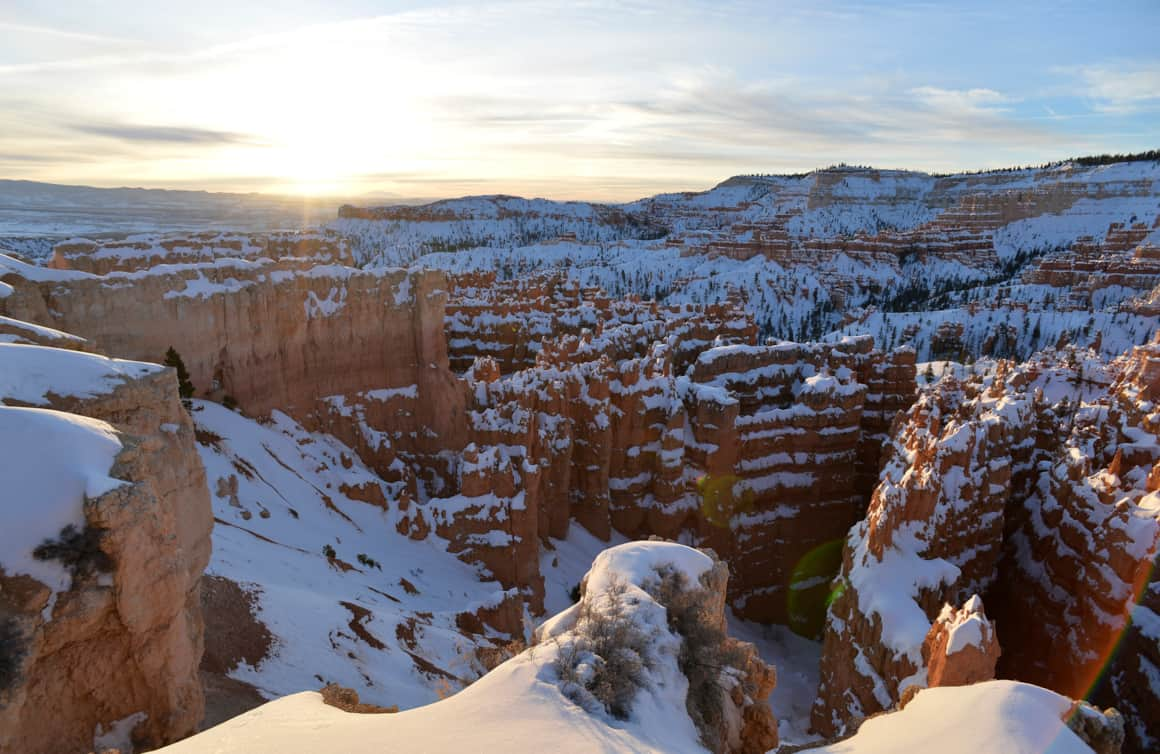 Day Three/Four: Bryce Canyon National Park
Due to its snow-capped hoodoos and sparsely-trafficked trails, winter in Bryce Canyon is truly spectacular. Bryce Canyon National Park is a world-renowned area, famous for its abundant hoodoos spitting out of the canyon floor like giant stalagmites. Some hoodoos are small while others are as large as 10-story buildings. The park is the highest elevation out of Utah's Mighty 5 and often gets heavy snow, which makes for a startling contrast to the red rock hoodoos. It also hints at the forces of nature behind the creation of miles of the stunning landscape.
What To Do
In the better snow years, Bryce has one of the best winter scenes around, with opportunities to check out snowshoes for rim hikes and a Winter Festival at the gateway town of Bryce Canyon City. There is also cross-country skiing in and around the park, and certain spurs of the road are intentionally left unplowed for winter sports and other fun activities.
Otherwise, check at the Bryce Canyon Visitor Center for current conditions — trails may require additional traction to safely use — or keep the camera handy for photos from stunning overlooks into the amphitheaters of Bryce Canyon with the warmth of your vehicle always nearby.
See winter park alerts here and learn more about the President's Day Weekend Winter Festival, one of the park's most popular cold-weather events.
Where To Stay: Bryce Canyon City
Intrepid pioneer and rancher Reuben "Ruby" C. Syrett founded Ruby's Inn after settling in the area in 1916 to ranch. These days, the hotelier has two lodges on either side of the highway and is home to one of the only liquor stores in the area. The rooms are clean and situated nicely at the edge of the park boundary. It owns much of the land adjacent to the park and offers a slew of wintertime activities on the property.
Where to Eat
Foster's Family Steak House is a wooden-walled diner offering meat-and-potatoes fare, with well-cooked steaks and meatloaf that makes you think of mom. But the main attraction at Foster's Family Steak House is its selection of fresh-baked pies, spinning on a hypnotic wheel in a '50s-style bakery case you'll pass as you walk in.
Find coffee, smoothies and quick breakfast bites at Bryce Canyon Coffee Company just outside the park in Tropic. Fan favorites include homemade banana bread, espresso drinks, gluten-free treats, oatmeal and smoothies.
Winter Driving Tip for Scenic Byway 12
Warning: Take your time while driving Scenic Byway 12. This winding road is open year-round, but after major winter storms, sections might be
impassable
until plowed, and ice can make some sections white-knucklers, especially on the Boulder Mountain stretch during the winter. Before leaving home, check the tread on your tires and before hitting the road each day, check the weather to avoid getting stuck in a sudden snowstorm.