An Adventure Guide to Harts Draw Road
Where to Pull Off & Explore Along This Scenic Stretch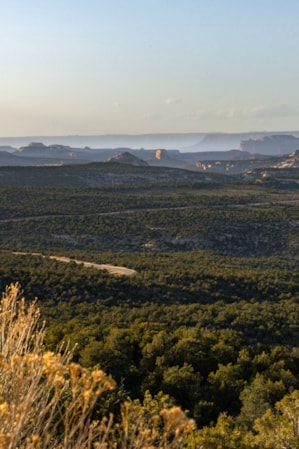 Pristine mountain scenery and dramatic desert landscapes surround Harts Draw Road on all sides. The road clings to the northwestern edge of the Abajo Mountains, enticing you to crane your neck for views of snow-capped peaks and seemingly endless rows of aspens and maples, which enliven the forest with vibrant gold hues in autumn. The striking ridgeline of the La Sal Mountains pierces the horizon across the valley to the northeast. Sprawling vistas of red rock desert canyons below start coming into view about halfway through Harts Draw Road — a surprising sight from your location in the cool, forested mountains.
Utah's Manti-La Sal National Forest spans more than 1.4 million acres of mountain and desert landscapes in both the central and southeastern regions of the state. The sandstone canyons, mountain ranges and forests of Manti-La Sal make up four distinct park districts: Sanpete, Ferron-Price, Moab and Monticello. Directly west of the small town of Monticello in southeastern Utah you'll find the Abajo-Harts Draw portion of Manti-La Sal, where the scenic Harts Draw Road offers a chance to escape into the mountains before descending into one of Utah's most remarkable desert canyons.
Getting Started
From U.S. 191 in Monticello, turn west onto 200 South Street. Bear left onto Abajo Road, following signs for Forest Access County Road 101. You'll eventually reach the Manti-La Sal National Forest boundary — an information kiosk with a map of the Abajo-Harts Draw region will be on the right.
From here, the road rises gradually into the Abajo Mountains. Within minutes the sounds of highway traffic dissipate, and the bustle of town is replaced by the silence and stillness of pine, aspen and spruce forest. After climbing steadily for about 10 miles, the road descends steeply to the junction with S.R. 211 near Newspaper Rock and the Needles District of Canyonlands National Park.
To finish the loop back in Monticello where you started, turn right onto S.R. 211 and then right again at U.S. 191. Continue until you get back to town.
What to See
While simply driving Harts Draw Road offers spectacular scenery and solitude, stops along the way to enjoy the views, campgrounds and lakes make for a fuller experience.
Monticello Lake
About 7.5 miles from the forest boundary, a flat stretch in Harts Draw Road offers up magnificently uninterrupted views of the La Sal Mountains rising to the east. Forest Road 105 invites you off to the right for a better vantage point. Just a few hundred feet down this road is where you'll find Monticello Lake. This 5-acre lake on the edge of the Abajo Mountains makes a tranquil setting for fishing and dispersed camping. The Utah Department of Wildlife Resources stocks the lake with rainbow and tiger trout.
Foy Lake
Just before the summit of Harts Draw Road, turn left onto Forest Road 100 and drive for 1.2 miles to the secluded Foy Lake. Nestled amongst the trees, this 4-acre lake stocked with rainbow trout is another favorite fishing spot in the Abajo range. Dispersed camping and access to off-highway vehicle trails are available directly next to the lake. Foy Lake is also a lesser-known spot for birding.
"Harts Draw Road offers a chance to escape into the mountains before descending into one of Utah's most remarkable desert canyons."
Harts Draw-Canyonlands Overlook
Hands down the highlight to a scenic drive on Harts Draw Highway, this panoramic overlook comes up at the road's summit, 10 miles from Monticello. Expansive views of the red rock cliffs, canyons and buttes in the Needles District of Canyonlands and Indian Creek Recreation Area stretch out below. The La Sal Mountain range to the east and Shay Mountain directly behind Harts Draw Road make for a truly incredible juxtaposition of snow and sand in this dramatic Utah landscape.
Newspaper Rock
No visit to this area would be complete without a stop at Newspaper Rock, one of the largest known panels of ancient petroglyphs. Turn left at the junction of Harts Draw Road and S.R. 211 (18.5 miles from Monticello), and after 2.7 miles the roadside display of rock art will come into view. Some of these petroglyphs — images carved into the rock surface — have endured for more than 1,500 years, while others were added at the beginning of the 20th century and left undisturbed for their historical significance. The site features over 650 carvings on a small section of rock wall, showcasing images of animals, anthropomorphic figures and other patterns.
Where to Camp
Dalton Springs Campground
Just 4.5 miles from the Manti-La Sal Forest boundary, the Dalton Springs Campground sits on the left side of Harts Draw Road. Tucked in a peaceful forest of aspens and oaks, this lightly used campground is managed by the Forest Service, providing 16 campsites with fire rings, a toilet and seasonal drinking water.
Buckboard Campground
Shortly after Dalton Springs, Buckboard Campground offers another quiet spot for tent and RV camping. Sheltered by the forest at 8,700 feet of elevation, this mountain hideaway is ideal for setting up camp and hiking in the Abajo range, exploring the forest's network of off-highway vehicle trails, or making day trips into Canyonlands. With 10 sites and two large group sites (each accommodating up to 50 people), this campground is open late May through September.
Planning Tips and Logistics
Topographic maps are available for purchase at the Monticello Utah Welcome Center and the Manti-La Sal Forest Service Office in Monticello.

Basic driving maps and information about the region are available for free at the Monticello Utah Welcome Center.

The best time to take a scenic drive on Harts Draw Highway is late spring through fall. Winter visitors should be prepared for snow and avalanche conditions.

Many of the Forest Service roads branching off Harts Draw Road are dirt tracks or off-highway vehicle trails that become impassable during or after storms. Pay attention to road closures, and contact the Forest Service for weather alerts and current conditions.

Harts Draw Road is about 18 miles, but the entire loop measures about 42 miles.

Driving Harts Draw Road from Monticello to Newspaper Rock without stops would take about 40-45 minutes. The entire loop (Monticello to Newspaper Rock via Harts Draw and Newspaper Rock to Monticello via 211 and 191) would take about 1 hour 20 minutes total, without stops. You'll definitely want to stop along the way, so plan for a couple of hours.