Riding the Arapeen OHV Trail of Central Utah
For years, state and federal governments have collaborated to help adventurers reach some of Utah's most scenic forest lands. Discover some of the rugged and remote treasures of Central Utah's Wasatch Plateau.
From the moment I climb onto the four-wheeler I know this trip will be like none other I've done before — four full days of off-roading on the 50- and 60-inch trails that criss-cross the map of Central Utah. "Strap in," the words echo in my head.
Our tour starts in the Manti-La Sal National Forest, just up the Highway 31 "Energy Loop" Scenic Byway from Fairview. The Manti-La Sal is among the oldest in the nation dating to 1903 and is part of the Wasatch Plateau.
Traveling south for this early August adventure, I initially expect it to be "seasonably" warm (aka, hot as hell), but jackets and sweatshirts come out immediately upon arriving at our point of departure, nearly 10,000 feet above sea level. First stop: Huntington "Mammoth" Reservoir on the north end of Left Fork Huntington Creek. Just off the highway, this alpine water is nestled in a green valley, surrounded thick pines on low-slung hills.
There is history in these hills, a whole lot of it, and much of it ancient. For instance, Huntington Reservoir is the site of the highest Columbian mammoth remains ever discovered, thought to be one of the last Columbian mammoths to live in North America.
According to a display near the reservoir, the mud surrounding the mammoth was so cold it acted as a refrigerator for nearly 10,000 years. "It was so fresh that we thought we could smell rotting meat in one place," Utah's state paleontologist, Dr. David Gillette, said at the time.
As we travel the wider 60-inch track, we frequently encounter signs and placards displaying history from the area. I'm told this is one of several things that set the Central Utah OHV trails apart and make them superior to virtually every other trail system in the country.
Much of the mountainous land in Central Utah is managed by the U.S. Forest Service, allowing for a vast, complete trail system. Moreover, in contrast to the rocky, jagged peaks of the Wasatch range just an hour to the north, the elevated geography of central Utah has accessible mountaintops overlooking spectacular high vistas and wide valleys dotted with small towns, each directly connected to this 550-mile trail system.
"We frequently encounter signs and placards displaying history from the area, one of several things that set the Central Utah OHV trails apart and make them superior to virtually every other trail system in the country."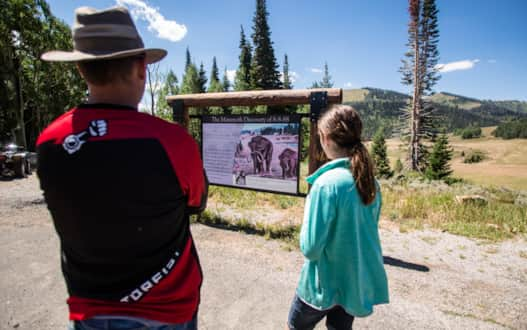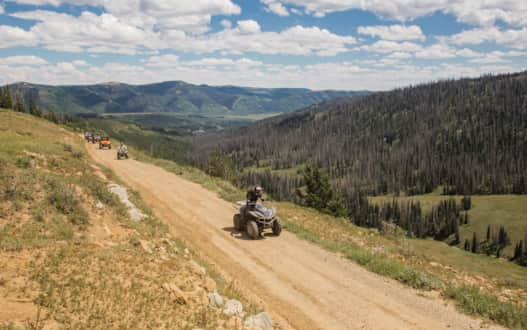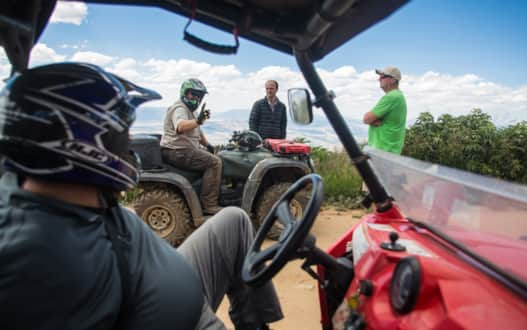 One vista in particular, however, defines the Arapeen Trail system: the one available from Skyline Drive. Several area businesses have been named for the ridgeline passage, which stretches approximately 100 miles from Tucker on U.S. 6 in the north to I-70 in the south. Two of our trail companions on the first day work for "Skyline" businesses.
"Everything around here is called Skyline — it's like the main thing in this area," says Greg Wayman of Skyline Recreation. "This is Skyline Drive. It is part of the Great Western Trail which goes from Canada to Arizona, but this section we have right here," he says, "it's a high-altitude access road that connects everything."
From Skyline Drive, it is all visible — the gray mountaintops above the tree lines, the deep blue lakes, and the wide valleys, as well as the next valley and the next. Amidst the grandeur it is hard not to notice the frequent terracing of the nearby hilltops. According to Kevin Christensen, who works for Sanpete County, the community petitioned the federal government to create the Manti Forest Reserve when overgrazing led to heavy flooding down the canyons.
+++++
Palisade State Park lies just south of Ephraim and includes shaded camp spots, a reservoir and an 18-hole golf course, which "they say is the best little secret in Utah," says Park Manager Shon Tripp. "You are definitely on the best part right over here," he says, eyeing Kevin Taylor, park manager for Fremont Indian State Park Museum.
"Okay, when I was at Palisade, this was the bomb," says Taylor, who had previously worked at Palisade, agrees. "I'm not at Palisade anymore, I'm down there in Sevier County and the Paiute Trail is awesome!"
Daniel B. Funk created Palisade Reservoir in the late 1800s, after he purchased the land from Ute Indian Chief Arapeen. It was a cultural center with paddleboats, dances, a train, even a steamboat. Today, users can also take electric engines (fishing boats) on the reservoir. "We're getting popular," says Tripp, who adds that between Memorial Day and Labor Day camping at the park is almost always full. Still, he says, "our biggest draw is what we are doing today, OHVs."
Our good time in the area is capped by a ride to the top of Monroe Mountain with our guides. It is there we meet Denise Barber and Jack Doyle, and their hodgepodge crew of off-roading enthusiasts staying at South Forty; Lila and Ron Hodson, Carolee and Ty Bricker, and Kathryn and Duane Stegman, here celebrating their 56th wedding anniversary. South Forty is located in Marysvale, and is one of several RV parks in the area. This week there are 300 machines that have come to participate in the Paiute Trail Jamboree, a favorite local event with the off-road crowd.
"We're off-roaders and we go to a lot of Poker Runs," says Barber. Poker Runs are card games for riders. The riders pick up cards at each stop and the high hand wins a prize. "Low hand this year gets a laptop," she says. "High hand gets a sound system," adds Lila Hodson, another rider. "It's a stereo system for your UTV." Upon inspection, each of their vehicles is equipped with a stereo system.
While there are a variety of reasons for coming to Utah's Trail Country, for many it boils down to the ride, the entertainment and the relationships that develop along the way on these outdoor adventures. "The Utah trails are absolutely exquisite," says Barber, "It's the camaraderie, and the people. Everybody is so friendly and nice." It's a sentiment common to Trail Country and to the small towns of Central Utah.
"A long day riding in the sun can wear you out, but I find that despite my physical exhaustion, my mind continues to race that evening, lying in bed reliving the experiences of the day."
The Arapeen Trail, which links into the Gooseberry (or in local vernacular, gooz berry), is accessible directly from Palisade State Park. Beyond golfing, riding, geocaching and hunting, the off-road trails also access some of the best fishing in the state. During our trip, parks and forestry employees are preparing to stock some of the lakes along the trail.
"See that little fish there, that's what we just dumped in," says Brad Bradley, a retired division of wildlife resources conservation officer. "So those will grow through the winter and next year they'll be a catchable size."
There is one particular pond on the trail where Bradley likes to fish, but he insists if people want to find the best spots they should do their own legwork, come down and ask around. He makes me promise; the name of his beaver dam stays "off the record."
+++++
I'm a pretty big guy and was razzed a little for looking too big on my "iron horse," but my 250 rental had plenty of power for this novice rider. Nevertheless, on day two I switch to a side-by-side vehicle. The Polaris RZR Trail fits on a 50-inch trail, barely. On a couple of occasions I come up against a 50" OHV trail cattle guard and lose. Well, I win the war, but the battle...let's just say I come away bruised (mostly ego).
The side-by-side is a very different experience for someone who has only ridden four-wheelers. I had driven a Ranger, but the RZR is a sport vehicle, emphasis on sport. At times, I feel like I'm playing a classic version of the arcade game Pole Position, staring solely at the trail for so long that when I finally look up I have to shake my eyes out of "video screen mode."
Unlike a car, the RZRs steering wheel may do multiple revolutions on a tight turn, or so it seems. We quickly descend the Great Western Trail — its tight, 50-inch switchbacks weaving their way through the sage and pine — and the spinning back and forth of the wheel was a little unsettling, at first. I can only imagine how my passenger feels watching the controlled chaos occurring in front of me. It is abundantly clear at this point why Utah requires all OHV operators to complete the Utah OHV Education Course. Always remember to Tread Lightly and ride responsibly.
Similar to ski resorts, the Central Utah OHV trails are rated for difficulty, with the black diamond rated "most difficult." We stick mostly to the "more difficult" trails, the blue squares. We do ride one black diamond, however, and it is pretty hairy. Part of the Arapeen Trail, it is known simply by its trail number, 29. A long, steep hill leading back up to the top of the mountains, trail 29 deserves a more menacing name, I think, perhaps Intimidator, or the Equalizer — I'm still working on it. Each of us breathes a sigh of relief at the end of the climb. Back on Skyline Drive we stop at a lookout, "anybody can drive on a road, but if you want to experience the outdoors, ride a trail," Tripp says.
A long day riding in the sun can wear you out, but I find that despite my physical exhaustion, my mind continues to race that evening, lying in bed reliving the experiences of the day. For the inexperienced rider, all day on an off-roading vehicle will get the adrenaline going and it can be hard to come down from that rush.
+++++
After a couple of restless nights, we arrive in a sleepy little town — in Europe, the quaint sensibility might dub it a village — called Monroe. Not many places to stay in Monroe, so the Monroe Inn is a pleasant surprise. A bed and breakfast on Monroe's main drag, the Inn consists of two large, gabled homes, one of which doubles as the residence for the owners.
Keltin and Elizabeth Barney moved to Monroe just a year or so earlier after both graduating from the University of Utah in Salt Lake City. Elizabeth's father had already created the bed and breakfast years earlier, but the pair, together with Elizabeth's brother, Alex Evaschuk, has since been remodeling and rebranding the location, which has large suites and an impressive breakfast. Their hospitality is well-received.