Rules of the Road
Resources
Utah State Parks — maps and trails, registration and permit, laws and rules, events and more.
TreadLightly! — Based in Utah, this organization is the nation's only source for a full line of motorized and non-motorized outdoor ethics training and education materials.
Registration
Any OHV (ATV, UTV, motorcycle or snowmobile) must display a current OHV registration sticker. Most non-resident OHV operators are required to purchase a Non-resident OHV Permit for each ATV, UTV, OHM and snowmobile they bring into the state. These permits are available from vendors located near popular OHV destinations and online. A complete list of vendors is available from Utah State Parks and Recreation office. Learn more about OHV registration in Utah.
Tread Lightly
Not all areas are open to OHV and ATV use. Utah's mountains and deserts are fragile, remote and often adjacent to private land, so it is important to heed all rules and restrictions in order to protect yourself and the landscape. Check with Forest Service, BLM, or State Park offices, before exploring on your own.
Registered off-highway vehicles may be operated on public land, trails, streets, or highways that are posted by sign or designated by map or description as open to off-highway vehicle use by the controlling federal, state, county, or municipal agency. According to this law, all roads, etc. are closed to ATVs unless posted open.
On U.S. Forest Service and BLM-administered land, off-highway use of any vehicle is permitted in designated areas only. Check with local agency offices for brochures and maps of appropriate areas.
Off-highway vehicle use is NOT allowed in most national parks, wilderness areas or on lake shores.
Practice fire safety: Spark arrestors are required on all off-highway vehicles (OHV) and all-terrain vehicles (ATV). Don't park a hot car or other machine in dry grass, even when pulling over on the side of the road.
Read more at TreadLightly! and learn about their programs and events focused on responsible off-roading.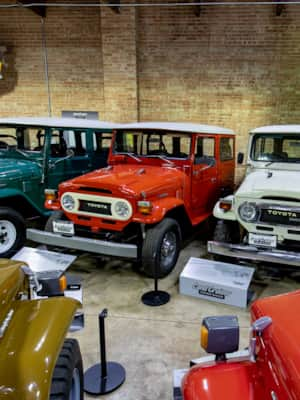 Land Cruiser Heritage Museum
Located in Salt Lake City, the Land Cruiser Heritage Museum houses what is believed to be the world's most diverse collection of Toyota Land Cruisers.