Enjoying the Simple Pleasures of Lake Life on the Palisade Reservoir
Utah's beautiful Palisade Reservoir is an oasis of serene water in the central part of the state, a perfect getaway for paddling, fishing, swimming and camping.
The Palisade Reservoir is part of Palisade State Park, Utah's most centrally-located state park — smack dab in the middle of the state. Just outside the little town of Sterling, this 70-acre reservoir and its shoreline are a great recreational spot for boating, fishing, swimming, camping, hiking, off-roading and even golfing. It's also incredibly affordable to visit for a day trip, a long weekend, or even a week-long getaway.
Palisade Reservoir History
Palisade isn't just a lake — it was actually conceived as a vacation spot from the get-go. A 19th-century Utah settler, Daniel B. Funk, dreamt of a retreat in the Sanpete Valley, and eventually managed to talk his way into a land patent. With the deed in hand, he and his family set to work diverting Sixmile Creek and building an earthen dam, and Palisade was born. The mountainous land, situated at an elevation of 5,800 feet, eventually became a state park and open to the public in 1962.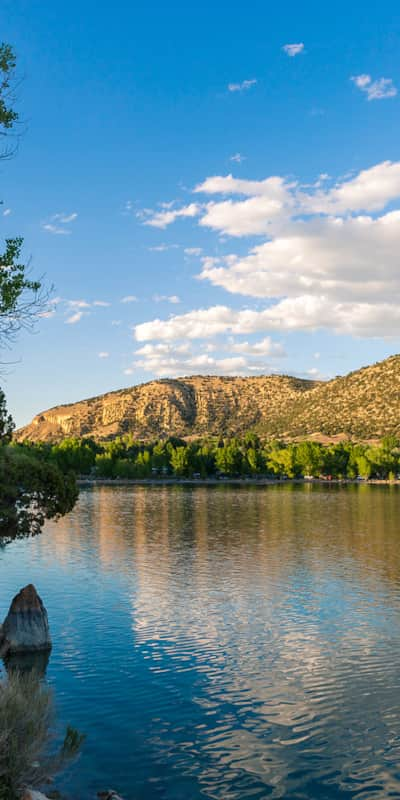 "Palisade isn't just a lake — it was actually conceived as a vacation spot from the get-go."
Things To Do
Boating, Paddleboarding and Kayaking
The reservoir, of course, is the centerpiece of Palisade State Park. The lake is open to private boats, including non-motorized vessels and registered boats with electric trolling motors (e.g. no ski boats). But, if you don't own a boat or other type of watercraft, you can also rent the equipment you'll need to get out on the water. The state park facilities rent canoes, kayaks, paddleboats and SUPs for kids and adults, and all rentals include paddles and life jackets. Rental prices range from $5 to $15 per hour, depending what you're renting, and from $30 to $50 for a full day. Palisade also features a sandy beach perfect for lounging between swimming or boating sessions.
Fishing
Palisade is also known for its fishing, which is excellent from the banks and on a boat. You'll find plenty of rainbow and tiger trout, a handful of cutthroat, and a smattering of good-sized stocked goldfish. There's a limit of four fish per day, and you'll need a valid Utah state fishing license. Purchase licenses online or in person at a local retail store. Either way, Utah resident licenses are $19 for three days, $30 for a week, or $40 for an annual license, while out-of-state resident licenses cost $31 for three days or $51 for a full week. You can check out the fishing conditions via the Division of Wildlife Fishing Report before you head to the park.
Hiking and OHV Riding
Hours on the water have a special way of wearing you out, which is just fine since there are plenty of ways to take a break from the water at Palisade. A mile-and-a-half loop trail runs along the reservoir's west side, over the dam and through the campgrounds. You can also follow a trail up the hillside on the lake's western banks to reach panoramic views of the Sanpete Valley and its picturesque farmland. Palisade is also a popular destination for OHV riding, and you can access miles of easy and moderate trails from the park's campgrounds. (Read: Riding the Arapeen ATV Trails of Central Utah)
Golfing
Palisade State Park also boasts a challenging 18-hole golf course (its notorious fourth hole has been compared to the well-known 12th hole at Augusta National, because you have to play the ball precisely to clear a large obstacle and hit the green perfectly). There's also a fully equipped clubhouse, where golfers can rent or purchase equipment and clothing, and pay for lessons. There is also a restaurant, a rarity for a state park. It's just $28 to play all 18 holes on a weekday and $34 for weekend days (2023 prices). Visit the golf course's website to book a tee time.
Camping and Lodging
If you'd like to spend the night at Palisade State Park, you have many options. Palisade has 53 tent and RV sites with access to modern bathrooms and hot showers, plus four reservable tent cabins and six log cabins.
The tent cabins include queen beds, trundles, and full-sized futons, so you can sleep a whole family — not to mention that the cabins' table and chairs make it easy to feed everybody. You'll need to bring your own linens or sleeping bags, and there's no electricity, but it's a great way to introduce new campers to the outdoors without throwing them in the deep end right away. Advance camping reservations are recommended.
Half of Palisade's six cabins are equipped with full amenities — including heating, air conditioning, electricity, and a restroom and shower — while the other three are a bit more rustic and lack running water (those restrooms are a quick walk away). Both sleep up to eight people, so everyone in your group can get a solid night's sleep before tomorrow's adventures.
Palisade State Park is about two hours from Salt Lake City on historic U.S. 89 and the National Mormon Pioneer Heritage Area of the Sanpete Valley. A day-use entry fee is required, purchase in-person or online. The Annual Utah State Park Pass is accepted for park entry.
Palisade State Park GPS coordinates: 39.2090, -111.6667