U.S. Federal Shutdown Information
At this time, all of Utah's national parks, monuments and recreation areas remain open.
Learn more.
5 Hot Springs for a Romantic Utah Long Weekend
Follow this itinerary for a beautiful and romantic hot springs weekend tour.
For those seeking a slice of paradise to find a little time with their partner, the mineral-rich hot springs of Utah are a picture-perfect destination for a romantic getaway built for two. Dream-like turquoise waters, spectacular natural formations and the healing waters of nature's finest mineral cocktail are just some of the charms an adventure to Utah's thermal waters bring. Ranging from developed resort-style havens to remote natural pools that require a hike, these hot springs offer a relaxing and memorable outdoor adventure.
You can visit each individually as a part of a romantic weekend getaway or you can make the hot springs the showcase of your multi-day adventure by linking a bunch together for a weekend of soaking fun. Follow the itinerary below for a beautiful and romantic hot springs weekend tour.
1. Saratoga Hot Springs, Saratoga Springs, Utah
Drive time: 40 minutes from Salt Lake City
Leave work early on Friday and head up to Saratoga Hot Springs (GPS 40.353219, -111.899143) also known as the Inlet Hot Springs or the Lehi Hot Springs. It's the northernmost stop on your tour and a great place to start close to the city. This delightful hot springs is located in the lakeside wetlands on the northwest shore of Utah Lake. A short casual hike leads to a set of primitive soaking pools that sit at a steamy 109-degrees. It can get a little muddy around these pools, so wear good shoes and bring a tarp to set clothes on. If you want privacy, winter is your best time for a visit here because the summer months bring with them crowds of locals and tourists so it can get a bit crowded. You can access the springs from Inlet Park, which has ample parking and restrooms.
After you spend the afternoon soaking in the pools at Saratoga Springs, jump in the car for a quick drive of less than an hour down to Springville where you can stay the night at a hotel and get an early start to Fifth Water Hot Springs the next morning.
2. Fifth Water Hot Springs in Diamond Fork Canyon, Utah
Drive time: Just under an hour from Saratoga Hot Springs
The brilliant blue-hued pools of Fifth Water Hot Springs (GPS: 40.084707, -111.354426), often called Diamond Fork Hot Springs, could be right out of a fairy tale. Located in a small ravine, these springs are movie-worthy romantic, especially in the winter with snow-covered banks. There's even the chance of having snow falling while you're soaking.
The easy 2.5-mile hike (one way) leads to a splashing waterfall and several soaking pools of varying temperatures. The area closest to the waterfall is the hottest, and the springs get cooler moving away from the source. The famous turquoise water that can sometimes be seen is due to the hydrogen sulfide content, which can also sometimes cause a sulfurous odor, but you get used to it pretty fast and the water's beautiful hues make it worth it.
In the winter, the road the trailhead is on may close. If it does, it's an additional 1.5 miles each way to get to the hot springs, which makes this a more serious hike. But your effort will be rewarded with a relaxing experience and incredible views. Please note, parking outside of the provided parking lot is discouraged and local authorities do ticket.
Once your soak at Fifth Water is complete, plan for a 2.5-hour drive down to Monroe, home of Mystic Hot Springs. This is a great town to spend a couple of nights enjoying the local hot springs and everything the area has to offer. Stay right at the Mystic Hot Springs Resort, which is a worthy romantic getaway in and of itself for those who want the comforts of home to go along with the adventure. The full amenities of the resort include tent campsites, hiking and biking trails, fish ponds (where visitors can participate in the daily feeding), 30 authentic pioneer cabins, converted buses for sleeping and a concert venue for music lovers.
You can also stay at the romantic Monroe Inn, located under a mile from the hot springs. Enjoy unique rooms and a delicious farm breakfast in the morning.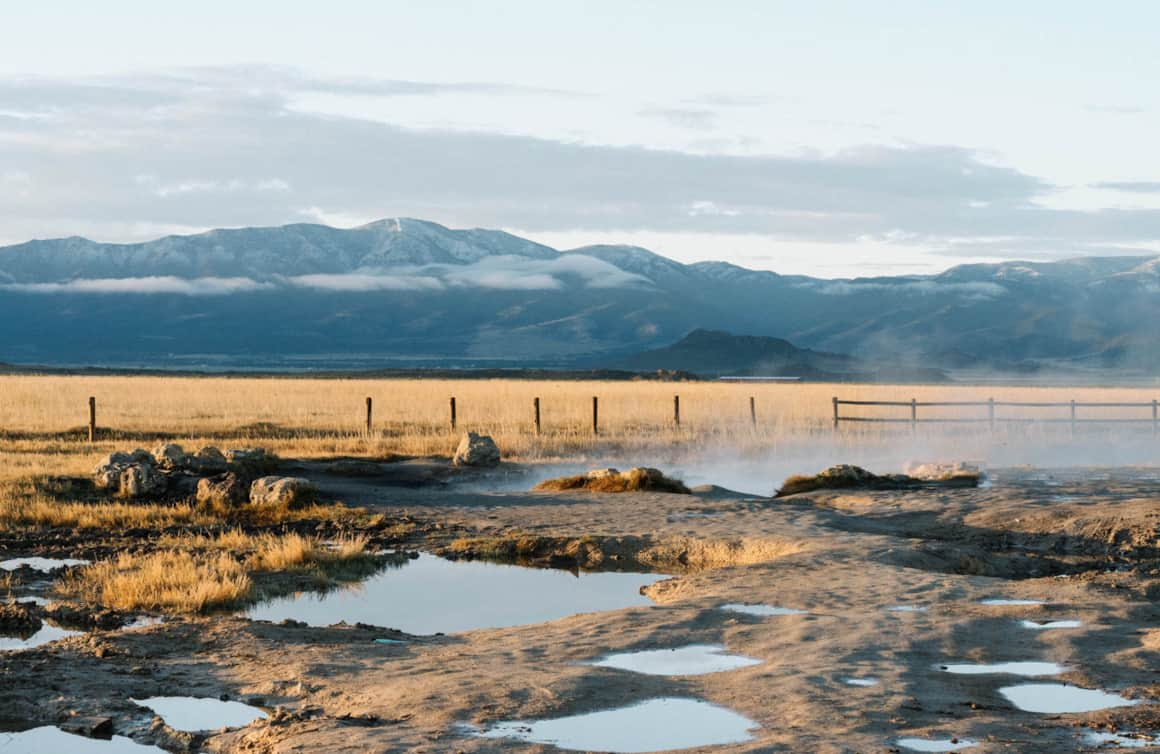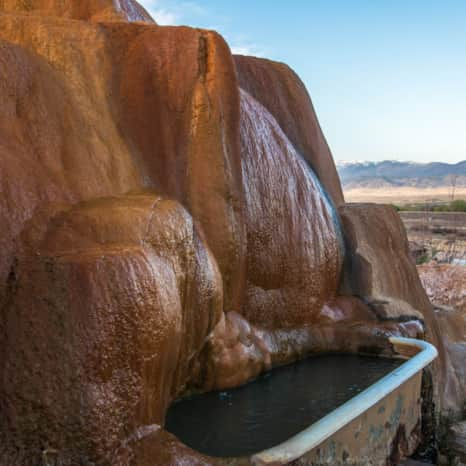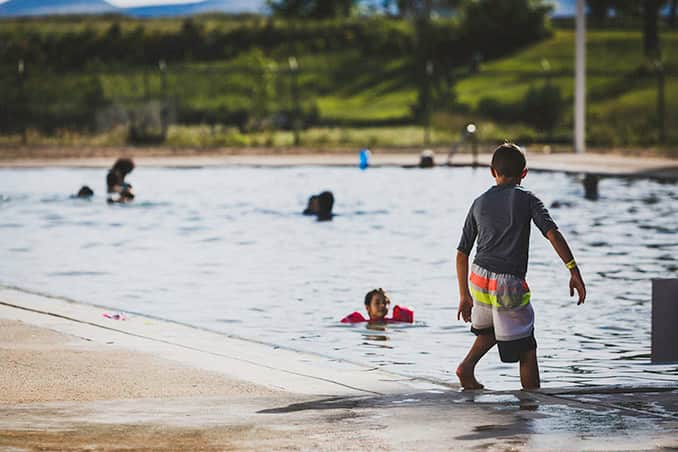 3. Mystic Hot Springs
Drive time: 2.5 hours from Fifth Water
Grab an evening soak upon your arrival to Monroe or grab an early morning dip when you first get up in the morning. There are two main pools at Mystic Hot Springs (GPS: 38.633995, -112.108150), both of which have a build-up of mineral deposits around their concrete pools which gives them a truly otherworldly feel. They are both communal soaks, one with a waterfall that gives a great massage, and the other is deep enough for up-to-the-neck submersion. There are also several individual tubs scattered about the property for a romantic side-by-side soak under the glory of the Milky Way, which on a clear night appears in this part of the country with stunning vibrancy.
Spend the rest of the afternoon exploring all Monroe has to offer and enjoy another evening in the quaint town. On your ride back to the city in the morning, take a detour and head out to Meadow Hot Springs for one last soak during your romantic getaway.
4. Meadow Hot Springs
Drive time: One hour from Monroe
Meadow Hot Springs (GPS: 38.872498, -112.489224) is only about an hour from Monroe and can actually be enjoyed as an out and back or as mentioned above a stop on the way back to the city. Regardless of how you decide to fit it in just know that this is one prime soak. Just south of Fillmore, Utah, these hot springs feature two good-sized pools made of travertine deposits, and both offer an excellent experience. However, beware that the shallower of the two is occasionally occupied by resident cows.
The second pool is a unique soaking experience even for veteran hot springers. The balmy 100-degree water bubbles up about 20 feet through a cave-like pool gracing an otherwise normal-looking meadow, which features beautiful mountain views in the distance. Enjoy the crystal-clear thermal waters from one of the perfectly positioned rock shelves around the edge, or take advantage of the ropes that crisscross the springs.
While the spa is located on private land, the property owners openly welcome visitors that are respectful (which includes wearing a swimsuit) and clean up after themselves. Overnight parking is allowed.
Once you have had your fill at Meadow Hot Springs, the just under 2.5-hour ride back to Salt Lake City should be a glorious and relaxing trip.
Bonus Trip:
While the previous four hot springs make for a fantastic romantic road trip, you may feel like you want to avoid the crowds and surprise your special someone with something a little more off the beaten path. About 4.5 hours outside of Salt Lake City in a remote location on the far western edge of the state, Gandy Warm Springs (GPS: 39.460229, -114.036663) is recommended as its own trip from SLC.
Located in Millard County near the Nevada border, this destination certainly falls into the off-the-beaten-track category for those who love rambling dirt roads and remote locations. There are two pools at Gandy, the lower one being big enough for a decent-sized group of about a dozen. The main draw of this pool is the small cave found under the waterfall that leads back into the hillside — bring a light if you want to explore. The second pool is about 50 feet up the hill from the first, and is much more private.
While it's more of a warm spring than a hot spring with temps registering in the low to mid-80s, what it lacks in heat, it makes up for in ambiance. The cooler temps also make it an ideal choice for the warmer summer months when 100+ degree water might not feel as comfortable.
The road to the springs can be a bit of a washboard here and there but should be passable for all vehicles if it's not muddy, so keep an eye on the weather and know that you should have a 4x4 if it starts to rain. Camping is allowed close to the springs so you can pitch a tent and spend an evening gazing at the stars. Is there anything more romantic?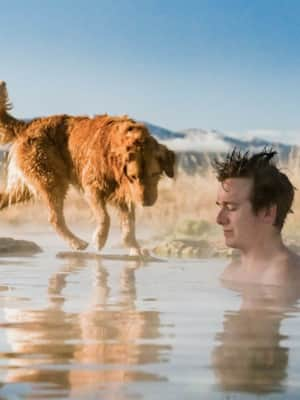 Your Guide to Utah's Best Hot Springs
Here's a quick guide to planning your visit to Utah's best hot springs. The fun goes beyond sitting and soaking — you'll find waterslides, paddleboard yoga, camping and music festivals that turn a quick visit into a weekend worth of fun.