U.S. Federal Shutdown Information
At this time, all of Utah's national parks, monuments and recreation areas remain open.
Learn more.
Uniquely Utah Après Ski Spa Experiences
Relax with these seven ski resort spa experiences only in Utah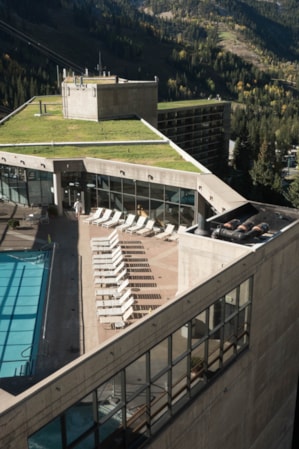 It's a constant dilemma — skip straight to the bar to wind down after a long ski day, or pamper yourself with a hot tub session and massage. While you can do both, the allure of the après scene often makes you forget the latter. However, a little spa time can extend your ski vacation. After all, you don't want to take a day off due to sore muscles. So, whether you're a spring break skier or an intrepid powderhound, these Utah resorts provide spas and treatments that will relax and rejuvenate any traveler.
1. St. Regis Deer Valley's Remède Spa
At the St. Regis Deer Valley's Remède Spa, guests can acclimatize through its Oxygen Inhalation Therapy. As the spa menu explains, "Maintaining proper oxygen levels in the body is essential for health and vitality. Supplemental oxygen therapy is said to be one of the most powerful and efficient methods of re-energizing the body and cleansing the blood. It proves especially helpful after a journey from the sea to the high mountains."
2. Waldorf Astoria Spa
Also in Park City, the Waldorf Astoria Spa tempts hotel guests with indulgence after a long day in the outdoors. If you're ready for all-out indulgence, pick the Bellabaci Cupping Massage, a combination of hand and cup massage used to release tension and warm the muscles for a heightened state of relaxation and recovery.
3. Park City Yoga Adventures
If you want to work a little wellness into activity, sign up for a snowshoe and yoga excursion with Park City Yoga Adventures. Discover the beauty of Park City off the ski trails on a two-hour snowshoe hike through sparkling powder, complete with panoramic views and a break for hot chocolate. When you're done with your adventure, head indoors for a one-hour yoga session to melt away the stress and sore muscles.
4. The Spa at Sundance Mountain Resort
The Spa at Sundance Mountain Resort is a nature-inspired eco-spa that incorporates Native American influences into its wellness offerings. A purifying, energizing therapy is the Sage & Sweet Grass Ritual, which uses white sage, sweet grass, Great Salt Lake Organic Mud body paint and sage essential oil for rehydration. Beginning with a dry body brushing, the treatment also includes smudging of white sage and sweet grass to establish a sacred boundary and call for blessings from the Great Spirit.
5. Snowbird's Cliff Spa
At Snowbird's Cliff Spa, your treatment comes with all-day spa facility use, and the stunning view of the ski resort's Wasatch Mountain home from the spa's grand rooftop pool and hot tub is more than worth your time. Combine the opportunity to chill out with the Cliff Signature Massage, a light- to medium-pressure sports massage that aims to restore and revive legs and lower back with stretching and therapeutic techniques. After some time here, you'll be more than ready to get first tracks in the morning.
6. Alta's Rustler Spa
At Alta's Rustler Lodge, treat your feet to some time out of ski boots with Alpine Refresher at Rustler Spa. The warm liniment mud treatment and reflexology foot massage leaves you in a relaxed mood that can be easily followed by time in the heated pool, or launch directly into an après celebration of a day of activities in the mountains. Now that your feet are ready for tomorrow, you'll feel like you can do anything.
7. Cedar Breaks Lodge at Brian Head Resort
As with the others, the Cedar Breaks Lodge at Brian Head Resort offers a variety of treatments in its spa menu, so choosing one may be a chore. Why not try to warm up for ski instead of cool down with the Cedar Signature Massage — a Swedish-style massage designed to relax your muscles so you can hit the slopes again tomorrow. There's always time to pick another treatment at the end of the day if you want to live luxuriously.
These ski and spa resorts will bring a little extra relaxation to your winter skiing vacations, but there are plenty of spas off the peak that you'll love as well. Read more about Utah's destination spas.