Dog-friendly Utah: Northern
Explore the top dog-friendly places to hike and explore in Northern Utah, including state parks, national forests and a bird refuge.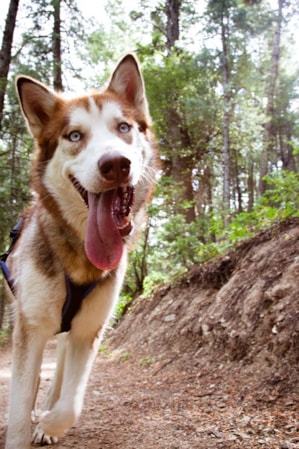 If there's a perfect best friend for outdoor lovers, it's dogs. They sniff at the windows, jump for joy from the car, seemingly skip down the trail to follow the scents of nature. (Sometimes powder pups also save the day at our ski resorts). Dogs help get us a little excited about adventure, too. When traveling in Utah with your pup, why not pick spots that make you both feel happy?
Here are 5 dog-friendly places to hike in the Northern Utah, the state's "metro and mountain" region:
1. Millcreek Canyon
If it's an even-numbered day, dogs must be leashed in the entire canyon, but if it's an odd-numbered day, well-behaved dogs may be unleashed on hiking trails except in developed areas (including roads, trailheads, and picnic areas). Some of these trails are popular with mountain bikers, so keep an eye out for everyone's safety—dog, hiker and biker.
2. Parleys Historic Nature Park
Water dogs will especially love rollicking at Parleys Historic Nature Park. A creek runs the entire length of the reserve, and access is allowed in designated locations. On-leash and off-leash trails are marked, as well as off-leash play areas. It's also next door to Tanner Park, where leashed dogs are allowed on the park's many trails.
3. Historic Union Pacific Rail Trail State Park
This 28-mile trail traces the historic route of the Union Pacific from Park City to Echo Reservoir. The surface is primarily gravel, with some asphalt sections, so dogs with sensitive paws may want to keep the mileage to a minimum. Be sure to bring a leash, as dogs at state parks must be on a maximum 6-foot leash.
4. Willow Creek Dog Pond
In summer, dogs and their people flock to Willow Creek Dog Pond in Park City to splash it up in the cool, refreshing water. This 2.4-acre off-leash park has turf, a soft surface trail, and a large dog-friendly pond. There's even a floating dock for water dog daredevils. Pack plenty of towels in the car to prepare for a visit here.
5. Dimple Dell Nature Park
This natural ravine that runs from Sandy east into the mountains has plenty of shade for both pups and humans in summer, as well as a seasonal creek that has water in spring and early summer. Dogs must stay leashed, but the 664 acres of natural area and variety of trails make it more than worthwhile.
The Best of the Rest: National Places and State Parks
Uinta-Wasatch-Cache National Forest
The Uinta-Wasatch-Cache National Forest is, as are all national forests in Utah, dog friendly. All trails are open to pets and their humans, as long as the trail isn't in a watershed. It may not be easy to determine in advance, so be sure to check with park staff, who are savvy as to which trails are comfortably out of watershed areas. Within the forest, Pineview Reservoir (review how to visit responsibly) is a popular haunt where dogs are allowed anywhere along the shoreline except at the developed beaches at Cemetery Point, Middle Inlet or Anderson Cove.
Antelope Island State Park
The largest island in the Great Salt Lake, Antelope Island State Park is home to a roaming herd of bison. View them from Frary Peak Trail, the highest point on the island, where you also get great views of the lake. Your pup pal is welcome here (except for the beach, park buildings or Prairie Creek Trail) as long as he or she is on leash.
Bear River Migratory Bird Refuge
The Bear River Migratory Bird Refuge is located on the edges of both the Pacific and Central Flyways, and an ideal place for birders to get a glimpse of more than 200 bird species. Leashed dogs are welcome to check out their feathered friends, too.
Golden Spike National Historic Site
Treat your best pal to some Utah and United States history at the Golden Spike National Historic Site, which is where the Union and Central Pacific Railroads joined their rails in 1869. Leashed dogs are welcome everywhere at the site, except the Visitor's Center. A 1.5-mile walking trail will let you both enjoy the area.
Jordanelle State Park
Its proximity to Salt Lake City and the Wasatch Front makes Jordanelle State Park and the Jordanelle Reservoir popular with almost everyone, even dogs. Despite notable restrictions due to the reservoir being in a watershed area, pups on leash are welcome everywhere except the beach area, in the water and Rock Cliff Recreation Area. Some favorites of human and canine hiking pairs are the Perimeter Trail and Three Rocks Trail.
Wasatch Mountain State Park
One of Utah's most popular state parks, Wasatch Mountain State Park is comprised of nearly 23,000 acres and has miles of mountain trails to enjoy. Duffer dogs will have to be content with watching golf games from the sidelines, however, because the only places leashed dogs aren't allowed here are park buildings and golf courses. No fetching balls in the rough!
Park Pet Tips
Some of the simplest tips for bringing your dog to parks are often overlooked. You and your pup want to have a great time, and you also want to make sure other visitors are, too. Bring ample water, a leash and bags to pick up after your pet (and dispose of solid waste in appropriate containers). Good etiquette also means that humans should consider that excessive barking or overly zealous greetings by their buddies may not be appreciated by all visitors to the park.

If you're visiting a park during the warm months and want to hit a trail where your pal isn't allowed, keep in mind that car temperatures rise quickly in the sun, even on days that seem to be cool, leading to heat exhaustion and possible death. If you are leaving a pet in a car, crack the windows as much as possible and leave water to drink. Better yet, there are ample places in the region for doggy daycare where your pup will have a great time and not be in danger of overheating.
Kennels, Lodging and Grooming
There may be days when your pooch is a little pooped and would prefer to lounge about or play with pup pals instead of hiking. That doesn't mean you can't hit the trails yourself, as long as you have great canine daycare and spa options:
Salt Lake City
Little Dogs Resort & Salon provides cage-free spa, daycare and lodging services for dogs of less than 30 pounds on more than half an acre of fenced land with grass yards and cozy furniture. The Diggity Dog Resort welcomes dogs large and small for doggy daycare, grooming and boarding.
The Kimpton Hotel Monaco is the dog-lover's dream, with no weight, height, or breed restrictions, nor is there a pet deposit. Hotel RL Salt Lake City has pet-friendly rooms, no size restrictions, for only an additional $15 fee per stay.
Park City
Doginhaus has plenty of space to play, as well as daycare, lodging and spa facilities for your four-legged pal.
Best Western Landmark Inn & Pancake House welcomes up to two dogs per room with an 80-pound weight limit for $10 per night with a $50 refundable cleaning deposit. The Waldorf Astoria Park City welcomes a maximum of two dogs of up to 100 pounds each for each room, with a $100 nonrefundable cleaning fee (once, per stay).
Ogden
Idlewire Pet Care lets your pup romp for the day, stay overnight, or get cleaned up and sparkly.