11 Classy Ski Experiences That are Uniquely Utah
From sheer proximity and the biggest mountains to a ski-in distillery and a celebrity-owned resort, these are the reasons to ski Utah now.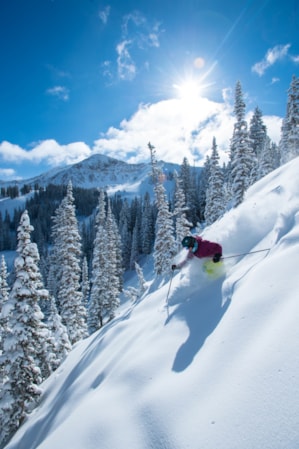 We say Utah is a unique ski vacation offering more time on the mountain. No destination in the United States offers the close proximity of so many resorts to an international airport and vibrant cities.
There was a time when Utah was a rugged and sparsely settled part of the wild American West. Adventurers can still easily access vast stretches of pristine and rugged backcountry, while Utah also serves up pristine and polished luxury amenities. If you dream of ski valets amid contemporary elegance with impeccable groomers meandering through easily accessible mountains, then read on.
1. Get from the airport to the mountain in less than an hour.
For those of you flying in, it all starts at Salt Lake City International Airport. (A few lucky cities could choose the Provo Airport for quickest access to Sundance. See item No. 6, below.) From SLC International, the Wasatch Front is all yours — with 10 resorts about an hour or less from the airport. Accessibility, alone, makes Utah ski getaways outstandingly unique. (Read: Top Ski Towns in Utah) So grab your luggage, pull your U-shaped travel pillows off your necks and get ready to gear up for more Mountain Time.
2. Loosen up at the world's only ski-in distillery.
Yeah, in Utah. Ski right up to the High West Distillery & Saloon for a session of small-batch local whiskey tasting paired with the saloon's Western-inspired menu, then head back out for some more Park City pow.
Turns out, Utah's got a long history of distilling. The High West Distillery & Saloon is even on the National Register of Historic Places as the first legal distillery in the state since 1870, and it's probably the only place on Earth where you can get a decent Old Fashioned while still wearing your ski boots.
3. Ride in an orange ball of warmth.
At Park City from the Canyons Village side, you can feel super pampered while riding up in the first-ever heated bubble chairlift in North America. The seat oozes out enough warmth to keep you toasty — then, on windier days, you can pull down the orange plexiglass windshield to keep your delicate face from the temperatures and wind.
This feature isn't solely for the sake of comfort though. Once you're fully encased in your bubble, you're extra aerodynamic — which means the Orange Bubble Express can run at a higher speed than most open-air chairs, thawing you out and getting you back on the powder faster.
4. Experience the Greatest Snow on Earth®
Yup. It's true. Snow so light and fluffy that you can clear the sidewalk with a leaf blower. And yet. And yet, on the mountain, especially in the Cottonwood Canyons of Salt Lake City, something really special happens when layers of this perfect snow accumulate. It's called "flotation." Read more here, but trust us — this isn't your average snow: It is what you'll find yourself wanting more and more of.
"It's probably the only place on Earth where you can get a decent Old Fashioned while still wearing your ski boots."
5. Check out one of the highest resort towns in America.
Spanning two peaks and about 650 acres of terrain, it might sound small compared to Utah's northern ski resorts, but with a 9,600′ base elevation, Brian Head is far above sea level and then some. And even with a peak elevation of 11,307′, it's still one of Utah's super-secret powder stashes.
This place has everything you want out of a Utah resort and absolutely nothing you don't. The same dry Utah pow and friendly faces, paired with a mellow ski town and comfortable resort lodging.
6. Relax at a swanky celebrity-built resort.
You know the one we're talking about: Sundance Mountain Resort. The only place you've ever heard of where you can ski black diamonds in the morning, then spend the afternoon learning about glassblowing and taking a jewelry-making class, followed by movies in the onsite screening rooms.
You'll find no glitz or flash here, but loving attention to detail and the highest quality services and amenities. Walk to Sundance Resort's slopes, spa, eponymous retail shop or the excellent fine dining restaurant, The Tree Room. The entire property is a bit like your favorite L.L.Bean catalog: inexplicably rustic, sophisticated and comfortable all at the same time. Its meticulously curated perfection might throw you off just a little bit, but don't fight it. Hunker down into the leather of an oversized armchair with a cup of tea and a book from Robert Redford's private library, and whisper silent thank-yous for this piece of movie-star luxury in Utah.
7. Feel unworthy of sitting in a ski lodge chair.
Yes, there are amazingly long and fast groomers (including the actual Men's and Women's Olympics Downhill courses), a truly world-class gondola system that allows you to ski and ride nearly 3,000′ of uninterrupted top-to-bottom vertical, and the thrill of earning some turns down No Name. These are the reasons people come to Snowbasin Resort, but they aren't the only things you'll walk away from smiling.
Snowbasin's lodges are nearly an art form. We aren't talking about little warming hut shanties that serve up canned chili. Walk into any of Snowbasin's three lodges and you'll immediately feel like an excited fourth grader sitting down at the adults' table for the very first time, eyeing the chandeliers and sharing a meal paired with ski stories from the day.
It'll be the first time you've ever worried about ruining a lodge's English Wilton carpets clomping around in your soaking-wet ski boots. And the one part that makes this all completely unique? You'll reluctantly climb out of your comfy, upholstered, is-this-real-leather? chair with actual money left in your wallet. Even with all the wardrobes and sconces and marble and brass, that slow-smoked grass-fed brisket (with all the trimmings!) only cost 15 dollars.
8. Ski the biggest mountains in America.
Sometimes luxury means size. And space. Set skis to an uncarved slope at Powder Mountain Resort and look around you. No one else around? This is luxury. Realize there's no way you can ski even a fraction of the resort in a day? All that space is yours to explore.
There was a time when Powder Mountain laid claim to the biggest mountain in the United States. It's 7,000 skiable acres eclipsed the next closest by hundreds of acres. Then something magical occurred. Park City and Canyons joined forces to become the largest ski resort in America known as Park City Mountain, at 7,300 acres. See where we're going with this? Yep. 14,300 acres. That's about the size of Manhattan Island. Somehow it feels a lot roomier out here.
Powder Mountain (Pow Mow) backs up its girth with an impressive 500 inches of annual snowfall. Best of all, thanks to the multiple higher-profile ski resorts sitting between it and Salt Lake City, there's rarely a lift line, even with only four lifts up the entire mountain. How is this possible? Gratefully, you don't have to hike — America's biggest mountain also has one of the best cat ski rates around.
As for Park City Mountain? Well, here you'll find a full arsenal of lifts to runs of all skill levels and all manner of on-resort amenities in tune with the Park City name and brand. Even the gondola connecting the two resorts is worth the ride for the opportunity to rest a few minutes while taking in the scenery.
9. Ride a funicular to a ski beach
What does that even mean? St. Regis Deer Valley Resort boasts the United States' first ski resort funicular tram, which transports visitors up a steep hill to the main lodge. From there, you'll be treated to an outdoor fire garden, private "ski beach," ski valet, infinity pool and spa. There's good reason former NBA basketball star Karl Malone chooses to luxuriate at the St. Regis when he returns to visit Utah.
Looking for other luxurious accommodations in Park City? Nestled right at the base of Park City Mountain (on the Canyons Village side) with private gondola access, the Waldorf Astoria Park City offers a world-famous spa experience, a heated outdoor pool, and an elegant bar for creative cuisine and cocktails. With its prime location on Deer Valley Resort's Empire Pass, The Montage offers ski-in/ski-out access, restaurant options, exclusive boutiques like OC Tanner Jewelers, and a full-service fitness center and spa.
If you're looking to take advantage of Utah's Ski City, the cosmopolitan crown jewel of Salt Lake City luxury accommodations is The Grand America, a AAA Five Diamond Hotel award winner located in the heart of downtown.
"There's nowhere else in North America where you can access so many ski resorts on a single adventure with such minimal hiking."
10. Award-winning cuisine sandwiched between ski days.
At the J&G Grill in the St. Regis Deer Valley, you can dine on the inventive fare of world-famous chef Jean-Georges Vongerichten. Winner of Salt Lake Magazine's "2014 Best Restaurant" award, J&G Grill offers a lively exhibition kitchen, dramatic wood-burning fireplace, and expansive views across the ski slopes. Sunday brunch at the Glitretind at Stein Eriksen Lodge is not to be missed. The only Utah winner of the 2013 Santé Restaurant award, guests can dine on grilled lamb T-bone and braised Wagyu short ribs, paired with fine wines and framed by the surrounding views of Deer Valley Resort. And while strolling down Park City's Main Street, Talisker on Main features sophisticated American fare with menus that change with the seasons, allowing Executive Chef Clement Gelas to feature locally sourced ingredients like Willis Farm lamb, heirloom cherry tomatoes and foraged mushrooms.
Looking for something romantic? Log Haven has long been called the most romantic destination in Utah. Nestled deep in Millcreek Canyon in a storied log mansion, guests are treated to phenomenal new American fare such as bacon-wrapped elk strip steak and smoked goose pappardelle, an impressive wine list with over 200 bottles, intimate views of a waterfall and high alpine beauty.
11. See three generations of one family working an entire mountain just for you.
The Seeholzer family's been running Beaver Mountain since its inception in 1939. It's said to be the longest family-run ski resort in America, and definitely the only place where you can see three generations of Seeholzers working hard to make your winter dreams come true.
You can clearly see the lack of corporate ownership here. Adult lift tickets are just 60 dollars/day, and you can treat your family to kid-friendly burgers at the restaurant. It's not the place to come for a burger with aioli and arugula, but this resort oozes charm and encourages taking time to unwind.
Add in great night skiing and Beaver Mountain Resort becomes a fantastic all-around ski and snowboard destination, just a little off the beaten path, but close to Logan and its eateries and accommodations.