How-to Guide for Salt Lake City Conference Attendees: Food, Drink and Fun
Got your flight booked? Here's everything you need to know to get the most out of your time before, during and after your conference in Salt Lake City.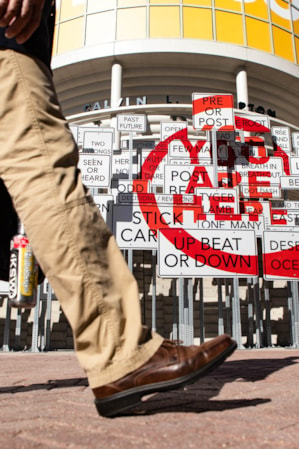 Heading to Salt Lake City for a conference? Lucky you. When it comes to accessibility, facilities and overall experience, Salt Lake City is one of the best conference locations in the country. The airport is close to downtown, most lodging options are a short walk to the sustainable convention center and you've got plenty of places to eat and drink after a long day of work. You are also surrounded by the beautiful Wasatch Mountains, which can be a great way to relax and unwind once the show is over. In addition to free time during your conference it may also be well worth your while to stay for an extra day or five to explore all that the beautiful area has to offer. Got your flight booked? Here's everything you need to know to get the most out of your time before, during, and after your conference in Salt Lake City.
Getting to the City
Salt Lake City International Airport has daily nonstop flights from all over the country. It's less than a 10-minute drive from the airport to the Salt Palace Convention Center (located at 100 S W Temple, Salt Lake City, UT 84101), so it's an inexpensive cab trip or rideshare — there's no need for most people to rent a car. To save even more money, take advantage of the Utah Transit Authority's TRAX light-rail system, which will take you to most downtown hotels or the convention center. The fare is only $2.50 each way, and the trains run about every 15 minutes throughout the day. Find a map and schedule at rideuta.com.
If you're staying at a downtown hotel, you'll be able to walk to most restaurants and bars and there's a Free Fare Zone on public transit. Another option if you're traveling more than a few blocks is hopping on a GREENbike, the city's nonprofit bike rental service that makes getting around easy. Rent an e-bike (recently added) and get anywhere downtown without breaking a sweat.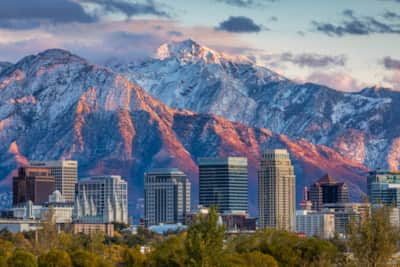 Dining Options
Let's be honest — where to go to dinner after the show is one of your biggest decisions every day. Salt Lake City has many award-winning restaurants, longstanding favorites and a variety of breweries to choose from. You can find cuisine ranging from sushi to great burgers as well as menus created with the vegetarian and vegan in mind. Here are three popular eateries within walking distance of the convention center.
1. The Copper Onion
111 E Broadway #178
From Salt Palace Convention Center:
Take 100 S to State St, turn right, walk two blocks to Broadway, turn left.
The Copper Onion is a Salt Lake City classic, offering fresh New American fare in a buzzy, casual setting. Try the rainbow trout for a western taste or their most popular dish, Beef Stroganoff with house-made pasta. Copper Common, located next door, is a top spot for after-dinner drinks.
When you are done eating, catch a show at Broadway Centre Cinemas located right next door to the Copper Onion. Operated by the Salt Lake City Film Society, you can see all kinds of independent and cultural films and documentaries. It's a wonderful way to round out your evening and support one of Utah's top-tier arts and culture organizations
2. Takashi
18 W Market St.
From Salt Palace Convention Center:
Take West Temple about two blocks south to Market Street and turn left. It'll be on your left.
Named for its owner Takashi Gibo, Takashi is downtown SLC's hottest sushi spot — sightings of Utah Jazz basketball players are not uncommon. Fresh fish (flown in daily), warm sake and creative rolls make it a must-visit. There's often a wait, so arrive early, get on the list and walk next door to Post Office Place for a pre-dinner drink.
If you decide Takashi for dinner, be sure to peruse the event listing at the Gallivan Center, which you'll walk near on your way from the Salt Palace to the restaurant. It's an easily accessible venue that offers community concerts, music fests, ice skating and more. You can also host an event here if you feel like changing up the day-in and day-out of the conference setting to let folks grab some fresh air and explore the surrounding city a bit more.
3. Red Rock Brewery
254 S 200 W.
From Salt Palace Convention Center:
From the south entrance of the convention center, walk half a block to 200 W and turn left. The brewery is on the west side of the street.
Brewing since 1994, Red Rock is a classic Utah brewery/restaurant that offers excellent beer and food in a casual downtown atmosphere. The Elephino Double IPA is a classic, citrus-forward American IPA that's a longtime favorite. For those looking for a unique beer experience, Paardebloem is a one-of-a-kind 9.2% ABV Belgian-style ale that uses dandelions as a bitter. (For more on Utah's brewery scene, read Brewing Up the Best.)
If you can bring yourself to stop drinking Red Rock's great beers and instead want to head out for some cultural enlightenment, you can easily access both the Gallivan Center and Broadway Centre Cinemas via a short walk. You can also move in the opposite direction and check out the Clark Planetarium which offers IMAX and Dome shows that explore the Earth and the larger universe beyond or Wiseguys Comedy Club with shows that will have you rolling in the aisles listening to some of today's most popular stand-up comics.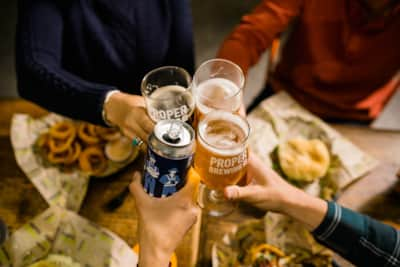 Drinks
Longtime conference attendees can tell stories about Utah's old liquor laws, where getting an alcoholic beverage required you to jump through some hoops. Those days are gone and Utah is now filled with craft brewers, creative cocktails and bars where you can unwind. If alcohol is not your drink of choice, or it's first thing in the morning, the coffee here will not disappoint either (Watch: The Caffeinators of Salt Lake). Here are a few drink spots from coffee to cocktails that aren't to be missed while you are in town:
1. Three Pines Coffee (165 S. Main St.) is a two-minute walk from the Salt Palace so it's a great place to grab your morning brew or a quick afternoon pick-me-up. You can grab hot or iced coffee, espresso, chai, matcha or hot chocolate from their highly focused menu paired with a pastry delivered fresh daily from various Salt Lake bakeries.
2. Whiskey Street (323 S. Main St.) is just a few blocks from the convention center on Main Street, and while you can enjoy a wonderful meal here as well, it's known for its craft cocktails and extensive beer list. The stylish space features a 72-foot-long cherry wood bar and is comfortable for entertaining clients.
3. At Beerhive Pub (128 Main St.), the high ceilings, leather booths and buzzing vibe make it a popular spot for both locals and visitors. Enjoy more than 200 different beers from around the world, plus wine, Scotch, whiskey and other cocktails.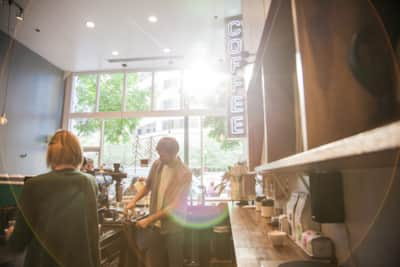 Out on the Town
Looking to explore all that Salt Lake City has to offer outside of the convention center? There are a lot of options depending on what you are in the mood for:
The Broadway Theater, owned and operated by the nonprofit Salt Lake Film Society, has a rotating selection of independent and international flicks for a unique film experience.

For live entertainment, the Eccles Theater is the place to see Broadway musicals, plays, musicians, dance and other performing arts.

The Capitol Theater is another option for touring shows in a historic venue, while The Off Broadway Theater features comedy and plays presented in an intimate space.

Sports fans will want to catch a Utah Jazz game at the Delta Center, just behind the convention center, when they're in town.

If you enjoy live music, and who doesn't, Keys on Main is a fun spot to be entertained by dueling pianos. The Urban Lounge, State Room and the Depot have live music most nights of the week, from local musicians to national acts of all genres.
For more tips on things to do in downtown Salt Lake City, check out An Insider's Guide to Salt Lake City Neighborhoods.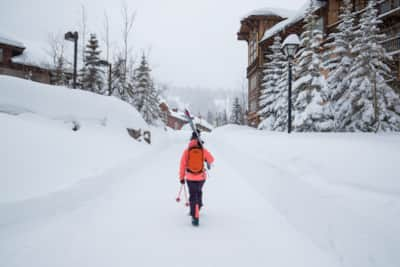 Exploring the Wasatch Mountains
It's hard to miss the gorgeous Wasatch Mountains when flying into Salt Lake City. With peaks rising above 11,000 feet, this range provides beautiful views from within the city as well as a lot of opportunity for adventure mere minutes from downtown. If you have made the decision to come in a few days early or stay an extra day — or better yet, a few days — once your conference ends it gives you an opportunity to see the mountains up close.
If your visit is in the winter, check out Brighton, Solitude, Snowbird, or Alta world-class ski resorts within 45 minutes of downtown. Solitude has an excellent network of Nordic ski trails for those who prefer cross-country skiing. Didn't rent a car? Utah Transit Authority has daily ski buses that link up with its light rail system.
In the summer, try hiking classic trails like Donut Falls (27 miles from the conference center, trailhead in Big Cottonwood Canyon) or Red Pine Lake (26 miles from the conference center, trailhead in Little Cottonwood Canyon). Finished your conference a day earlier and want to get out for a quick jaunt? The Bonneville Shoreline Trail stretches around the Salt Lake Valley and is a favorite for local runners and mountain bikers. Popular trailheads in the foothills are just a quick 10-minute drive east from the convention center but if you're up for the initial climb, run or ride up City Creek Canyon just east of the Capitol Building you can connect with Bonneville Shoreline without a car. Tee it up at local golf courses Glendale and Rose Park (each 10 minutes from the conference center).
If you're a mountain biker, rent a bike from a local shop, schedule a shuttle (Fox 'N Rox Shuttle or Big Rack Shuttle) and ride the Crest Trail, known as one of the classic trails nationwide. For a quick trip from downtown, try the Black Mountain Trail, just 10 minutes from downtown by car (Take South Temple to I street, turn right on 11th avenue, then left up Terrace Hills Drive to the cul-de-sac trailhead). A quick walk uphill will reward you with panoramic views of Salt Lake City and if you do the hike in the spring, the route's wildflowers will provide outstanding scenery as well.
Conferences don't have to be all about business. Take advantage of all that Salt Lake City has to offer — and you'll see why it has become such a popular destination for meetings of all kinds.