Salt Lake City's Rainbow Colors Fly Year Round
Don't miss out on everything that this vibrant city has to offer.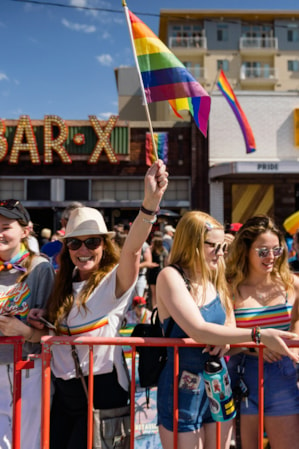 Utah's capital is among the top 10 U.S. metro areas with the largest gay populations, according to Gallup. In fact, Salt Lake City has a higher percentage of people self-identifying as gay than Los Angeles. If you're surprised, it might be that you haven't spent much time lately in this gay-friendly town, which over the past two decades has become a destination for those who enjoy both a hip urban atmosphere and easy access to the great outdoors.
Known for its epic pride parade held every June, Salt Lake City is welcoming to the queer community year-round. In 2015, the city elected its first openly gay mayor, and in 2016, 20 city blocks were renamed Harvey Milk Boulevard, in honor of the famous gay rights activist and politician. While it has its share of LGBTQ-owned and operated businesses, Salt Lake City is also known for its bars and restaurants that are welcoming to everyone.
The anchor of the LGBTQ+ community is the Marmalade district — located northwest of the Capitol Hill area. You'll find lots of rainbow flags flying here and plenty of gay-owned or openly gay-themed establishments. The city also has a very active LGBTQ+ Meetup scene, with weekly events such as trivia nights, hikes and art nights across a broad spectrum of groups from the Rainbow Girls Social Club to Utah Queer Adventures Club. The Utah Pride Center also maintains a calendar of programs and community events.
If you're looking to spend some time in a gay-friendly urban environment — with lots of things to do — Salt Lake City is the perfect choice for a getaway. Here are just some of the places that make it a welcoming destination.
"You might be surprised to learn that Salt Lake City has a higher percentage of people self-identifying as gay than Los Angeles."
Salt Lake Experiences
You can spend your day in Salt Lake City seeing the sights, shopping, eating or learning more about the region. Rent a bike or scooter downtown and enjoy the street art, architecture and local bars and restaurants (more ideas below). Take a stroll through the stunning Red Butte Garden and then pop into the Natural History Museum of Utah next door.
For those interested in art, Salt Lake City is filled with choices. Start your day at the Utah Museum of Fine Arts, which includes more than 21,000 works from around the world. You'll find a variety of paintings from 14th- to 19th-century Europe in addition to more recent American artists and special collections with work from India, Polynesia, and Mesoamerica. Next hit the Utah Museum of Contemporary Art, with six gallery spaces filled with a rotating mix of both local and world-renowned artists working in a variety of mediums. (Read: A Journey Through Utah's Contemporary Artscapes)
Another great day trip starts at the Chase Home Museum of Utah Folk Arts in Liberty Park. The Chase Home was constructed some 150 years ago with adobe bricks in the traditional hall-and-parlor style. The museum highlights artists from Utah's American Indian, rural, occupational and ethnic communities, with a mission aiming to bring together the state's diverse communities to "preserve and celebrate their traditions." After the museum, walk over to the Tracy Aviary and Botanical Garden to see more than 400 different kinds of birds that call the 8-acre preserve home. It's a wonderful place to enjoy a walk as well as learn more about the feathery inhabitants.
"While it has its share of LGBTQ-owned and operated businesses, Salt Lake City is also known for its bars and restaurants that are welcoming to everyone."
Spend the day browsing the nearly 30 galleries around town that feature everything from fine art to handmade crafts. The free Salt Lake Gallery Stroll on the third Friday of each month is an excellent way to meet local artists and explore the city. If you're looking for antiques, make a stop at Anthony's Fine Arts and Antiques.
Don't miss a tour of the stunning Capitol Building, and then take a hike in Memory Grove Park just below the Capitol. There's also the unique experience of visiting the 35-acre complex that's the headquarters of The Church of Jesus Christ of Latter-day Saints. (Read: Temple Square: The Geographical and Musical Heart of Salt Lake to learn more about its history.)
From June to October, join the locals and take a stroll on Saturday mornings at the Downtown Farmers Market at Pioneer Park or mingle at the Thursday afternoon Food Trucks at the Gallivan Center.
For theater lovers, be sure to check out the Eccles Theater, which features the 2,500-seat Delta Performance Hall, among other performing spaces. See a Broadway show or a nationally touring musician in this incredible space.
"From June to October, join the locals and take a stroll on Saturday mornings at the Downtown Farmers Market at Pioneer Park or mingle at the Thursday afternoon Food Trucks at the Gallivan Center."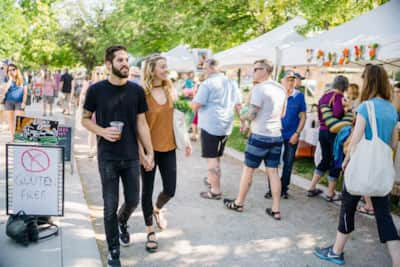 Don't-Miss Festivals
Be on the lookout for festivals throughout the year that give you an especially good reason to visit Salt Lake City. The Pride Festival is one of the city's top events, attracting tens of thousands of participants and featuring one of the largest pride parades in the country. Over two days, Washington Square in downtown Salt Lake City is turned into the epicenter of the celebration, with musical performances, dance, karaoke, food trucks, and special events like the Queer Poets Slam.
Saturday features the Pride 5k run along with other outdoor activities like yoga, volleyball and a fitness challenge. There's a march to the Utah State Capitol building as well as speakers, a film series and other activities throughout the city. Sunday is the main event, as the pride parade starts at 10 a.m. in downtown Salt Lake City.
One of the region's other big gatherings is the Sundance Film Festival, which brings independent film — along with Hollywood's elite — to Salt Lake City and Park City in January. (Read: Sundance: The Story is Utah). Other popular events include the Utah Arts Festival in June, featuring exhibits in a wide variety of mediums. The Great Salt Lake Fringe performing arts festival includes theater, dance, music, magic, storytelling and more. The LOVELOUD music festival was created by Dan Reynolds of Imagine Dragons to celebrate Utah's LGBTQ+ community and raise money for human-rights groups.
Where to Eat, Drink & Club
When it comes to eating and drinking, you'll never be able to hit all there is to see. Salt Lake City's gay clubs — Club Try-Angles, Club Verse and The Sun Trapp — are a good starting point. And are are a few other options that won't disappoint:
Garage on Beck: A 1950s-style bar and roadhouse located in front of an oil refinery, with upscale bar food and many events and live music several nights a week. (Read: Urban Vibe and Funeral Potatoes)
Mountain West Cider: How can you talk about the hip urban environment without mentioning a locally-sourced cidery? Mountain West won't disappoint you with its unique flavors, such as Desolation Prickly Pear.
Metro Music Hall: This gathering spot is a mid-size concert venue in downtown Salt Lake City which hosts a diverse selection of live music, dance parties, celebrations, LGBTQ-specific gatherings, drag shows and more. Its mission is to provide the best experience possible for (all) of its live music fans.
Bar-X: It has a reputation for mixing the best cocktails downtown with an old-fashioned feel and enough modern touches to be interesting.
Bodega: Those looking for adventure won't want to miss this semi-secret-off-the-grid restaurant. The upstairs is a grocery/bar/eatery, but if you call and make a reservation (801-532-4042) you'll be given a key to the underground restaurant that offers a host of speakeasy-style delights.
Whether planning a weekend getaway or a full-blown vacation, one of the best resources for current information is Q Salt Lake Magazine, the city's leading gay news and event listing website.
If you're interested in eating at and supporting LGBTQ+ owned restaurants, browse this list.
Where to Stay
Salt Lake City is filled with both national chains, boutique hotels and charming B&Bs where you can rest for the night. If you're visiting during the Pride Festival, the Hyatt Regency and Le Meridian both offer special partner rates. Some other top options for LGBTQ+ travelers inclu:
The Ellerbeck Mansion Bed and Breakfast: If a great breakfast is the difference between a good day and a great day, then this B&B is a perfect choice. The comfortable rooms and prime location on a bus route are enhanced by a spectacular hot breakfast, which often includes dishes such as Italian style frittatas and stuffed French toast.
Kimpton Hotel Monaco: This hotel features a funky vibe with upscale modern rooms and a restaurant and bar on-site. It proclaims, "We believe that life is meant to be fully lived with courageous gusto and no-regrets zest." If looking for a spot for a destination wedding, this is a great option.
The Peery Hotel Historic Landmark Hotel: In continuous operation since 1910, this luxury boutique hotel knows how to cater to the discerning traveler. For those interested in historic buildings, the Peery is a showcase of Prairie-style architecture with a classical revival influence.
Little America Hotel: Conveniently located close to many popular tourist sites, this elegant hotel makes for an unbeatable homebase. It has a restaurant, coffee shop, fitness center, sauna, and an outdoor pool.
For more LGBTQIA+ things to do in Utah, browse this resource.