U.S. Federal Shutdown Information
At this time, all of Utah's national parks, monuments and recreation areas remain open.
Learn more.
How To Get the Most Out of the Park City Annual Gay Ski Week
Don't hesitate and miss out on your chance at the ski party of your life.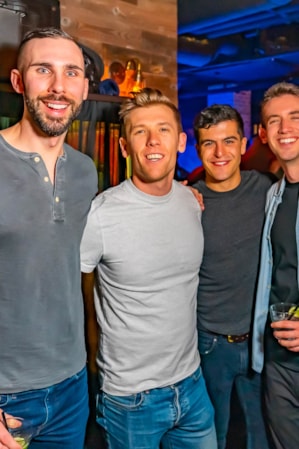 Beat the doldrums of February and sign up for five days of the fun at Park City's annual Gay Ski Week. At Elevation Utah, the official name of the 10th annual event, visitors will be surrounded by like-minded athletes and folks who want to crush it out on the slopes and have fun dancing the night away.
The Elevation event began in Mammoth Lakes, California 18 years ago, and was such a success that event organizer Tom Whitman wanted to expand. He researched the best resorts in the U.S., looking at venues, flight accessibility, quality of the mountains, and friendliness and openness of the locals. Park City, Utah, came out at the very top of the list and Elevation Utah was born.
This year organizers expect between 1,200 and 1,500 skiers and snowboarders from all over the country and beyond. To encourage local participation, Utah residents receive special discounted pricing of 25 percent on passes.
Obviously, skiing and snowboarding are the main attraction and participants have two world-class mountains to choose from, Park City Mountain and Deer Valley Resort. Park City is the largest ski and snowboard resort in the country, with 41 lifts serving an astounding 348 trails. The skiers-only Deer Valley is known for its uncrowded, pristinely groomed trails. It's no slouch in terms of size, either, as it features 24 lifts that service 103 different trails.
For many visitors, however, the skiing is just the start of what makes this week special, as après-ski events, entertainment, and dance parties give participants a chance to mingle. "Elevation is one of the few places where you can meet hundreds of gay people who share a common thing besides their sexual orientation," Whitman says. "So I always recommend that you consciously make the decision to step outside of your comfort zone, introduce yourself to other attendees. You'll end up making friends for life."
In addition to Whitman's advice about getting involved, there are a lot of other tips and tricks you should keep in mind when planning your trip. Past participants John Manelski, Jason Miller, and Eric Bogin have the inside scoop to help all first-timers get the most out of the action-packed week.
"Pack for the event themes, even if it is something small," said Manelski who has attended the event four times. "Think glow in the dark face paint for the neon party or a brightly colored neon bandana. A little goes a long way, and well, with the Elevation group, a lot goes a long way as well!"
"Plan in advance," said Miller. "Book your lodging, lift tickets, rentals, lessons, and event passes well before your trip. The more organized you are, the more you will get out of the experience."
"You can ski/ride each day, hit après-ski, grab dinner, and make the evening parties if you do it all in moderation," Manelski said. "It's a marathon, not a sprint!" (For a more complete picture of the area, read: Park City Area: One Destination, Three Resorts.)
On the flip side, Bogin said: "Go to everything! All the events are fun, especially the après ski and evening events. The event is most fun when you meet some interesting people early in the weekend, ski with them the next day, and then hang out with them again later in the weekend. That's how you end up making lifelong friends."
"The best restaurants in Park City fill up quickly," Miller said. "So don't wait until the week of the event to make reservations."
Manelski recommended High West Distillery. "The chicken schnitzel and drinks are amazing! They don't take reservations, so you need to go put your name in about 1.5 to 2 hours in advance then go have a drink nearby."
"If you get the chance to ride/ski with Tom Whitman, he is always doing fun photoshoots and getting attendees involved," Manelski said. "Join him if you are able!"
"Folks coming for the first time should try to book accommodations close to the action in Park City," said Bogin. "That way you can walk to the events and not be reliant on Uber. Plus, you can ski straight from the town lift."
Finally, from the founder himself, Whitman, "Stay at one of our host hotels if you can, because it will be more concentrated with Elevation attendees. I always recommend getting one of the events passes, because you will save money overall, and we keep them very low in comparison to other gay events because we want to create a sense of community over the week."
"Whitman also wants people to remember that "Elevation is not a 'gay-only' week. We welcome everyone to the party, as long as you are there to celebrate diversity and inclusivity and our community."
So what about these events?
It's no surprise that the events are a highlight of Elevation. They make each day unique and include a variety of activities from après-ski and VIP wine tastings to shaking it all night long at the dance parties. The Onesie Apres-ski is a big deal at Elevation Utah, and almost everyone wears a onesie—so be sure to pack one. "It's my personal favorite'" said Manelski. "You have a room full of very comfy people, which is instantly relaxing. Walls come down; conversation is easier. The smiles and laughter are intoxicating."
New this year is the GEAR theme for Saturday night's big blowout party. "Gear" is loosely defined as leather gear, snow gear, sports gear, or anything you consider gear. "The Elevation team does a great job selecting fun venues, developing creative themes, and hiring top DJs," Miller said.
Whitman also wants people to remember that "Elevation is not a 'gay-only' week. We welcome everyone to the party, as long as you are there to celebrate diversity and inclusivity and our community. We welcome straight allies every year who want to join their LGBTQ+ friends or family members for an amazing event."
Don't hesitate and miss out on your chance at the ski party of your life. Book a flight, buy some event passes, and prepare a fun time as Elevation Utah celebrates its 10th anniversary. It's a party you don't want to miss.
Salt Lake City's Rainbow Colors Fly Year Round
Take a trip to Salt Lake City, an LGBTQIA+ friendly city, which over the past two decades has become a destination for those who enjoy both a hip urban atmosphere and easy access to the great outdoors.