1. Yuki Yama Sushi - $$$
586 Main Street, Park City

Great sushi is all about fresh ingredients, creative combinations and bold presentation. Yuki Yama has mastered them all, becoming one of Main Street's most highly acclaimed eateries. The atmosphere of true authenticity begins as you step in the door, welcomed by an interior of raw wood and stone blended with sharp modern accents and traditional tatami. The thoughtful design doesn't stop at the place settings — each specialty roll, gourmet noodle dish and glass of sake is artfully prepared. Reservations are highly encouraged, and be sure to keep in mind the restaurant's seasonal closure from April-May.
2. Silver Star Cafe - $$
1825 Three Kings Drive, Park City
This cozy joint has been a staple of après-ski dining for many years. The new American menu features soups, salads and sandwiches that change seasonally. The great food, service and views hit the spot after a long day of skiing. But you don't have to take our word for it — the Silver Star Cafe was featured on Guy Fieri's "Diners, Drive-ins and Dives" show and received a rave review. On weekend nights you can almost always hear live music from local groups, and sometimes even popular touring artists. Silver Star Cafe is worth a visit during any trip to Park City.
3. 710 Bodega Tapas & Wine - $$
710 Main Street, Park City
Tired of hearing that dreaded question — "what do you want to eat for dinner?" Ordering from 710 Bodega is the perfect answer. This delectable spanish-fusion eatery specializes in bold, innovative small-plate tapas. Tapas are meant to be shared, but the surf, turf and vegetable appetizers are so good they might tempt you to keep them all to yourself. Grab a drink off the wine and beer menu or enjoy a house cocktail with dessert. 710 Bodega keeps it simple with great food and drinks in a relaxing environment.
4. Handle - $$
136 Heber Avenue, Park City
Familiar doesn't always mean boring, something that Handle in Park City has proven once and for all. The menu is always evolving around the local produce in season, or whatever special dish chef and owner Briar Handly is currently crafting. Any fan of HSL in Salt Lake City will enjoy this sister restaurant in the heart of downtown Park City. Although the appetizers and entrees are constantly in flux, you can always count on great food, great service and most importantly, their chocolate-dipped maple ice cream bars for dessert. Make sure to visit during Handle's open season, usually June through mid-April.
"An elevated dining experience is guaranteed during any stay in Park City, with world-class meals for breakfast, lunch and dinner."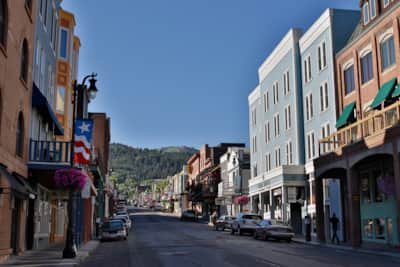 5. Five5eeds - $$
1600 Snow Creek Drive, Park City
With so many exciting things to do in Park City, breakfast really is the most important meal of the day. Start your adventures off the right way by fueling up at Five5eeds. With an all-day breakfast menu, there's plenty of time to enjoy a morning full of acai bowls, smashed avocado toast and gourmet breakfast sandwiches. The restaurant's focus on eating local, organic and authentic is thanks to the owners' roots in Australia's thriving foodie culture. As any Park City local will tell you, Five5eeds is a don't-miss.
6. High West Saloon - $$$
703 Park Ave, Park City
Visit the High West Saloon near Park City's Historic Main Street to sample your way through High West's premium whiskey selection. Their lunch and dinner menus are full of American gastro-pub favorites, and be sure to ask for a whiskey pairing when ordering. Located at the bottom of Park City's Quit 'N Time ski lift, skiers can proudly say they have visited the world's only ski-in, ski-out distillery. Tours of the distillery are also available at the nearby Wanship location.
7. Freshie's - $$
1897 Prospector Ave, Park City
Freshie's is a true lovechild of Park City's culinary scene. The founders started serving their famous lobster rolls at the Park Silly Market in 2009 and quickly expanded into a food truck that can still be found in Park City and Salt Lake City. The story didn't end there, and the quality of their seafood menu is evident in the customer demand that fueled them to open three restaurants in Utah and Wyoming. Nothing hits the spot like a bowl of fresh clam chowder after a day on the slopes. Stop by to try the lobster roll that Park City can't seem to get enough of.
8. Vessel Kitchen - $$
1784 Uinta Way, #E1, Park City
Vessel Kitchen has taken their motto of "real food by real people" to heart. The menu changes seasonally to feature produce and goods from small local vendors so you can have a completely new experience each time you visit. Vessel Kitchen is a favorite among vegans, vegetarians and anyone following diets such as keto, paleo and even Whole30. Try a signature seasonal specialty or design your own Vessel dish by choosing from fresh veggies, protein, sauces and toppings.
9. Baan Thai - $$
710 Main Street (Suite 3-103), Park City
Traditional Thai cuisine balances the culinary elements of salt, sweetness and spice. Baan Thai Cuisine & Bar excels at this blending of flavors and even takes it one step further, adding delightful presentation and excellent service. Their extensive menu offers stir fry, curry, noodle dishes, appetizers, tom yum soup and much more. The modern underlit bar and raw edge tables set a soft and relaxing ambiance while you enjoy the large, delicious portions from Baan Thai.
Looking to experience a range of cuisines while you're in town? Consider a Park City Food Walking Tour.