Utah Skiing Made Easy
A quick guide to five of Utah's best beginner ski runs and snowboard trails.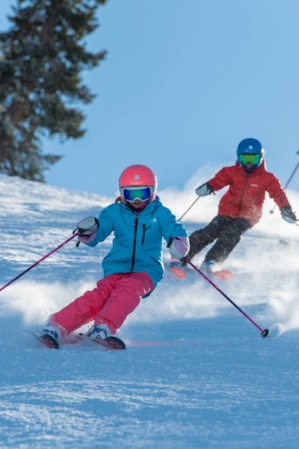 So you've mastered the bunny slopes. Great! Now, you're ready to take the chairlifts to new heights, but don't want to get caught without a comfortable easy way down. Armed with skiing tips for beginners, maps and lifts make that an easy enough prospect. But are all green circle runs created equal? They are not.
Pro Tip: Green means go but, on the mountain, green runs come in all shades of difficulty depending on the resort (Lupine Trail weaves through Snowbird's off-piste paradise Mineral Basin but is jokingly characterized by locals and insiders as a "Snowbird green"). If it's your first time to a specific resort, even if you are an expert skier or rider, consider taking a lesson — the instructors know the terrain, and the best progression of ski or snowboard trails for your ability level. If ski school, instructors or lessons aren't in your plan or budget, then aska mountain host (skiing all over the mountain or parked at the base and identifiable by their jackets) for suggestions and insights. Most resorts, also, offer free tours of the beginner/intermediate runs on their respective mountains.
1. Alta's Crooked Mile
Alta's Crooked Mile is a very gentle, wide-open slope without cat tracks (the flat, narrow roads where the grooming machines drive). As its name implies, this run zig-zags across the mountain for about a mile, with mild slopes leading to flat areas, all the way down. Surrounded by steep granite peaks without any buildings in sight, this run is a true alpine experience. To get there, start at the Albion Basin base area (resort entry 2), and take a ride on the Sunnyside chairlift. Follow the signs in front of the lift when you get off the chair. Glide down this trail to build confidence before heading to the blue square runs of Sugarloaf chairlift.
2. Park City Mountain's Claimjumper
Park City Mountain's Claimjumper run is the best way for beginners to acquaint themselves with the largest lift-served resort in the U.S. To get to this beginner trail, start at the Park City base area (not Canyons village) and hop on the Crescent Lift. Unload and make a right off the chair where you'll follow the signs marked Claimjumper. Ski the mellow pitch and enjoy the scenery as you make your way to the base of the Quicksilver Gondola, which connects Park City to the Canyons side of the resort. Treat yourself to lunch with friends at the adjacent Miners Camp Restaurant before checking out the views from the top of the Quicksilver Gondola. Although it's only blue runs from there, it's worth the trip, even if you have to skip the blues and get back to the skiing for beginners runs by taking the Gondola back down to the Park City base area.
3. Deer Valley's Ontario
Ski Magazine has repeatedly recognized Deer Valley as the #1 Resort for Grooming, and you'll discover their perfect lines as you ski the Ontario trail. Starting at the Snow Park area, you can access all-you-can-ski corduroy by taking Silver Lake Express chairlift. You'll then slide past Silver Lake Lodge and ski down the Trainer trail to connect to the Quincy Express chairlift. When you unload at the top of Quincy take a left and you'll see the sign for Ontario. Its long length and gentle gradient make it an ideal place to practice linking turns in wide-open spaces. Through its course, you'll end up descending approximately 1,000 vertical feet, so it feels like a big accomplishment compared to most other beginner runs.
4. Snowbasin's Slo Road to Bear Hollow to Snowshoe
The best beginner run at Snowbasin Resort is a combination of three unique trails that flow together through a secluded wooded area. Each curve in the trail brings you to a different landscape, with panoramic views followed by a wooded forest and finishing in a wide open bowl. Start from Becker chairlift and follow the signs for Slo Road. Slo Road will take you to Bear Hollow, which will wind down through mature oak and pine trees before opening up to mellow cruising as you reach Snowshoe. Follow Snowshoe to the open basin at the bottom. This trail is so unique and so much fun, you'll likely find yourself wanting to try it several times before moving on.
5. Brian Head's Navajo Trail
Red rock meets winter wonderland with the juxtaposition of snow-covered sandstone and sunny blue skies at Brian Head Resort. There are many beginner runs to choose from at this southern Utah winter oasis, and it's hard to go wrong on any of them. You'll see some of the best scenery from Navajo #4 chairlift and Navajo trail. Once you are comfortable on the open part of the trail, try weaving in and out of the trees on the border of the main ski run — they are spread out perfectly to safely navigate through as you work your way down the mountain. Navajo trail is easy to find from the Navajo Lodge Learning Center, at the first entrance to the resort.
Skiing for beginners just got a lot easier with these awesome options. Layer up, strap on your boots, grab your poles and hit the Utah slopes.