Flood Safety
Due to record snowpack and high amounts of spring runoff, please be advised of potential flooding that could impact travel plans.
Learn more
8 Elevated Ski Experiences That are Uniquely Utah
If you dream of the possibility of hitting six resorts in one day or carving your own lines from snow-covered summits served by helicopters, then this listicle is made for you.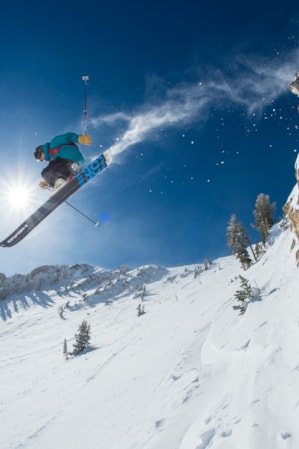 Looking for alpine adventure?
Utah's close proximity to the Wasatch Front gives adventurers easy access to vast stretches of pristine and rugged backcountry and the best powder-filled ski resorts. If you dream of the possibility of hitting six resorts in one day or carving your own lines from snow-covered summits served by helicopters, then read on.
1. Be delivered via conveyor belt into a huge, powdery bowl.
The Peruvian Tunnel at Snowbird Ski and Summer Resort transports skiers and snowboarders to the backside of the resort for some unique Utah skiing by shooting them at 600 feet through a 12'x10′ tunnel punched through the face of the mountain. You wouldn't notice just by looking at the Hidden Peak ridgeline, but 200′ below the top, skiers and riders are being conveyor-belted through the mountain from Peruvian Gulch into powder-and-sunshine-filled Mineral Basin, like a little assembly line of stoke.
The first tunnel of its kind in North America, this crazy contraption gives you access to Mineral Basin when ridgetop winds would otherwise prevent a tram ride. Plus, you get to travel 800′ to another part of the mountain, skipping right over the more challenging sections of Chip's Run, without even messing up your hair.
2. Hit six resorts in one day.
There's nowhere else in North America where you can access so many of the best ski resorts with such minimal hiking and get a great view of the area.
The Interconnect Tour begins at Deer Valley, where you slip out of bounds and into the huge Wasatch Backcountry. Hike into Park City for some chairlift-assisted gain in elevation, and then, after ducking the rope for some glorious pow turns in Big Cottonwood Canyon, you're off to Solitude, Brighton, Alta and finally Snowbird.
This tour is for advanced to expert skiers in decent athletic shape. Guides will take you through tons of leg-busting off-piste powder and, as you can imagine, there'll be some side-stepping and hiking, including one gnarly uphill traverse along the super-steep Highway to Heaven. But there's no other way to get a sample of six of Utah's best ski resorts and the mind-blowing, virtually untouched backcountry terrain in between.
3. Cruise the same halfpipe that won the USA its first medal sweep in nearly 50 years.
2002 was a huge year for Park City, and for snowboarding as an Olympic sport. When Ross Powers, Danny Kass and JJ Thomas swept the medals platform for Men's Halfpipe (the first time that's happened in an Olympic event since 1953), they legitimized the American-born sport and cemented the Park City Mountain Eagle Superpipe onto the bucket list of riders everywhere.
Its 22′ pipe is one of the most meticulously designed features on the mountain, and is the training ground for pros from all over the world to come and hone their skills. Expect to be rubbing elbows with some of the biggest names in snowboarding — practice before you get here so you don't humiliate yourself in front of Torah Bright.
4. Get airlifted to the slopes.
Want a real thrill? This gives "lift" a whole new, higher meaning: Powderbird runs heli-ski (or snowboard) tours from the base of Snowbird in Little Cottonwood Canyon, which means you can hop in a helicopter as soon as the resorts get tracked out to be shuttled to another few thousand square miles of never-been-touched dry Utah pow. Powderbird tours average about 30,000 vertical feet per day, rarely repeating a line for 7 hours straight, and has permits to air-drop you at the best spots (it chooses terrain based on your personal ability levels and whims) in the Wasatch and Uinta Mountains.
5. Trek out of bounds in a snowcat.
For the non-ballers out there, snowcat or cat-skiing is usually half the price of heli-skiing, but is just as convenient, feels almost as fancy and still gives you all kinds of bragging rights to your friends back home (Read: The Best Utah Cat Skiing). Park City Powder Cats operates out of Thousand Peaks Ranch, where they've cordoned off their own "private ski resort" that's bigger than Whistler, Vail, Mammoth and Snowbird combined. They cover their 43,000 acres of terrain in fancy, heated, 10-seat snowcats, where you can thaw out and grab some snacks between runs. In 2016, this powder paradise expanded thanks to new roads leading to new 2,000 vertical runs. A snack-wagon to powder-filled bowls, epic tree runs through the aspens, and steep lines of unbroken powder? Absolutely worth doing at least once in your life.
6. Ski the biggest mountain in North America.
Featuring 8,464 acres, Powder Mountain has the most skiable terrain in North America. But size isn't all that matters. Pow Mow backs up its girth with an impressive 500 inches of annual snowfall. Best of all, thanks to the multiple higher-profile ski resorts sitting between it and Salt Lake City, there's rarely a lift line, even with only nine lifts up the entire mountain. How is this possible? Gratefully, you don't have to hike — America's biggest mountain also has one of the best cat ski rates around.

Pro Tip: If you want a taste of snowcat skiing, Powder Mountain offers single ride tickets to its Lightning Ridge and Raintrees areas for about $25 a ride, with a lift pass (available online).



7. Check out one of the highest resort towns in America.
Spanning two peaks and about 650 acres of terrain, it might sound small compared to the behemoth ski resorts to the north, but with a nosebleed-inducing 9,600′ base elevation, Brian Head Resort is tall. And even with a peak elevation of 11,307′, it's still one of Utah's super-secret powder stashes.
This place has everything you want out of a Utah resort and absolutely nothing you don't. The same dry Utah pow and friendly faces, but with uber-cheap lift ticket prices and a mellow ski town that probably doesn't sell a single furry hat.
8. Experience the Greatest Snow on Earth®
Yup. It's true. Snow so light and fluffy that you can clear the sidewalk with a leaf blower. And yet. And yet, on the mountain, especially in the Cottonwood Canyons of Salt Lake City, something really special happens when layers of this perfect snow accumulate. It's called "flotation." Read more here, but trust us — this isn't your average snow: It is what you'll find yourself wanting more and more of.
Find value-added travel deals and discounts on lift tickets, passes and programs for budget-minded families, seniors and military members.
The majority of this article was originally contributed by the Matador Network.