Flood Safety
Due to record snowpack and high amounts of spring runoff, please be advised of potential flooding that could impact travel plans.
Learn more
While You Were Sleeping
Ever wonder why the snow is so perfect for the morning's first runs? Take a peek into the life of a ski slope groomer at Snowbasin resort and learn all about it!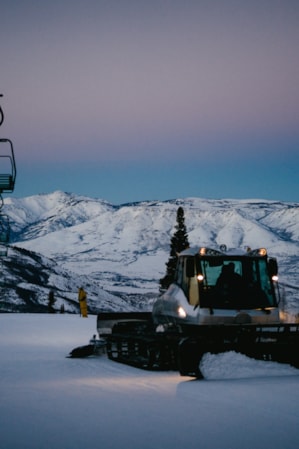 Just after 4 p.m. — the gondola sits still, ski patrollers start their sweeps, and the apres-ski scene swings at Earl's Lodge. Meanwhile, near the John Paul Express Chair, Tim La Marsh clocks in and fires up a Prinoth Bison, ready to spring into action.
La Marsh, known lovingly around here as "Swampy," wears Carhartts and work gloves, not Arcteryx ski bibs and mittens. On his black baseball hat, there's a logo of a snow cat — fitting.
Swampy inspects the rotary tillers and the comb in the back, then on to the hydraulic dozer blades in front. This $350,000 piece of motorized metal is given the thumbs up, so off he goes a-grooming on the slopes.
The unsung heroes of the mountain, the ski slope groomer teams prettify the main veins of the resort, making for safe and fun routes. Most of the magical snow preparation and polishing happens while you were sleeping.
Swampy and five other groomers take the first of two shifts. His shift continues until around midnight, and the second shift carries on until just before lifts open at 9 a.m.
"Groomers prettify the main veins of the resort, making for safe and fun routes. Most of the magical snow polishing happens while you were sleeping."
What Swampy refers to as "lunch," is actually a late dinner for most. Those who will partake in Snowbasin Resort's goodly runs tomorrow will turn off their lights tonight as Swampy and the rest of the ski slope groomer crew are getting into the grooming groove.
"I just love producing a good product for the skiers," Swampy says. "They really appreciate the effort for good skiing, and we have a crew here that really takes pride in their work."
SKI Magazine took note of the impeccable conditions and awarded Snowbasin 6th place among North American resorts for grooming in their 2017 rankings.
Grooming Speed and a Ski Racer's Sense
Heading west on Penny Lane, the snow cat grooms hard-packed snow, and we're jostled around before heading up-mountain. Swampy turns the corner to unveil an arresting panoramic sunset — a nightly perk of the job.
There's a constant hum of 1,500 horses doing their thing in the engine. And we travel steadily at four miles per hour — what Swampy calls "grooming speed."
With a long history in ski racing, Swampy knows a thing or two about good ski conditions. A Boise native, he began coaching at the local ski hill, Bogus Basin. The state of affairs necessitated that he groomed his own training hills—before his coaching. It was outdated machinery, but he learned his way around snow cats nevertheless.
Swampy moved on to work as a ski slope groomer at nearby Sun Valley for a few years before landing a coaching gig on the US Ski Team. He worked in various positions there for 28 years, yet his knowledge and passion for quality runs was not lost.
"I got tired of my kids getting hurt, so I'd go in early and help them get the course ready," Swampy says. History repeats itself. This time it eventually led to a full-time job as a race director for the 2002 Winter Olympics; part of his job was overseeing the grooming of race hills.
No Snow Nook Left Untouched
Bruce Springsteen, myriad classic rock hits, and a medley of reggae are our soundtrack. Blue hour has long passed. Little can be seen except what's under the cat's bright spotlights as we continue up the side of the mountain.
The cat's blade pushes snow, while the tiller's comb leaves the velvety corduroy behind. Pointing down to the sea of buttons and electronic gizmos, Swampy says that a good groomer won't get the zen-like hang of the snow cat until after two years of experience.
Pulling the cat in reverse, Swampy takes a second to hop on the radio and relate to the rest of the fleet that he needs to work out a kink in the snow. "There'll be a picture of that on the wall tomorrow if I don't fix it," he says with a laugh.
"It was sort of the long-term goal to wind up doing grooming again," Swampy says. "It's a great job, and the guys here are a lot of fun."
There's a lot of teamwork on the hill, a sort of unspoken language and effortless efficiency after working together for years. There's not much of a need for chatting as each crew member makes a pass on the run, leaving no snow nook untouched.
Flanking to the far right on Elk Ridge, Swampy prepares for the soft snow to force his cat to slide downhill, but he manages to pull it through. Sometimes grooming is an adventure: five days ago—grooming this very run in the midst of a white-out — was one of Swampy's scariest work days ever.
"When we got to the top of the pass, it's like everyone had just won the Super Bowl," he says with a chuckle. "We were so excited — there was so much adrenaline and testosterone going on. There are times when it gets pretty intense out here."
But out here tonight, it's serene. Stars shine brightly through the black night's calm. The bumpy ride has smoothed out on softer snow. "Sometimes, you put the blade down," Swampy says, "and it just speaks to you."