U.S. Federal Shutdown Information
At this time, all of Utah's national parks, monuments and recreation areas remain open.
Learn more.
Powder Pups to the Rescue
Furry friends help the Solitude Ski Patrol do their duties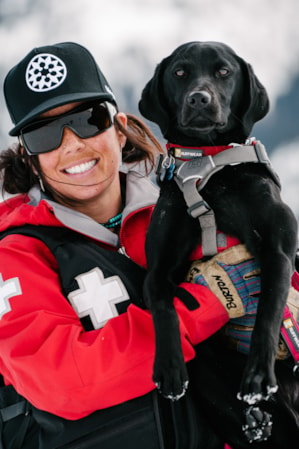 Imagine that something has triggered an avalanche. There is a roar and then it settles. Now imagine a snowy search area of 100 yards by 100 yards. It would take 20 people on a probe a total of 20 hours to exhaustively search the field, whereas it would take a dog 20 minutes.
For most dog owners, canine companions have a wet nose, four paws, a wagging tail and are furry all over. To the avalanche rescue crew at Solitude Mountain Resort, the answer is more meaningful. Highly trained rescue pups are an integral part of keeping winter guests safe while recreating on the mountain.
While a ski patroller's standard kit — consisting of a beacon, RECCO device, shovel, probe and years of experience — proves effective, a rescue dog offers a nose and agility that simply can't be matched. Plus, it doesn't hurt that when they're off duty they're cute and make resort-goers feel all warm and fuzzy.
And truth be told, they are stars of the Solitude Ski Patrol show. "When you're cruising around the mountain with a dog, it's like the paparazzi are out. Everyone wants to take a photo," says Keith Sternfels, Solitude Mountain Resort's assistant patrol manager.
When I first met Sternfels, he was working with a four-year-old border collie named ZoZo, who is always stealing the limelight. "The one day you leave the dog at home, it's like you're invisible on the mountain. No one stops to ask questions or talk to you," he continues with a laugh.

The rest of the extensively trained rescue dog team consisted of Solitude's senior-most dog Bridger, an 11-year-old German shepherd, Rio, a six-year-old golden Labrador retriever, and the newest member Lumen, a two-and-a-half-year-old Labrador retriever/German shorthair mix. Most working rescue dogs have a career that lasts from eight to 10 years, or as long as they are healthy. As a visitor, you may encounter new dogs on the mountain each year, or see some of the veterans again and again.
"Our dogs are pretty specialized in what they do. Because of the extensive training, they serve a specific purpose in our mission here: keeping patrons safe," Sternfels says. (Read: "How to Prepare for Your Ski Vacation")
It's avalanche mitigation first and foremost, and if an avalanche does occur and a rescue is needed, then the dogs are deployed.
"Our dogs are pretty specialized in what they do. Because of the extensive training, they serve a specific purpose in our mission here: keeping patrons safe."
– Keith Sternfels, Solitude Mountain Ski Patrol
Oddly enough, rescue dogs along the Wasatch have never actually had a live rescue of an avalanche victim. Furthermore, there have been but a few instances of finding a body in a recovery situation. The subtext here, however, is that that big zero is due to the advanced and excellent mitigation by resort patrollers at Utah's resorts, Sternfels says.
Should a dog be called upon in a rescue situation, it's important that they are rested and have full energy. So, the dogs chill in kennels most of the day at the patrol shacks. Since, they arrive before the lifts open and stay until after the lifts close, you might not actually see a patrol dog during your ski day.
However, dogs make semi-regular public appearances at public demonstrations. The paparazzi is indeed in full effect for these.
"The dogs' main job on the mountain is for rescue and recovery. But more often than not, they do PR type stuff," Sternfels says.
On any given demo day (dates below), a crowd of roughly 100 people gather near the base of Apex Express, near the Solitude Village. Ski patrol talks about the dogs and their training before putting one to test.
When I had the opportunity to visit Solitude on demo day, a ski patroller buried themselves in a snow cave and Bridger, a rescue pup, was brought in from off-site to find the "victim." With savvy and a fine-tuned nose, Bridger finds him in a matter of seconds.
"We look at these dogs as working dogs," Sternfels says. "But they have zero concept of work. It's all play, and this is really fun for them." It's like a game of hide-and-seek, and when they do well, they're rewarded with a bit of sausage or tug-of-war.
At the demonstration, the public is allowed to pet the dogs, but if you have a chance encounter with an rescue dog on the mountain, you should always ask the handler first if it's OK to pet the dog, then step out of your skis to do so. Additionally, never ski close to a dog because the sharp edges can be harmful.
"What type of dog makes the best rescue dog?" a little girl asks during the Q&A. Once upon a time, German shepherds dominated the scene, but Sternfels says that currently along the Wasatch, they're finding that the disposition of the dog is much more important than the breed.
Sternfels says there's a test to benchmark a potential candidate amongst their littermates to decipher puppy aptitude. It's a cocktail of prey, retrieve, hunt and praise drives without being overly aggressive. That said, working breeds or mutts who can tromp through the snow for hours (as opposed to, say, a pug) tend to work out the best.
After the selection, it's up to the handler to train the dog properly, which can be a lot of work. For Sternfels, it's a dog-first world. "Who do you think eats first in the morning? It's not me," he says with a laugh. Rigorous exercises on, and mostly off, the mountain keep the dog keen for quick response in emergency situations.
The work of Zo and Sternfels goes beyond Solitude, too. In fact, all four of the Solitude's rescue dogs and handlers/ski patrollers — along with dogs and handlers from Snowbird, Alta, Brighton, Snowbasin, Park City Mountain and Deer Valley — are part of a rapid-response team of volunteers called Wasatch Backcountry Rescue, a 501(c)(3) nonprofit organization. The program is established to provide a professional rescue response outside of the ski area boundaries. So wherever you go, know that there are dogs to help you out. (Read: "Hiring a Backcountry Ski Guide")
Sternfels couldn't image his work life without ZoZo. "I feel extremely privileged I've gotten to bring a dog with me to work every day since 2001," Sternfels says. "We work as a team. We are pretty equal out there. She couldn't do it without me, and I couldn't do it without her."
Refer to Solitude's events calendar for more information about the Avalanche Dog Demonstrations at Solitude.