About the Backcountry
Each day, hard-working ski patrols make the terrain inside of ski area boundaries extremely safe from avalanches. Those leaving the ski area boundaries or entering the backcountry from a trailhead need standard avalanche rescue gear, avalanche training and should regularly consult the Utah Avalanche Center website for critical avalanche safety information before venturing out in search of the goods. If you don't own avalanche equipment or skills, no problem. You can utilize local guides listed below that can set you up with the proper gear, keep you safe and lead you to the good stuff.
Know
Before You Go
Get the Equipment: Everyone should have a transceiver, shovel and probe on their person and know how to use them.
Get the Training: Take an avalanche course to learn obvious clues to danger and how to read the terrain. More courses can be found here.
Get the Forecast: Consult the Utah Avalanche Center website before heading out for critical avalanche information and education resources.
Get the Picture: Recent avalanches on similar slopes mean dangerous conditions.
Get out from Harm's Way: Travel one at a time on avalanche slopes and get out of the way at the bottom.
More info on responsible winter recreation in the backcountry
Guides
Utah Mountain Adventures (formally Utah Exum Guides) has operated in the mountains of Utah since 1993. They offer all types of guiding including backcountry skiing, boarding, mountaineering, rock climbing and ice climbing.
Powder Mountain Guided Tours offers a variety of options to explore backcounty terrain. You have the choice of an unguided snowcat ride to Lightning Ridge and Raintree, complimentary tour with world-famous Pow Mow hosts, in-bound guided tours, or a ski n' skin experience.
Ski Utah Interconnect Tour gives advanced to expert skiers the opportunity to expereince the beauty and backcounty terrain of the Wasatch Mountian Range. Guests have the chance to ski resort terrain and the backcountry terrain through as many as six resorts in one day.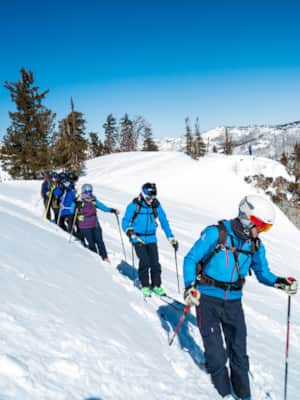 Hiring a Backcountry Ski Guide
Thinking of exploring backcountry terrain this winter? We can see why. With empty slopes and fresh powder, it's an alluring idea. But there are things you should know before you venture out of bounds.