Fishing Report, Regulations & Conditions
The best ice fishing happens early in the season, but don't jump the gun. Experts suggest waiting until the ice is 4" thick. Regulations and current conditions can be checked at the Utah Division of Wildlife Resources. Make sure to look at local regulations for the lake you will be on.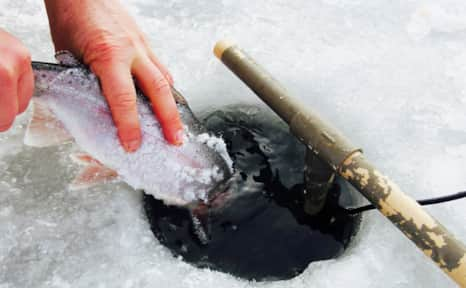 Best Lakes & Reservoirs For Ice Fishing
Bear Lake
"The Carribean of the Rockies" freezes over, on average, seven out of 10 years. The years that Bear Lake becomes a miniature sea of ice, with 48 miles of shoreline, anglers fish for trophy cutthroat trout, lake trout and two fish species that cannot be found anywhere else in the world: the Bonneville whitefish and cisco. This northern lake sits right on the Idaho border and hits its ice fishing peak in January.
In January, the Bear Lake Monster Winter Bash takes place and anglers work for their 30 fish limit while fried fish and a chili cook-off await on shore.
Where to Stay: Logan
Fish Lake
The largest natural mountain lake in Utah sits above 8,800 feet and when temperatures turn downright cold, the ice fishing begins. Located in Fishlake National Forest, pick any corner of the lake and you'll find it dotted with ice tents as anglers look to catch the giant lake trout that Fish Lake is famous for — up to 30-40 pounds — or hop on the perch bandwagon.
Fish Lake holds its Annual Perch Tournament to help reduce the lake's more than 4,000,000 perch. There's no limit of perch take-home and during the tournament prizes abound.
Where to Stay: Richfield
Flaming Gorge
The Flaming Gorge Reservoir, in the northeast corner of the state, provides more than 350 miles of shoreline and is home to a large variety of fish. Catches most popular in the winter include lake trout, rainbow trout and burbot.
Heard of the "Burbot Bash"? The burbot threaten the native species so each winter there is a competition to rid the reservoir of as many burbot as can be caught. This non-native species has a tasty white meat and it's all about catch-and-keep. Prize money and a stash of good eating define this annual competition in Flaming Gorge — one of the biggest ice fishing tournaments in the West.
Where to Stay: Manila
Scofield State Park
Got trout? Noted as one of Utah's Blue Ribbon Fisheries, Scofield State Park (Read: "Fishing Scofield State Park") is one of Utah's most popular and productive places to drop a line for trout. Primary species include cutthroat trout, rainbow trout and tiger trout. Winter visitors have full access to the reservoir, but all other state park facilities are closed, so come prepared with everything you need.
Where to Stay: Helper or Price
Strawberry Reservoir
The scenery, award-winning cutthroat and rainbow trout and kokanee salmon all make Strawberry Reservoir one of the favorite ice-fishing locations in Utah. The marina plows the seven miles of road from I-40 to the lodge as a service to anglers and also offers a snowmobile shuttle service (drop-off and pick-up) and onsite rental equipment.
Learn more about Strawberry Bay Marina and their services.
Where to Stay: Heber Valley
"The best ice fishing happens early in the season, but don't jump the gun. Experts suggest waiting until the ice is 4" thick."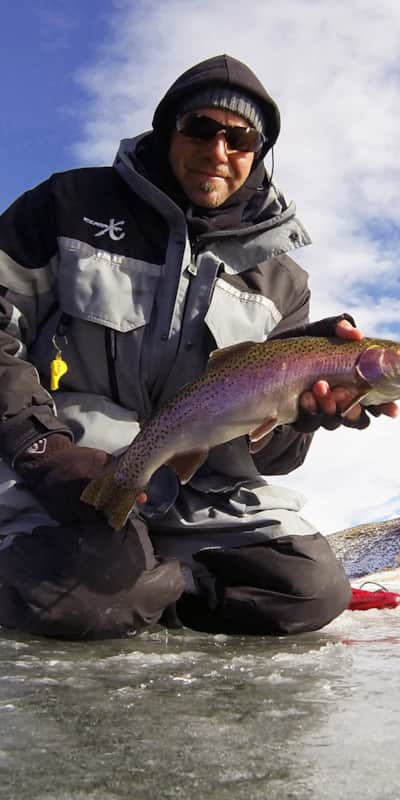 Ice Fishing Gear
Gear to get started is minimal and doesn't have to be expensive. A hand auger to drill a hole in the ice, a scoop for cleaning the hole, a fairly short rod and a few small lures and live bait will get you started. Make sure you use the right bait for what you're trying to catch. If you're new to the sport you can start with a $10 pole and you'll be on the ice without breaking the bank.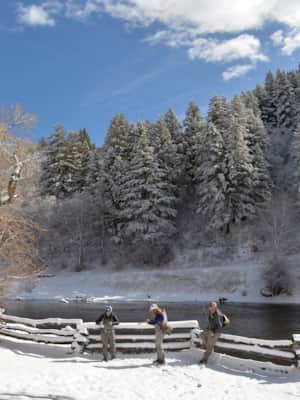 Snowfield and Stream
The ski lift may be closer, but the Provo River, one of the best fisheries in Utah and the country, is mere minutes down the road from Sundance Mountain Resort.
Winter Fly Fishing
Many of Utah's rivers still flow during the winter months. Anglers can expect to see fewer people, but fly fishing in the winter presents a whole new set of challenges, such as how to hold a line with gloved hands. With a little extra effort, preparation and practice, fly fishing need not end with the warmer months. Uncrowded rivers, beautiful scenery and hungry fish are your reward.
Some things to keep in mind:
Dress in layers: Synthetics and wool are the key. Wet clothes will end your day quickly.
Don't start too early — the bite doesn't get going until mid to late morning.
Look for warmer waters: Trout feed only during rising water temperatures, otherwise their metabolism doesn't require that they eat.
Fish slow: Jumping holes may seem like a good idea, but don't. The fish are deep and changing holes won't change the situation.
Use common sense: Don't stand on thin ice shelves or get in over your knees. Ice water and hypothermia go hand-in-hand.