Ice Skating Rinks In Salt Lake City
Gallivan Center
Centrally located in downtown Salt Lake City, the Gallivan Center Ice Rink shines with holiday lights, crisp outdoor air and the heartbeat of the city. Open mid-November through February, it's easy to get in some fresh air, exercise and a little hand holding during the cold winter months. Regular entry fee includes skate rental: Adults $12, seniors and military $11 and children (12 and under) $10. See the website for holiday hours. Concessions and skate sharpening are available in this beautiful, colorful venue.
Steiner/SLC Sports Complex
Steiner is the home rink to Men's National Champion and Olympic competitor Nathan Chen. Home of the Salt Lake figure skating club and Crimson University of Utah Hockey, this Salt Lake County facility houses two Olympic-sized ice rinks and offers public skating and learn-to-skate classes. Skate where the Olympians train and take advantage of the beautiful ice. Fees: 6+ $4; 5 and under $1; skate rentals are $2. Facility hours are from 6 a.m. to 8 p.m. Call for larger group reservations and discounts.
Ice Skating Rinks In Park City
Park City Ice Arena
The Park City Ice Arena is an indoor, year-round facility. The Olympic-size ice sheet offers a variety of activities including open skate sessions, private lessons, group rates, corporate outings and children's camps. Home to the Paralympics, this rink caters to international athletes with physical disabilities. The rink offers skate sharpening and skate and hockey classes. Public skate hours vary, check online.
Resort Center Ice Skating Rink
Welcome to Park City's only outdoor ice skating rink. Centered at the base of Park City Mountain Resort, your Resort Center experience comes complete with sparkling lights, Christmas trees and upbeat music to get you grooving across the ice. Daily ice skating for all ages, sharp skates and warm drinks provides the perfect winter play spot. No time limits means you can skate all day if you're flying high. Lots of nearby restaurants and shopping make it easy to enjoy a winter day in Park City (Read: "Insider's Guide to Park City"). Skating without skate rental $11; with skate rental $18; holiday pricing is a few dollars more.
"Utah ice skating includes Olympic rinks, county complexes and magical light-strung rinks spinning the sounds of the holidays."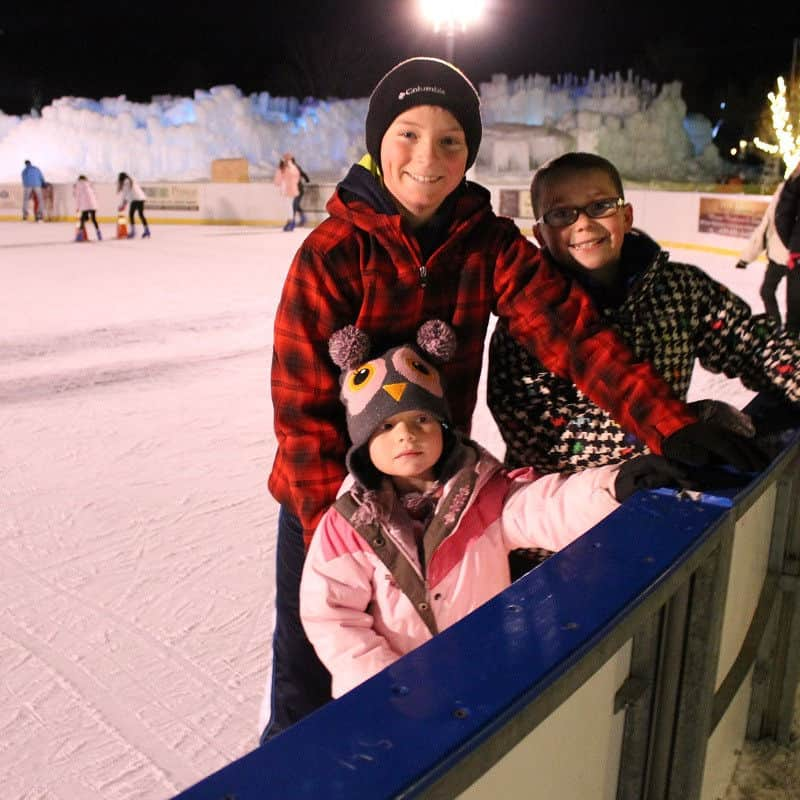 Ice Skating Lessons
There are a variety of options for ice skating lessons near Salt Lake City. The Steiner/SLC Sports Complex in Salt Lake City offers adult club classes. The Utah Olympic Oval in Kearns provides the perfect space to study high level skills that go a step beyond recreational skating, including speed skating and short track. They also offer a skate club for speed skating. Salt Lake County Ice Center in Murray specializes in classes at all levels, from beginner to advanced. And the Cottonwood Heights Ice Arena has a strong base in recreational training, so this is an ideal facility for learning basic skills.
In Park City, the Ice Arena provides specialty coaching for figure skating, jumping and pair skating training.
Tips To Know Before You Go
Dress warm, but snow gear isn't necessary. Stick to activewear or something you can easily move in.
Don't forget your gloves. Your hands will be in contact with the ice.
Long socks are a must.
Littles need to wear helmets — safety first.
Lace your skates as tight as you can stand them.
March around in your skates before you try to slide. Walk before you run.