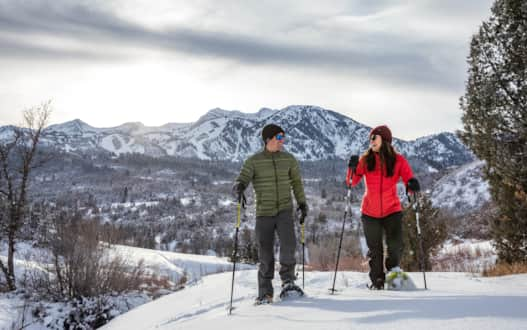 Snowshoeing
Sometimes an adrenaline pumping day on the slopes calls for an early morning hike along a peacefully quiet snowshoe track. It's a relatively easy and affordable way to get outside and the perfect way to watch the sun rise over the Wasatch range. Best of all, you won't need to worry about checking your snowshoeing gear at the airport (although it would be much easier now). Whether you're in northern or southern Utah, as long as there is snow there is very likely an outfitter that can rent the gear you need; or better yet, guide you to their favorite spots. Explore snowshoeing.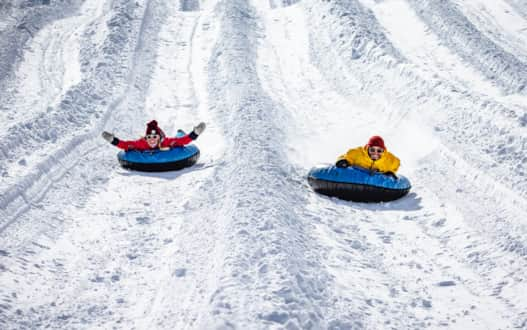 Snow Tubing
What if you and/or the kids are caught somewhere between feeling confident on the slopes and too energetic to go snowshoeing? Tubing is the answer. From sliding down gentle slopes to racing down 1,200 foot lanes, there is tubing for everyone in Utah. Here are a few of the most popular places to go, from north to south: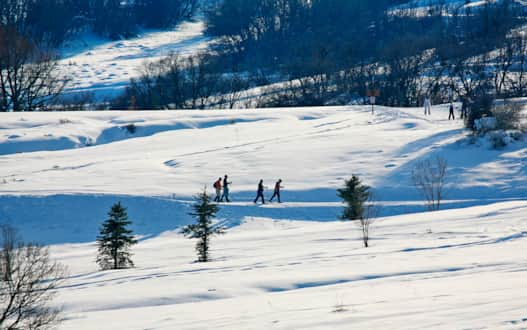 Cross Country Skiing
Another winter activity with seemingly endless boundaries, cross country skiing is one of the best ways to soak up Utah's wide open spaces. Ski tracks wind through millions of acres in the national forests across the state, and can even be found in the higher elevation regions of Southern Utah like Bryce Canyon and the Manti-La Sal Mountains. However, you don't have to get too far out of town to get lost down a ski track. Park City is one of the most popular destinations for cross country skiers, although Nordic centers can be found all over Northern Utah. (Read: "Fresh Tracks in Kamas – Utah's Snowcountry")
"Another winter activity with seemingly endless boundaries, cross country skiing is one of the best ways to soak up Utah's wide open spaces."
Snowmobiling
With more than 800 miles of groomed snowmobile trails from the red rock canyons of Southern Utah to the rugged mountains in the northern reaches of the state, Utah has plenty of options for snowmobile vacations, lodging and packages. You can spend a day or a whole week here exploring the myriad trails, each offering their own sights, sounds and adventures. Explore snowmobiling.
Ice Castles
If you're planning a family trip this year, consider Midway's Ice Castles a must-see. Each year artists hand-place thousands of icicles to create magical castles, sculptures and playgrounds that shine bright in front of a rainbow of LED lights. It's a contender for ultimate winter family photo, and a winter wonderland the kids won't soon forget.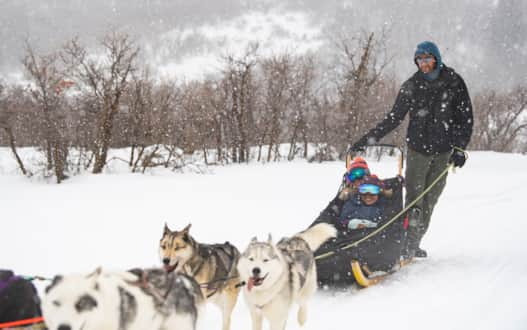 Sled Dogs
Perhaps another activity you wouldn't expect to be available in Utah, sled dog tours are available in Park City. When Maren and Racer Gibson started rescuing huskies and malamutes over 20 years ago their intention very likely wasn't to make a profit or start a business. However, as more dogs joined the pack Team G Sled Dogs was born. Now those visiting Park City can experience the snowy wilderness like never before as they're pulled on a sled behind a team of 10 energetic pups.
Located 25 minutes away from Park City, Bear Ridge Adventures also offers authentic dog sled tours on scenic private property. They believe dog sledding is a great way to dive in and get to know more about mushing, the hard-working huskies, and dog sledding. Visitors have to option to book a 1 hour, 2 hour, or half day dog sled tour from December (sometimes November) to March. You'll get to see firsthand how much the dogs love being on the team and pulling guests on the sleds.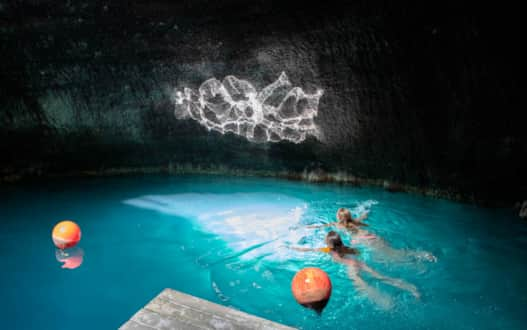 Homestead Crater
Resting at the bottom of a 55 foot-tall crater in Midway, Utah there is a warm pool of geothermal waters that is perfect for swimming, relaxing and even diving year round. In fact, it's the only warm water scuba destination in the continental United States. So if you're looking to warm up and slow down at the same time, be sure to pack your swimsuit on this winter trip.
"Homestead Crater is the only warm scuba diving destination in the continental United States."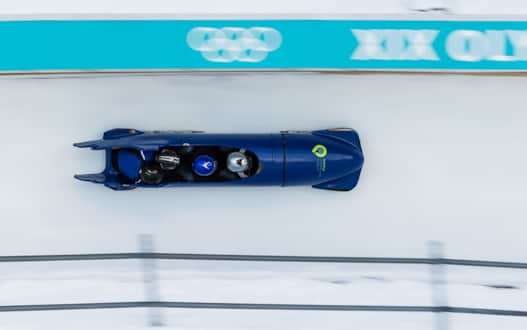 Utah Olympic Park
The 2002 Winter Olympics helped put Utah on the map, and the 2014 Olympics in Sochi, Russia, proved that Utah is a hub for Winter Olympic glory with Utahns collecting 11 medals. At the Utah Olympic Park in Park City, you can learn all about our Olympic heritage, watch future Olympians train for competition and reach over 60 mph on the Comet Bobsled Ride. Learn more about Utah's Olympic legacy and best spots to relive the games.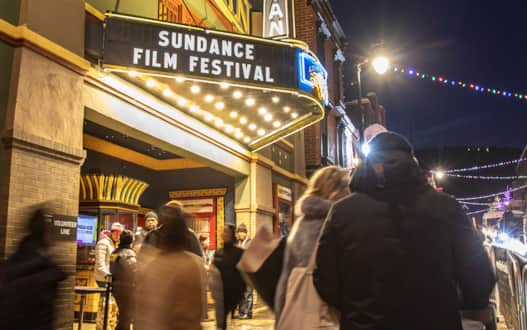 Sundance Film Festival
For 30 years, filmmakers and audiences have been traveling to Utah to see some of the most innovative storytelling in cinema at the Sundance Film Festival. Park City is the epicenter, but Sundance venues can also be found in Salt Lake City, Ogden and at Sundance Mountain Resort. A Sundance ski vacation is the perfect blend of Utah ski bliss and the year's most promising films.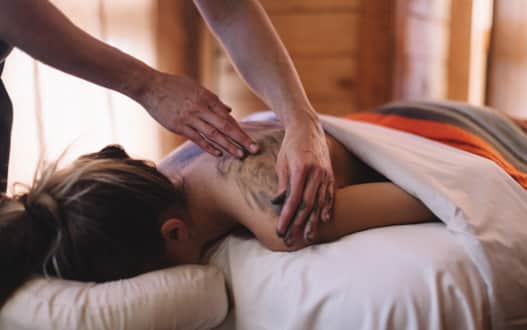 Unwind at the Spas
After an adventure packed vacation of skiing, sliding, exploring and marvelling, the only thing left to do is relax and recount your favorite moments. However, the tough choices aren't over yet. Discover Utah's Wellness Retreats.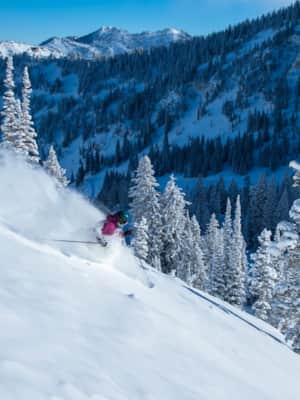 Utah Is Your Easy Winter Vacation Destination (and We All Could Use Easy)
Whether you're looking for a break, vacation or quest for fun this winter, Utah is the place, as always, for adventure — whatever you plan to do or wherever the trail takes you along the way.