Arctic Rescue's Park City Dog Sledding Team
Once seen as "unadoptable," these rescued pups have proven themselves unstoppable.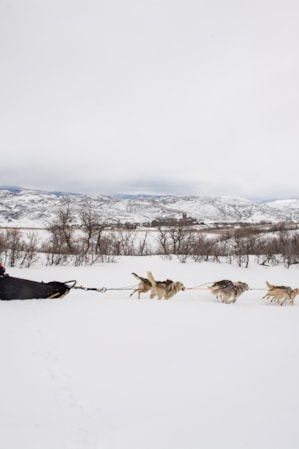 Maren and Racer Gibson created the Arctic Breeds Rescue after encountering Huskies and Malamutes deemed "unadoptable" by others. Frankly, they believed the opposite. Twenty years ago, the Gibsons witnessed a need and took action — they saw the energetic gift of these pups and gave them a chance.
The Gibsons are knowledgeable of Huskies and Malamutes and know these breeds are often misunderstood; the dogs are lively and energetic, and if this energy doesn't receive an appropriate outlet, it can be channeled negatively. With this in mind, the Gibsons were inspired to create a dog sledding operation called Team G Sled Dogs. The team's Park City dog sledding tours are booked through All Seasons Resorts, giving the energetic rescues and fosters independence and purpose. Pulling the sleds allows them to run and embrace the open spaces of Park City. Now, rather than being perceived as "unadoptable," the dogs have proven themselves unstoppable.
In this video, Maren and Racer Gibson share more on why they established Team G Sled Dogs and how they've helped to not only give understanding to the rescues, but have helped educate others in the gifts of these breeds. Warning: if you're not a dog lover before "pressing play," just wait until you've witnessed a couple of pup kisses, some sleds and snow-filled, running-free joy.
More information on All Season Adventure's dog sledding and to book a sled tour, click here. To see more of Park City featuring Team G Sled Dogs, watch our video: Insiders Guide to Park City.
All Seasons Adventures
Get off the beaten path and explore Park City's local community with All Seasons Adventures (ASA) as your guide. ASA serves as Park City's outdoor guide service, offering guides for dog sledding tours plus a plethora of all-season activities, such as fly fishing, fat biking, rafting and horseback riding. The tour guides all come from different backgrounds, lifestyles and experiences but collectively share a passion for outdoor activities and guiding others along the way.
Browse ASA's offered guided tours
Insider's Guide to Park City
Kaylin Richardson, Olympic athlete, and a friend share their favorite Park City experiences to encourage you to add the city's culture-enriched valley, scenery, food, art and access to all-season adventure to your bucket list.