Insider's Guide to Park City
The more you know about Park City, the more tempted you'll be to call the valley home (or a home away from home). It's not unheard-of.
Kaylin Richardson has traveled all over the world, but she chose to make Park City her home, her happy place.
As a former American alpine ski racer, World Cup champion and Olympic athlete, Richardson has a deep connection to the snow-blanketed mountainside, but her affection for this city even goes beyond the slopes. Park City's culture-enriched valley, scenery, food, art and right-out-your-front-door access to all-season adventure happily motivate her to be an advocate. (Read: "A Classy Warm-Weather Weekend in Park City")
Living in a location that lacks the slightest chance at boredom, and instead, emanates an ambience of inspiration, Richardson especially enjoys sharing the scenic city with others, today, not next year, embracing the present as much as she can.
"Adventure should be a priority," says Richardson. "We're only guaranteed the present. So what I love to encourage people to do is to make it count. Those things that are on your bucket list, there's no better time [to check them off] than the present."
In this video, Richardson and a friend share many of their favorite Park City experiences to nudge you to add Park City to your list and go embrace the present.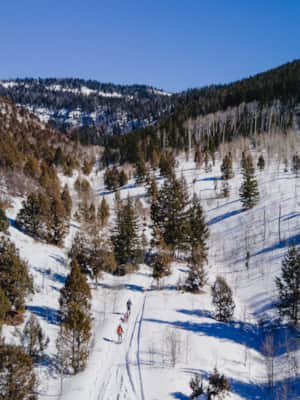 Fresh Tracks in Kamas – Utah's Snowcountry
Not far from the hustle and bustle of Utah's renowned Park City-area ski slopes is an untamed, snow-filled wonderland waiting to be explored. Here in the Wasatch Back, snowshoeing, ice fishing and snowcat skiing set the stage for an outdoors-facing winter getaway imbued with authenticity and solitude.